Sole Mates: Aitch and the KAWS x Air Jordan 4 Retro
The rising British star on how the Manchester scene shaped his love of sneakers.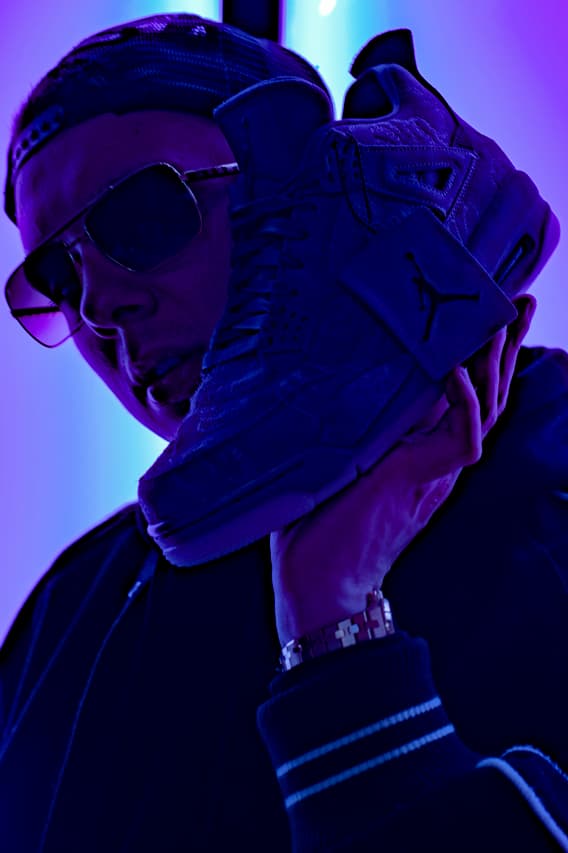 Sole Mates: Aitch and the KAWS x Air Jordan 4 Retro
The rising British star on how the Manchester scene shaped his love of sneakers.
What do Oasis, The Smiths, and Ian Brown have in common? They're born-and-bred Mancunians, arguably the spiritual home of British music. But while they dominated the rock and indie industries in the '90s and '00s, there's a new sound coming out of the city. The likes of Bugzy Malone, IAMDDB, and of course, Aitch, are all changing the scene up in the North of England, and now the latter — whose real name is Harrison Armstrong — is ready to take it to the next level.
There's more to Aitch than being, as he puts it, "that rapper from Manchester." He's showing a generation of kids that you can make something of yourself, no matter which antiquated stigmas might be attached to where you come from. He's a Brit Award-nominated, chart-topping solo artist who in the space of three years has worked with Stormzy, AJ Tracey, and other rising U.K. musicians. 
Now, aged 21, Aitch is ready for his next moment. Following the release of his just-dropped freestyle "GSD," Aitch speaks with HYPEBEAST almost two years after we first met him. Music is still his focus — but there's a bigger picture now. 
For our latest installment of Sole Mates, we headed to NQ House in Manchester to find out more about his humble beginnings, how important style — and more specifically, "trainers" — are to him and what he does.
HYPEBEAST: What got you into sneakers?
Aitch: I was watching music videos and would see bare mad funky ones: [people like] Soulja Boy with crazy Air Force 1s on or the G-Unit trainers. I never had a pair of G-Units, but I remember just thinking, "Rah, what's going on here?!" 
I always had trainers, mom and dad bought me them as a kid, but my personal life with trainers was always looking at what people wore in music videos. 
Is there a moment from your childhood — going shopping with your parents for example — that has stuck with you?
[In Manchester], it was sick. We'd be on Market Street and go to Footlocker as a kid, that was the sickest day out. But it depends on what age I was — I remember when Nike Elites were a thing, I used to love them. adidas PTs were a thing but my mom and dad would never let me have them because they didn't like them. 
I used to like a couple of weird adidas high tops, like things that nobody else used to like.
Like Jeremy Scott's stuff?
Near that section, all the big tongues and that. But not everyone used to like that, so I had to subtly get them. 
Obviously, I've always worn Air Force and I've always like Jordans, but it's never been my main thing until recently.
You're quite diverse when it comes to sneakers. Does that diverge from the norm in Manchester?
Well in Manchester it's Air Max, isn't it. 100 percent. 
But you stray away from that.
Usually, I like different things. I used to like Air Max 1s — they were always my favorite Air Max.
Did watching these music videos, seeing style and so on, further encourage you to become a musician?
The music thing just happened. I didn't grow up like… well, I always wanted to be famous. I never knew I wanted to be a rapper, because I didn't know I could rap. I was used to seeing people on the TV and that, and then one day I tried rapping and it worked out. It was a random one, but that was years ago I was 17. 
There's a lot of attention to detail to your music videos, and you've noted how they inspired your footwear taste. Would you say you're focused on your image, or do you do your own thing?
Don't get it twisted, I do like things that everyone else likes you know what I mean, I'm always fitting in if you know what I mean. But, I do like out-of-the-box things. I'll wear a couple of mad pieces. 
Mandem are on me for wearing certain mad outfits, I'm sure you'll find some pictures on the Internet! It's always good to stand out a little bit, and for me personally, my body shape being tall and skinny, things just… you know what I'm saying, you gotta make it work. I can't be wearing skinny jeans with a Jordan 4, me personally, I can't do that. I've gotta work it out that way.
I feel like I can wear anything. I can look like I was born in the absolute trenches of Manchester one day, and then look like I'm on Kensington high street the next. 
Good mention of the Jordan 4, as that's the shoe you wanted to spotlight for your issue of Sole Mates. What is it about this shoe that you like?
It's the shape of it. It's bulky. There's a better collection of 4s as well, I like 6s too. It's a 4 and 6 thing. When I look in my wardrobe, it's just 4s. 
Is there a shared interest in the U.K. rap scene for Jordan 4s and 6s? Seeing that Dave and Stormzy's new song "Clash" has the bar "I got the Jordan 4s and 6s, all I need now is Jordyn Woods" in it.
Yeah. But Jordan 1s are the main ones at the minute, but I personally feel like there are too many accessible pairs. It was good when it was more exclusive, but now you can go anywhere and get a pair of 1s. You don't see 4s and 6s in every shop. 
And for this, you've picked a shoe you definitely don't see in shops. The KAWS AJ4. 
To be fair, I didn't even know about KAWS' collab. I went to a shop in Chinatown, Manchester, and I walked in there and they had bare trainers. Near enough every Jordan you could think of. I didn't know they were KAWS at first, I just saw they were grey 4s all wrapped up. I was like, "Yo, they're sick," and I picked them up. That suede… It's something! When I took them home I was buzzing. 
I am going to wear them. 
That's the thing with shoes like these, a lot of people won't wear them because of their rarity and status. Are you more a "wear your shoes" kind of person?
These 6s [on his feet at the time of the interview] are kinda worn, yeah, but I actually wiped these over this morning for this — they looked dirtier yesterday! I will wear them, the KAWS 4s, it's not a thing where I'm trying to wear it. If I have the outfit, and the KAWS will look cold with it, then I'll slap the KAWS on. And I'm not letting no one stand near me, I'm going straight home that night and putting them back in the box.
Overall, how important are shoes and style to you and what you do?
First of all, just in everyday life shoes are important to me, you need to decide what shoes you want to wear first at the start of the day. That's just how it works for me in my head. Maybe it's the wrong judgment, but I feel like you can tell a lot about someone by their shoes. 
What are you seeing when you see someone's shoes?
Where they're from, attitudes towards things, anything. This isn't the case for everyone, but you can tell… Sometimes I might have the cleanest pair of shoes on ever and the next day a pair of dirty shoes, so I suppose that doesn't make me hard to judge but you know what I'm saying. 
It represents how you flex. 
And not to get too deep, but do you think on the bigger picture in regards to image in the U.K. rap scene? I see the AP on your wrist — do these things matter?
Nah, course. The trainer thing — it's important, but I definitely wouldn't judge a man's music or his rapping skills if he ain't got the best trainers on. I'm not gonna not pass the man the mic if I don't like what trainers he's got on. If there's ten man in a room, and every man has the sickest pair of Jordans or Pradas on, and the next mans got whatever on… 
When it comes to music, music speaks first and style comes after. Some people are liked for their style, some for their music. 
Would you ever want to mix music with sneakers, like a lot of artists nowadays?
Yeah 100 percent, but when the time is right. I won't just do it for the sake of it. I want to put my whole thought into it. 
So you have that kind of creativity, to get into sneaker collaborations and so on?
I think I'm bound to anyway because you can't rap forever. Well, you can, but there's always going to be new people coming through. People need the air refreshing, so there is going to be a time when we all need to stop rapping and start doing something else. But yeah, deffo, I can have my hands in multiple things. 
All in all, what's the bigger picture looking like for Aitch?
In the next five years, the plan is to be seen as — kinda like — more than just "ah that rapper from Manchester." To just be a household name, that kinda thing, and be more inspirational and iconic, trying to make it. 
It's more than just the music, basically. What I'll say is: just elevate everything up. Slowly but surely (we've been doing little merch drops), just make it a whole thing and not really just have my thing seen as a little merch drop, but Aitch's brand. Just elevate.