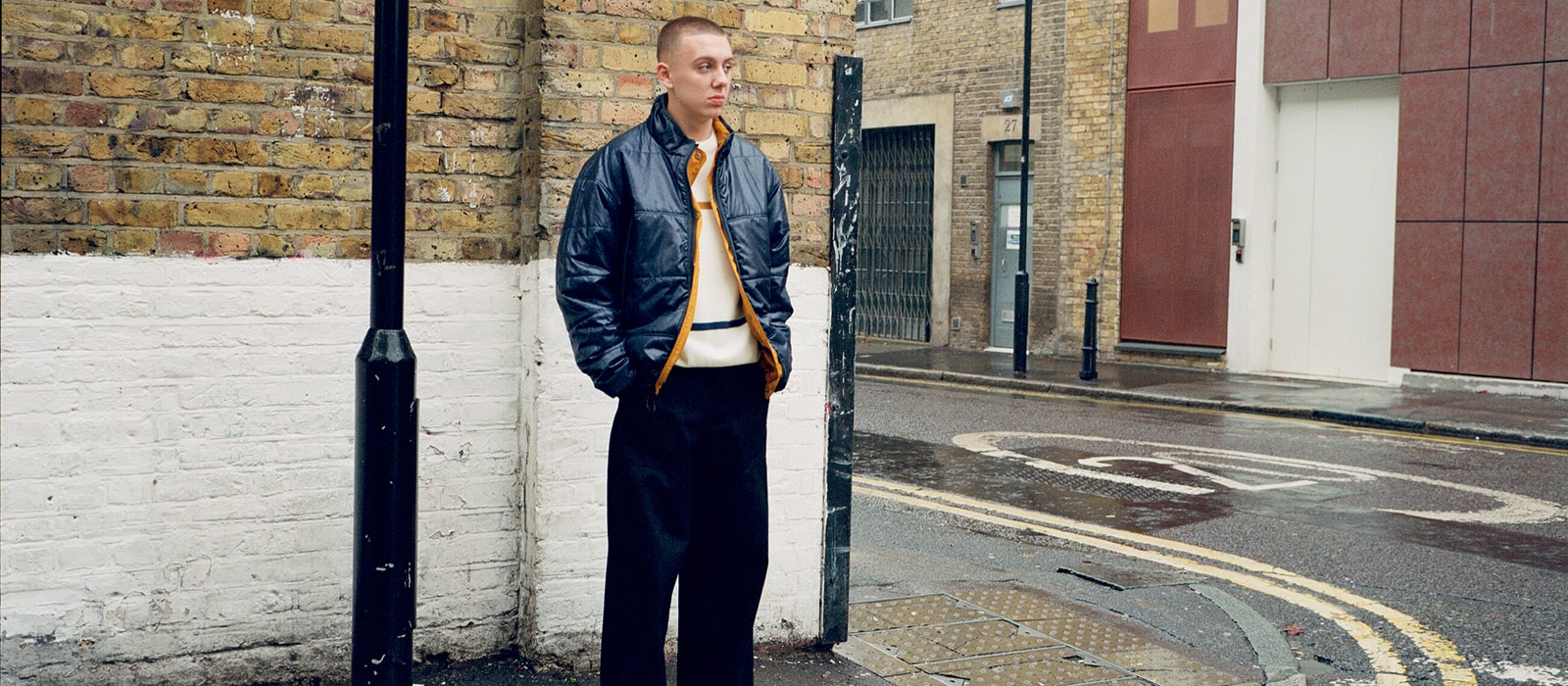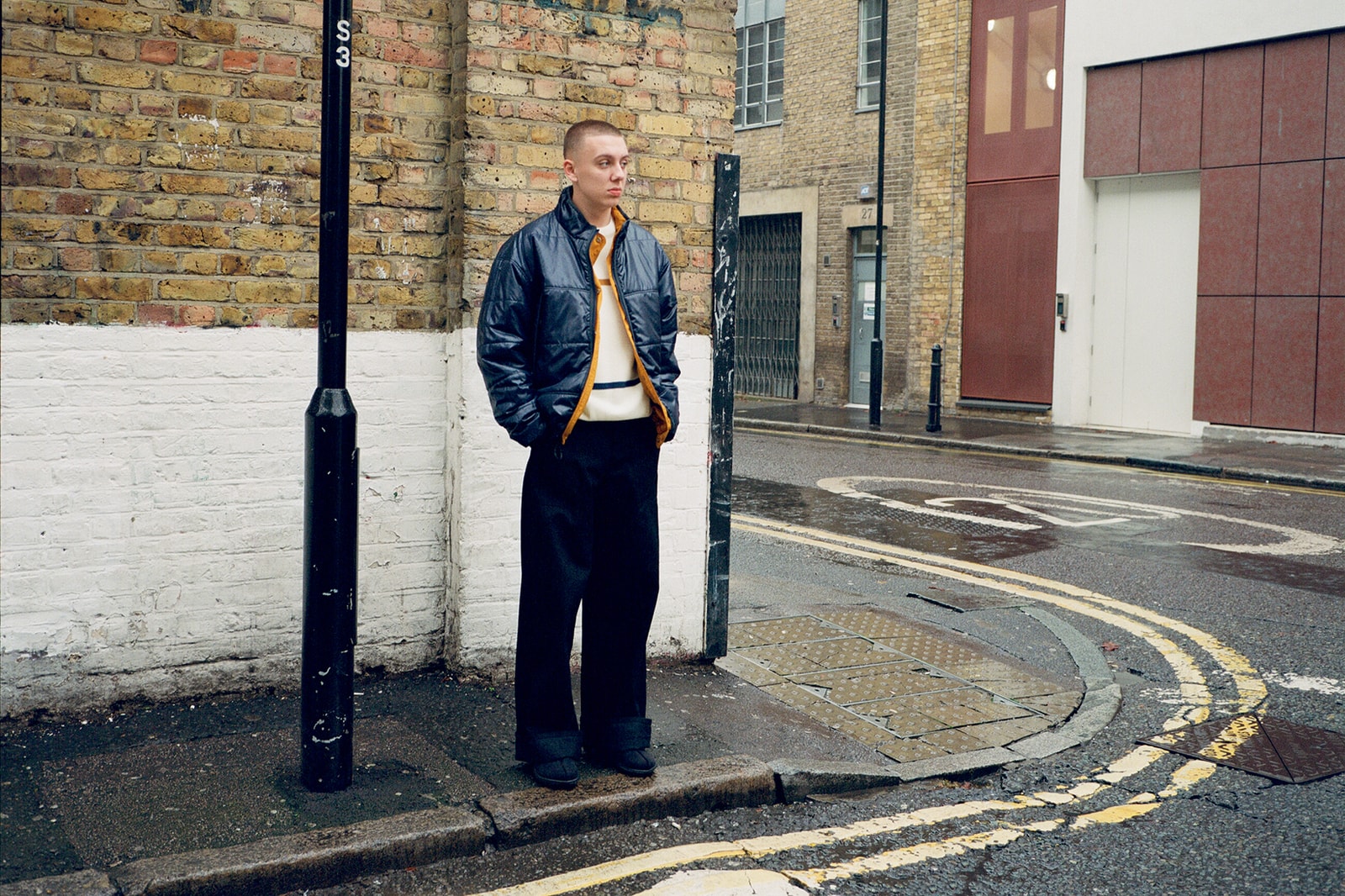 Aitch Is Your Everyday Superstar
How the musician went from hometown hero to national success.
The past year and a half has been a blur for Aitch. The Manchester-born rapper burst onto the scene as a baby-faced 18 year old with "Straight Rhymez," a viral track that gained him a cosign from Stormzy and has, so far, accumulated over 16 million views on YouTube. Since then, Aitch has turned his online success into chart success, taking his AitcH20 EP to number three in the UK charts and earning himself a feature on a remix of Ed Sheeran's "Take Me Back to London."
Aitch's rise to the top sees him become the latest name in UK rap to hail from outside of London, which has traditionally dominated the scene. For Aitch, real name Harrison Armstrong, his Manchester upbringing (and prominent accent) has been both a help and a hindrance. "Getting noticed is the hard part," he explains to HYPEBEAST. "But when you do get noticed it's easy, because you're always the odd one out, you always stand out."
Alongside Aitch, there's a new wave of talent coming to the fore from around the country. He namechecks fellow Manchester natives IAMDDB and Bugzy Malone, as well as Birmingham-based Jaykae and Nottingham's Young T & Bugsey, with whom he has previously collaborated. "It brings a little different vibe to the table," he says of working with other Northern rappers, "in case everyone gets bored of what they've been hearing for years."
Jacket: nanamica, jumper: Arpenteur, jeans: ULLAC Oy, Shoes: Hi-tec
Aitch's beginnings as a rapper are somewhat surprising. He first remembers trying it as a joke, imitating a character from Scary Movie, before realizing that he had a then-untapped talent for the musical form. "That must have been the day I found what I could do," he reminisces. After messing around with his new tracks for a while, Aitch decided to upload one of his videos online. "I actually don't know what I was thinking at the time," he remembers. Aitch's early videos saw him build a growing presence online, although it was the arrival of "Straight Rhymez" that took him to a new level. After that success, he started setting himself targets for his later releases, "It's like an addiction, you always want to do bigger and better. And then I blinked and I blew up."
Social media played an important role in driving Aitch's early success, with Facebook being particularly influential. "There wasn't actually anywhere for my music to get out there," Aitch explains, adding that he chose Facebook due to a sizable following from when he used to "send for people." He goes on to say "everyone watching the videos was basically the same age as me, everyone who was really locked into their phone and locked into social media was my age, and they were like 'Who's this kid from Moston?'"
"I must be lucky, but it's not just luck. It was definitely going to happen, we just didn't know when"
For Aitch, his relatability is key to his success. Rather than rapping about extravagant nights out, Aitch focuses on the everyday issues of being 19. Equally, Aitch believes it's important to keep his music light. "It's just fun, it's never depressing, you can dance to it, you can sing along to it," he adds.
"I must be lucky, but it's not just luck," he continues. "It was definitely going to happen, we just didn't know when. The plan we had, we thought all this would take three years but it took one. I think we might need a new plan."
Lucky or not, Aitch is set for even more stardom across the next year. Still aged only 19, he's set to embark on his biggest UK tour to date before taking it international with dates across Europe and Australia scheduled for 2020.
HYPEBEAST recently sat down with Aitch to discuss his rise to the top and his plans for the next stage of world domination.
Jacket: Beams Plus, Jacket: C.P. Company (from END Clothing)
HYPEBEAST: How has being from Manchester shaped your music?
Aitch: The reason I am where I am is partly because I'm from Manchester. I don't think I'd be in certain position if I weren't from there. It's just a little vibe. It's what really brings out my personality and my little opinion on things. I wouldn't say certain things that I say if I weren't from Manny, or I wouldn't get influenced by certain things. I just wouldn't be like this as a person. It was hard getting noticed, but when you get noticed it's quite easy because you're the guy from outside of London, you're the guy from Manny or from Liverpool or that guy from wherever.
What was the scene like in Manchester when you were growing up?
It was sick. It was full of talented people, but it wasn't really popping. Bugzy blew up before I was doing what I was doing and we were waiting for the next person, then IAMDDB blew up and then we were waiting for the next person and no one was blowing up for time. The scene just kept getting bigger and bigger, everyone was getting bigger but no one blew. It seems like every year or two years, it keeps building. At the moment it's popping, bare people from Manchester are getting a million views in a week. It's just a matter of time.
What was your plan when you first started uploading tracks?
I actually don't know what I was thinking at the time. I just put them out and they did well. There were little goals in my head that I didn't purposefully set but it just happens. I might have got 10,000 views one time and I was like, "Let's do 50,000 next, let's do another video." It's like an addiction, you always want to do bigger and better. It wasn't necessarily the case of, "I need to be the biggest rapper in the world," it was just, "I need 50,000 views on YouTube" or "I need 100,000."
Gilet: YMC, Turtleneck: Stone Island, Bag: Arc'teryx (from END Clothing)
How did it feel when one of your videos first went viral?
It was mad. I was at my boy's house and my phone just blew up, it just went crazy. It overheated and turned off. A signal came up on my phone saying I need to turn it off, so I just turned it off and left it. Ever since that first ever day when my tune blew up, I don't think my phone has stopped.
Why do you think you blew up when you did?
It was getting boring. I'm not saying the whole scene was boring and I came and saved it, but what I'm saying is everyone was just spitting about the same thing and it was time for someone to come and do the opposite. That's what I did. Something in my gut told me to do that. It wasn't that I was coming in and slagging everyone off or taking the piss out of everyone, it was just this is what I do. Everyone liked it, everyone liked how honest I was and that I was being myself and it just went crazy.
What's it been like achieving success so quickly?
I never know how to answer this question because I don't even see it. I'm not just sitting back and smoking a cigar thinking about it. I don't think I'm any higher up than anyone else. I feel like there's more to do. When I'm never planning on going to the studio again, I'll sit back and say I've done it now.
Why do you think you've been able to make the change from viral to chart success?
I just make fun music, I don't know why my music connects with people. It's more than just the music, it's also the person and how you promote it and how it spreads around. I just make feel good music, and relatable music. It's not always, "Man just went and spent £10,000 in the club," because not everyone spends 10 grand in the club. Sometimes it's, "I just went to the club, tried to get a girl but she didn't want to me but she wanted my friend." Sh*t happens. The EP's got different types of song on it and I reckon that connected depending on what mood you're in, what song you pick.
What were your plans for AitcH20?
It was always in my head to make something where the songs sound completely different, but not so different to an extent that it sounded like we've made bare tunes and just mashed them on to one thing. We wanted it to all be nice and smooth Then me and YJ [his producer] were looking at the EP and thinking this is needed, no one's putting music out like this. I don't mean that it's some masterpiece, but no one has a vibe like this. It's essential to be heard, to be out there.
What are your plans for the future?
It's not just going to be the same old. There's a difference between a tune and a song, I've been making tunes and next year I'm making songs. I want to make more real, proper music, more of a meaning to the music. I've got my tour in December, my European tour in February and my Australia tour in March. I'm working on something right now, but it's not the album yet. The album is coming though.
Any plans for America?
Yes, not yet though. I'm not trying to do what everyone else is doing like, "Yo America, this is me, let me force myself down your ears." They'll hear me when they hear me. It'll happen, I know for a fact it'll happen.