10 Statement Pieces to Elevate Your Holiday Attire This Black Friday At Browns
We've got you covered from head-to-toe.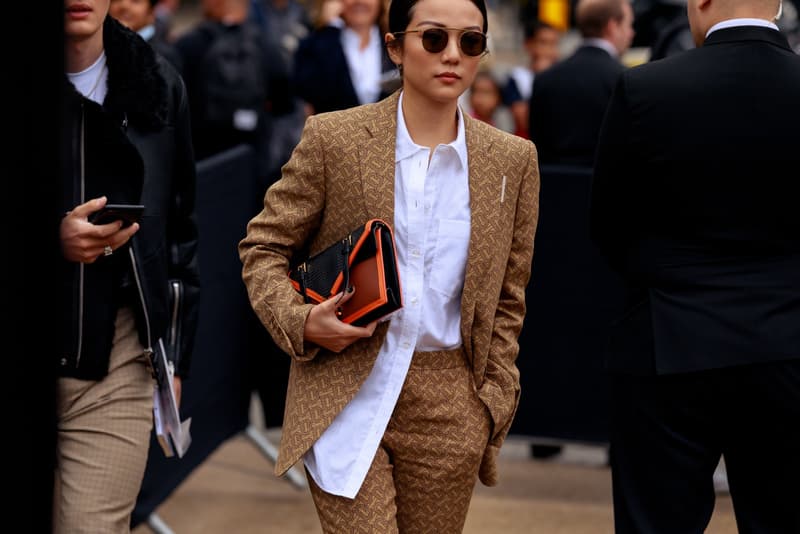 With Thanksgiving and Christmas just around the corner, what better way than to take advantage of early Black Friday and Cyber Monday sales to elevate your holiday attire. One retailer to keep your eye on for Black Friday and Cyber Monday sales is iconic British fashion and luxury goods boutique Browns.
The beloved London-staple is offering up a special Black Friday discount of 20% off all full price styles with the code CYBERSPACE. However new season and permanent collection items are excluded. Additionally in the US and APAC, Browns is offering up an extra 20% off sale items with the code MOREBLACK, which will expire at midday GMT on December 3.
As many look to update their holiday attire, fortunately there are a bevy of options from brands ranging from Burberry to Versace. Among our favorites are pleated trousers from Homme Plissé Issey Miyake, bold print shirts from Fendi, and accessory items from M. Cohen and JW Anderson. Check out the season's must-have options from brands like Off-White™ and Gucci in the round-up below.
Burberry English Fit Zip Detail Wool Tailored Jacket
As part of Burberry's Fall/Winter 2019 collection, this English Fit Zip Detail Wool Tailored Jacket fashioned from wool will have you looking exceptionally dapper for your upcoming holiday gatherings. Additionally, attention garnered from this head-turning item should help combat any awkward convos that may come up during dinner time.
Original Price: $1,890 USD
Off-White™ Deconstructed Wool Blazer
Off-White™'s Deconstructed Wool Blazer is tailored in Italy and features a single-breasted silhouette with slashed seams along the torso, a logo patch emblazoned on the sleeves, frayed stitching, and a contrasting grey check-pattern on the back. For a larger statement look, turn the blazer inside out to showcase the vibrant yellow liner.
Original Price: $1,955 USD
Versace Baroque Print Cotton Sweatshirt
As part of Versace's Fall/Winter 2019 lineup, this Baroque Print Cotton Sweatshirt has been crafted in Italy and features a crew neck, long sleeves and ribbed trims. This 100% cotton sweater is then finished off with bold Medusa and Baroque prints to show off your multifaceted personality.
Original Price: $895 USD
Fendi FF Diagonal Print Shirt
Fendi's FF Diagonal Print Shirt is made in Italy and fashioned from smooth stretch-cotton poplin. The slim-fitting silhouette is embellished with an all-over FF print that runs in a diagonal pattern. Additionally the piece feature a point collar, long sleeves with buttoned cuffs, front button fastenings and a curved hem. Perfect for those who want to flaunt their logos.
Original Price: $590 USD
Homme Plissé Issey Miyake Check Straight Leg Trousers
Homme Plissé Issey Miyake's black and white offering is an elevated update to your everyday trouser and is constructed with two side seam pockets, partial lining, a graphic print and, of course, pleats. Additionally the trousers are equipped with an elasticated waistband so you can enjoy seconds, and thirds of the holiday spread.
Original Price: $425 USD
Versace White Squalo Chunky Sole Leather Sneakers
As part of Versace's Fall/Winter 2019 collection, these Squalo Chunky Sole Leather Sneakers are made in Italy and features a round toe, exaggerated shape, moulded sole with contrasting brown details, front lace-up fastening, and branding on the back, tongue tab and insole. Don't let its demure white colorway fool you, these sneakers are a definite eye-catcher.
Original Price: $895 USD
Raf Simons x Dr. Martens Asymmetric Leather Derby Shoes
Dr. Martens' iconic Derby Shoe gets the Raf Simons treatment. Crafted from 100% Calf Leather (100% rubber for the sole), these asymmetric boots feature a low top, round toe, branded insole and branded patches to the side and one toe cap. A quirky footwear option without having to comprise your style.
Original Price: $445 USD
M. Cohen Sterling Silver Rectangle Pendant Necklace
M. Cohen's 100% silver Rectangle Pendant Necklace is an understated way to show off your affinity for jewelry. The removable rectangular pendant (8 x 1.6 cm) is suspended on a silver chain that lengths in at 76 cm. Additionally the two square logo-engraved pendants on the other end of the chain are removable, giving the wearer an added bit of flexibility.
Original Price: $1,000 USD
Gucci Brown Alpina GG Canvas Backpack
Gucci's Alpina GG Canvas Backpack is perfect for that overnight stay at your parents house or that weekend trip with your friends. Fashioned in Italy from cotton canvas and leather, this holdall also features adjustable padded shoulder straps, brass hardware, an interior zippered pocket, detachable bottle carriers, in addition to a top handle and front drawstring flap with adjustable buckle closure.
Original Price: $2,600 USD
JW Anderson Cream Faux Shearling Scarf
This cream JW Anderson Faux Shearling Scarf measures 88 x 22 cm and features a large collar shape which can be thrown over the shoulders and instantly elevates any outfit. Just be careful not to spill that glass of red wine during dinner.
Original Price: $386 USD