Meet the Emerging Brand Making Sneakers From Coffee Grounds
A Finnish start-up is searching for new ways to develop sustainable footwear.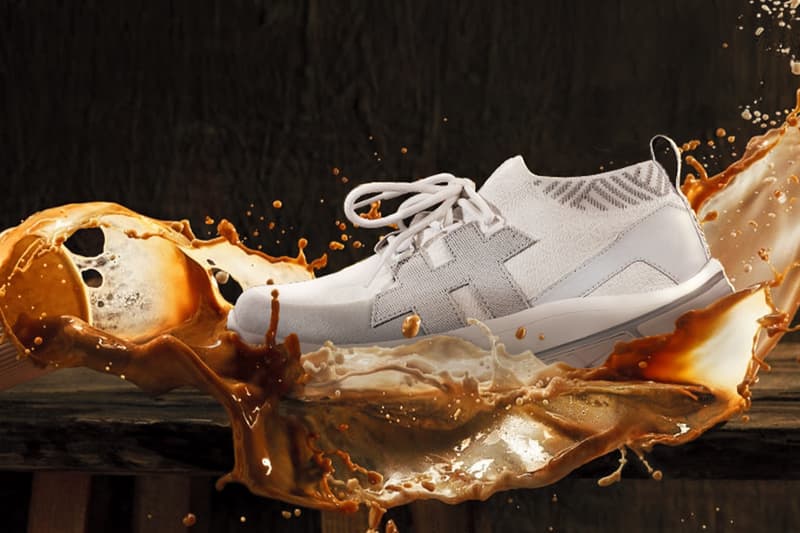 In 2020, approximately 166.63 million 60-kilogram bags of coffee were consumed worldwide, with around 2 billion cups drunk everyday. Like all organic waste, when coffee is disposed of in landfills, it creates the perfect breeding ground for methane — a greenhouse gas 28 times more potent than CO2.
For most coffee waste, landfill is its only destination, but for the Finnish start-up Rens, it's just the start. Founded in 2019 with the ambitious plan of creating the world's first carbon-neutral sneaker, Rens explored the possibility of creating everyday footwear with coffee waste to not only reduce the damage it was doing to the environment, but to make the footwear industry more sustainable too.
While Rens itself is based in Helsinki, Finland, its co-founders — Jesse Tran and Son Chu — were born and raised in Vietnam, a country synonymous with coffee exportation. "Vietnam itself is one of the biggest coffee producers in the world," explains Chu. "It consumes the most coffee per capita globally which means mountains of coffee waste. This made us start to wonder what we could do with what's left".
"Our signature coffee yarn helps cut the amount of methane-producing food waste that ends up trapped in our landfills while providing a material that is UV-protective, odor-fighting, moisture-wicking, and quick-drying," he continues.
After a successful Kickstarter campaign in 2019 saw Rens raise over $500,000 USD for its first coffee-based sneaker, the brand has gone on to recycle over 750,000 cups of used coffee for footwear since. And while coffee now seems an obvious choice for the pair, it wasn't their first port of call.
"Coffee wasn't our original idea," admits Tran. "The first shoes we ever created were made from 100% organic cotton, but after six months they tanked and we realised we needed an alternative. We didn't launch them to the market, but we showed it around to our friends and experts and the feedback wasn't great, so we went back to the drawing board".
Rens is by no means the first brand to explore whether organic waste could be the answer to the sneaker industry's problems. Last year adidas, Kering and Stella McCartney invested in mushroom-based leather alternative Mylo, with other manufacturers using bio waste such as apple skins, pineapples and leaves, too.
Making the sneakers has proven possible. What remains to be seen is whether they're going to challenge the industry's big boys — and that will likely be down to if performance innovation is still achievable in a sustainable way. From carbon-infused midsoles, GORE-TEX coatings and more, technical outdoor-friendly sneakers are making waves right now, and if the smaller labels are really going to challenge, they'll need to do the same.
"Shoes made from recycled coffee grounds may seem novel to some, but we wholeheartedly believe that this is just the beginning of a revolution".
"Just because our sneakers are sustainable, it doesn't mean they can't have technical features," says Tran. "Our first pair, the Original, are quick-dry, moisture-wicking, anti-bacterial and anti-odour, and were designed as lifestyle everyday shoes. Our most recent silhouette, the NOMAD, takes all of these innovations, but sits atop a slightly larger proprietary midsole too, which increases performance".
There's the issue of style, too: in the minds of many consumers, sustainable brands haven't yet cracked the aesthetics of a really great sneaker design. It's a hurdle that Chu is cognisant of.
"For us, this is an evolution. From what our first sneaker looked like to where we are now is crazy, we've grown massively in terms of design and style and we will continue to," he says. "Thanks to our Kickstarters we are able to use our community to our advantage and we'll continue to take everything on board".
Despite its aim of a full closed loop recycling process that would see used Rens sneakers repurposed for new releases still some way off, the brand's intentions and belief in what it's doing remain strong.
Beyond that, the founders are keen to prove that this is more than a gimmick. "Shoes made from recycled coffee grounds may seem novel to some, but we wholeheartedly believe that this is just the beginning of a revolution in garment technology and manufacturing," says Tran. "Plastic pollution and food waste present real problems – reducing them is not just an ambition, it's a necessity".