Phillips to Offer Full Set of Philippe Dufour Watches at Geneva XIV Auction in World First
It will be the first time a full set has been offered during a single auction.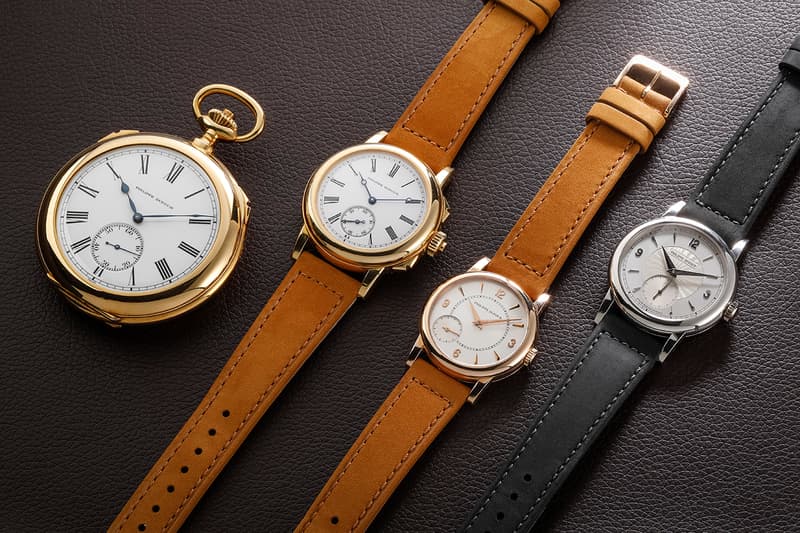 Phillips will offer up the first ever full set of watches from Philippe Dufour to appear for sale as the star lots of its November Geneva Watch Auction: XIV.
It's the first time that a full set of all four of Dufour's watches has been offered publicly by an auction house in a single auction.
The set, sourced from a private collector, includes Dufour's first watch the Grande & Petite Sonnerie pocket watch Number 1 in yellow gold, the Grande & Petite Sonnerie wristwatch number 1 in yellow gold, the Duality in pink gold and the Simplicity (37mm) in platinum.
Dufour, who has been making watches using traditional manual techniques for four decades, is widely considered the greatest living watchmaker and the standard of his hand-finished movement decoration using intricate metal polishing is regarded as the benchmark.
Grande & Petite Sonnerie Pocket Watch Number 1 (Unique Piece)
Estimate $436,000 – 872,152 USD
The first piece is the only example of Dufour's Grande & Petite Sonnerie Pocket Watch that bears his name on the dial. In the early 1980s, he produced five Grande & Petite Sonnerie pocket watches as a commission for Audemars Piguet, but the lack of recognition prompted Dufour to set out on his own. In the late 1980s he created a single Grand & Petite Sonnerie pocket watch with his own name on the dial. This is that watch.
Grande & Petite Sonnerie Wristwatch Number 1 in yellow gold
Estimate $1,090,000 – 2,180,000 USD
Dufour then spent three years miniaturising the complicated striking mechanisms inside his Sonnerie to install them in a wristwatch, something that had never been achieved before. This is the first of eight watches he produced, one of four commissioned by the Sultan of Brunei. Five of the eight featured white enamel dials, two in white gold and one each in platinum, yellow gold and pink gold.
Duality Number 8 in pink gold
Estimate $872,152 – 1,744,520 USD
Dufour then began recreating and miniaturising a concept found in school or "ecole" pocket watches from the 1930s that used a single gear train to power two balance wheels via a differential. In 1996, his Duality became the first wristwatch with twin escapements with nine being made from 00-8, this being the final piece, one of three produced in pink gold.
Simplicity (37mm) Number 57 in platinum
Estimate $272,581 – 545,176 USD
After years spent researching ways to overcome complicated challenges, Dufour set out in 2000 to create a simple three-handed watch with a movement designed to show off unprecedented levels of hand finishing.
Earlier this month, London-based fine watch dealer, A Collected Man, broke the world record for the price paid for a watch from an independent watchmaker when it offered a Philippe Dufour Grande & Petite Sonnerie wristwatch for $7.63m USD. The watch sold within three hours of being listed.
Elsewhere in watches, Bamford London drops a new forged carbon monopusher chronograph.