Dunkin' Taps Harpoon Brewery for a Blueberry Matcha IPA
Along with three other donut'-themed beers.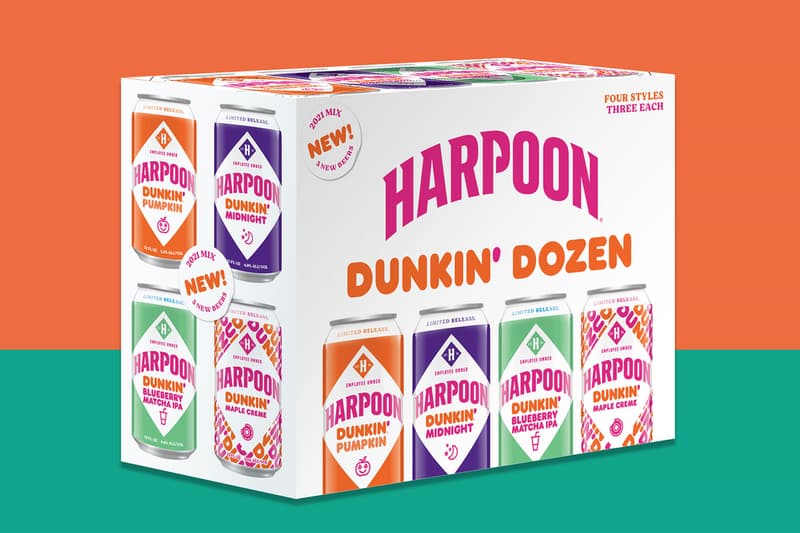 Continuing with their collaborative tradition, Dunkin' and Harpoon Brewery have once again come together to provide beer lovers some new flavors for fall.
Keeping their fan-favorite and seasonally-fitting Pumpkin Spiced Latte Ale, the two companies are now introducing three new flavors for the cooling months. The standout is no doubt the Blueberry Matcha Latte IPA, inspired by one of Dunkin's most popular drinks, while a Midnight American Porter and Maple Creme Blonde Ale round out the four-beer lineup. As a bonus one-day release, Dunkin' is also conjuring up a Harpoon IPA donut.
"We have elevated our collaboration with Harpoon this fall with three new beers, all made with Dunkin's iconic coffee, donuts, and matcha tea," says Dunkin's VP of retail business development Brian Gilbert. "Beer, matcha, coffee and donuts, we can't think of a better combination."
If you're looking for something quirky to drink this fall, all four Dunkin' x Harpoon beers will be available in bottle or draft form as well as a mixed 12-pack wherever Harpoon beers are sold. There will also be a special launch event on August 30 from 10 a.m. to 1 p.m. EDT at the Harpoon Brewery in Boston.
DISCLAIMER: We discourage irresponsible and/or underage drinking. Drink responsibly and legally.
Elsewhere in the world of food and beverage, Pizza Hut is bringing back Detroit-styled pizza.