Detroit-Style Pizza Is Coming Back to Pizza Hut
For a limited time only.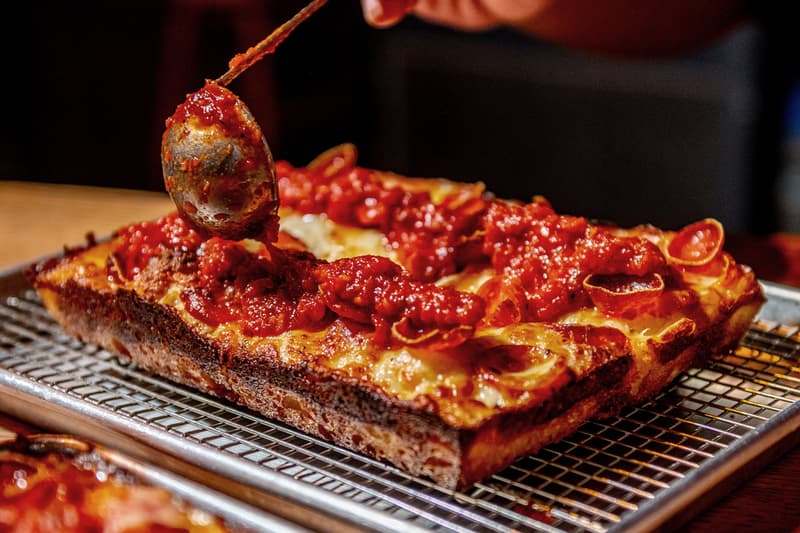 When it comes to pizza, there is always the debate between Chicago deep dish and New York-style pizza. Often, the Detroit-style pizza is often left out of the conversation and overlooked, but this time, Pizza Hut is making sure the iconic Motor City slices are not forgotten.
The thick, rectangular pizza with small curled cups of pepperoni and a crunchy bottom first debuted at the pizza joint in early 2021. It immediately became a huge success and sold out in two weeks. Pizza Hut's Detroit-style pizza has cheese going all the way to the crust, creating that extra savoury goodness that sees it caramelize to a crisp while tomato sauce is drizzled on top.
Pizza Hut is offering three original flavors including the Double Pepperoni which comes with 32 slices of regular pepperoni, and 48 slices of crispy cupped pepperoni. The Meaty Deluxe includes bacon, Italian sausage and more cupped pepperoni and the Supremo has Italian sausages, red onions and green bell peppers.
Starting August 25, Pizza Hut's Detroit-style pizzas are hitting select stores nationwide for a limited time.
In other F&B news, KFC Japan has released recipes for fried chicken ramen.