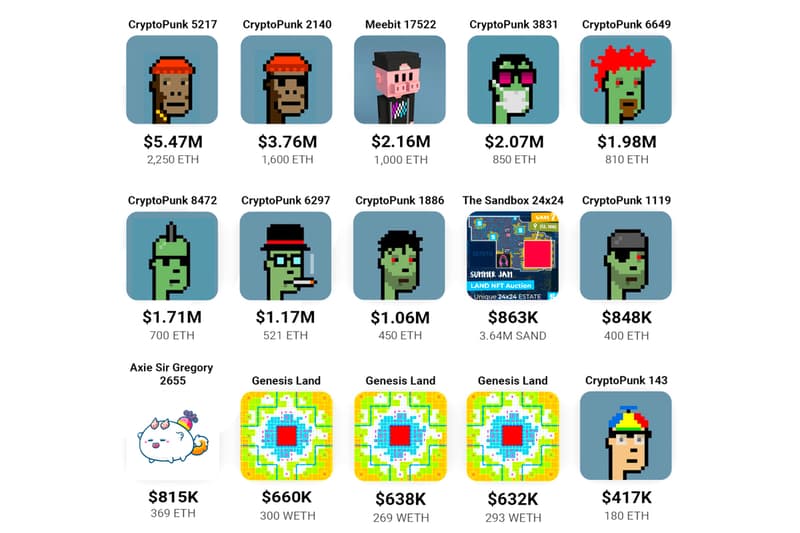 The Most Affordable CryptoPunk is Now Worth More than Six Figures
The 24×24 pixelated avatars are the hottest NFTs on the market.
---
Earlier this month, it was reported that a single Ethereum whale purchased $6 million USD worth of CryptoPunks, around one percent of the entire collection. The move was part of a recent eruption in the market with significant buy-in from influential figures such as Gary Vaynerchuk, DraftKings largest shareholder Shalom Meckenzie, and FaZe Banks.
With the rising popularity of NFTs, Ethereum's recent price jumps, and record-high transaction volumes flooding the market, the most affordable CrpytoPunks have now surged above the $100,000 USD mark. A report by DappRadar also shows that 9 out of 10 of the top NFT sales in July have been for CryptoPunks. The top sale was purchased with 2,250 ETH (around 5.47 million USD), of CryptoPunk 5217, a 24×24 pixelated Ape punk wearing a gold chain and an orange knitted cap.
Top NFT Sales in July '21.@larvalabs @TheSandboxGame @AxieInfinity @decentraland

Dapp Industry Overview: July 2021:https://t.co/N41kUkUMk8 pic.twitter.com/dbgtHooHCQ

— DappRadar (@DappRadar) August 5, 2021
In other crypto news, Oscar Mayer is including 10,000 Dogecoin in this promotional hot dog pack.