Athletes Throw Support Behind Sha'Carri Richardson After Shock Olympic Disqualification
"This is so trash man… just let her run!" said Patrick Mahomes.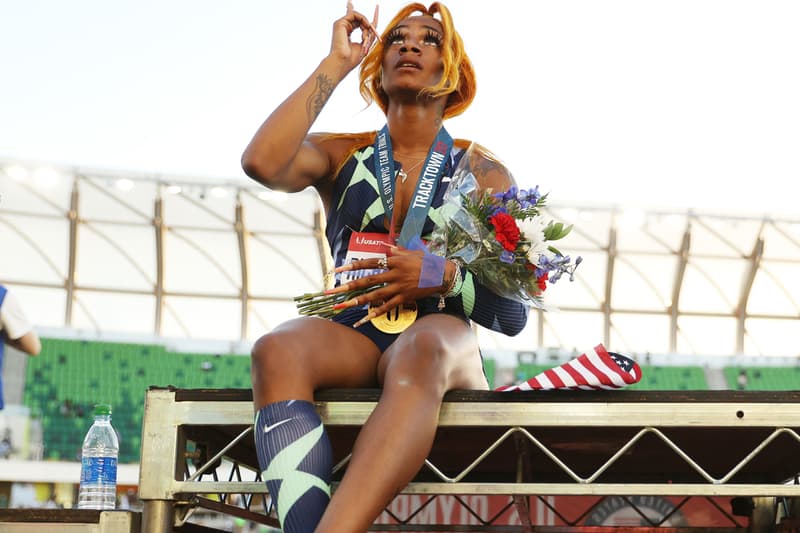 Dozens of athletes and celebrities have thrown their support behind track and field athlete Sha'Carri Richardson after she was suspended for testing positive for THC, the main psychoactive component found in marijuana.
The 21-year-old made waves last month after she ran the 100 meters in an incredible 10.86 seconds and set her sights on winning a gold medal at the upcoming 2021 Tokyo Olympics.
According to a statement from the U.S. Anti-Doping Agency, Richardson accepted her suspension for an anti-doping violation. Her competitive results obtained on June 19, including her Olympic qualifying results at the Team Trials, have also been disqualified.
"The rules are clear, but this is heartbreaking on many levels; hopefully, her acceptance of responsibility and apology will be an important example to us all that we can successfully overcome our regrettable decisions, despite the costly consequences of this one to her," said USADA CEO Travis Tygart in a statement.
USA Track and Field released a statement saying that the situation is "incredibly unfortunate and devastating for everyone involved." Team USA also responded to the situation, saying it was "heartbroken."
Sha'Carri wrote a brief message on Twitter:
I am human

— Sha'Carri Richardson (@itskerrii) July 1, 2021
Dozens of athletes and celebrities came to Richardson's defense, urging the International Olympic Committee to let her compete in the upcoming games.
This is so trash man… just let her run! https://t.co/tFY8omt215

— Patrick Mahomes II (@PatrickMahomes) July 2, 2021
This is bull Shxt……tbh

— Odell Beckham Jr (@obj) July 2, 2021
This shit makes me sick and is wrong on so many levels https://t.co/34ObXGRbPi

— Kevin Love (@kevinlove) July 2, 2021
@itskerrii queen I support you. It's time to break the stigma surrounding athletes use of marijuana.

I have my medical card. I play at the highest level my sport has to offer and I use medicinal marijuana for anxiety, recovery, and sleep.

— Natasha Cloud (@T_Cloud4) July 2, 2021
I don't know why marijuana is banned. Maybe a good reason. Maybe not. I know how it feels to lose a parent. Indescribable pain! I'm from the same neighborhood as @itskerrii Tough place! I wish people would stop calling her and this ban stupid unless you know the reason for both.

— Michael Johnson (@MJGold) July 2, 2021
What's really crazy is this probably won't even be a issue by the next olympics… https://t.co/nped0zPBQb

— Flash Garrett ⚡️ (@MylesLGarrett) July 2, 2021
Feeling so terrible for @itskerrii right now. Just know, we are with you!!

— Alex Morgan (@alexmorgan13) July 2, 2021
This is trash. Standing with @itskerrii ?. This has BEEN outdated.

— Megan Rapinoe (@mPinoe) July 2, 2021
My heart is broken for @itskerrii. I think she is an amazing athlete and her personality is superstar level. Marijuana being a banned substance in competition seems… outdated???? And unfair.

— Adam Rippon (@AdamRippon) July 2, 2021
Oh , so Sha'Carri Richardson reached the level of fame where it's "try and find ANYTHING" to mess with her. Got it…

— ? Jamal Crawford (@JCrossover) July 2, 2021
the fact people are still getting punished for marijuana when most of the big "corporations" have their hands in the industry makes 0 sense. #FreeShacarri

— Eric Ebron (@Ebron85) July 2, 2021
Nike also threw its support behind Richardson in a statement:
Official statement from @Nike on Sha'Carri Richardson:

"We appreciate Sha'Carri's honesty and accountability and will continue to support her through this time."

Richardson has been a Nike athlete since 2019, and remains so after positive marijuana test and one-month suspension pic.twitter.com/Jt8ZGGVQfD

— Aaron Dodson (@aardodson) July 2, 2021
In addition, several celebrities and public figures expressed frustration at the situation.
The notion that weed is a problematic "drug" is rooted in racism. It's insane that Team USA would disqualify one of this country's most talented athletes over thinking that's rooted in hatred. It's something they should be ashamed of. Also if weed made you fast, I'd be FloJo. https://t.co/swDLNoVcV3

— Seth Rogen (@Sethrogen) July 2, 2021
This Sha'Carri Richardson situation is sickening… pic.twitter.com/cQuZy949z7

— Paul Paul (@jakepaul) July 2, 2021
There's no evidence that cannabis is performance-enhancing. At best it's performance-maintaining. And it doesn't "violate the spirit of sport" any more than ice packs, cryo therapy, advil, etc. Sha'Carri Richardson should not be disqualified. #LegalizeIt https://t.co/YL0xeIrBAC

— Cameron Winklevoss (@cameron) July 2, 2021
In other news, BEAMS is releasing a line of apparel and accessories dressed in Tokyo 2020 Olympic colors and motifs.