Serendipity Brands Crafts 'Caddyshack'-Inspired "Gopher Traxs" Ice Cream
Inspired by the film's mischievous gopher.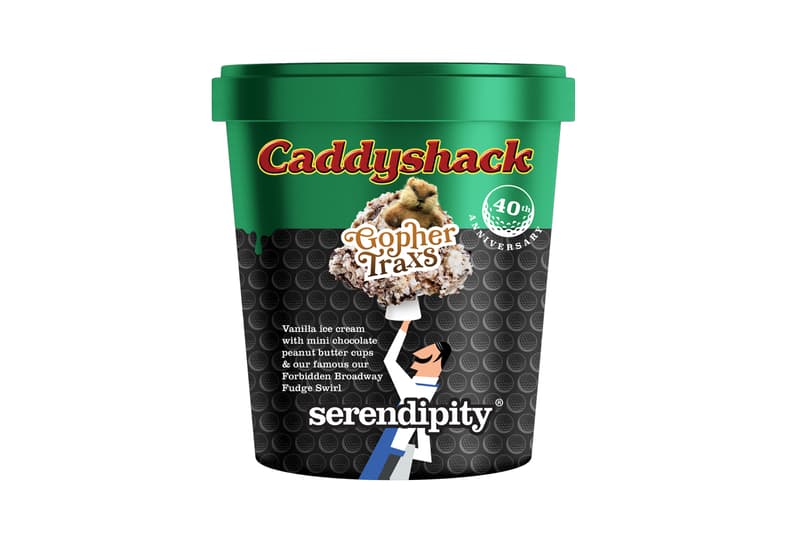 Serendipity Brands and Warner Bros. have teamed up for their latest movie-themed ice cream flavor: "Gopher Trax," which draws its name from Caddyshack's mischievous gopher. In the movie, this four-legged critter tears up the golf course much to the dismay of Bill Murray's Carl Spackler, but in the world of ice cream it serves as inspiration for a new vanilla ice cream with mini peanut butter cups and a salty caramel swirl.
For those not familiar with the film, the gopher appears at inopportune times, causing a headache for Murray's Spackler, a mentally unstable veteran. He tries (and fails) to kill it with a rifle and high-pressure hose, and at the end of the movie blows up the golf course in hopes of eliminating it, but fails in that venture too.
The "Gopher Trax" joins other movie and TV show-themed flavors from Serendipity and Warner Bros., like the Friends-inspired "Central Perk Almond Fudge" and The Goonies "Sloth and Chunk Rocky Rooooaad?" You can see the gopher and the ice cream it inspired above, and purchase "Gopher Traxs" from Serendipity retailers globally now.
If you've still got an appetite for food and beverage news when you're done, check out Krispy Kreme's new summer donut release inspired by carnival treats and take a look at the Reptar-inspired ice cream bar created to celebrate Rugrats' 30th anniversary.