1-of-1 2017 Patrick Mahomes National Treasures Card Sells for $4.3 Million USD
Now holding the record for most expensive NFL card.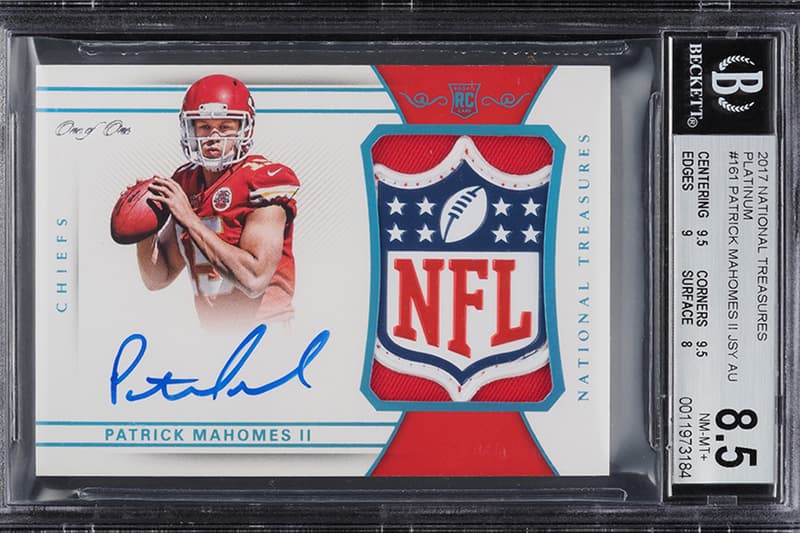 A 2017 National Treasures Platinum card of Patrick Mahomes has just been sold for a new record price.
Sold by PWCC Marketplace yesterday, the autographed card was just 1/1 and had a grading of 8.5 by BGS. Closing at a staggering $4.3 million USD, this card now holds the record as the most expensive NFL football card transaction to date.
The card was acquired by the Ohio-based LJ's Card Shop. "Our goal at LJ's Card Shop has always been to build the best modern-day card collection," said LJ's Card Shop. "We are continually hunting for unique cards that add to our collection in a meaningful way. The 2017 National Treasures NFL Shield Patrick Mahomes Rookie is truly a piece of art. We are honored to add this card to our collection."
This card blows past April's sale of a 2000 Tom Brady Playoff Contenders Championship Rookie Ticket that was sold for $2.2 million. "This is one of the most desirable and important modern-day trading card assets in our entire market and is the most sought-after Patrick Mahomes card on the planet," Said Jesse Craig, Director of Business Development at PWCC Marketplace. "We are very pleased to bring buyer and seller together to broker this truly one-of-a-kind piece."
We just brokered a record-breaking $4.3 million private sale for a 2017 National Treasures NFL Shield Patrick Mahomes Rookie Auto 1/1 to LJ's Card Shop.

This is the highest price ever paid for a football card! pic.twitter.com/CQ7rQ3MWW5

— PWCC (@PWCCmarketplace) July 28, 2021
In other trading card news, check out this Yu Nagaba x Pokémon TCG Pikachu promo card.