Rare Tom Brady Autographed 2000 Playoff Contenders Championship Rookie Ticket Auctions for Over $2.2 Million USD
A different version of the same card sold for then-record $1.32 million USD in March 2021.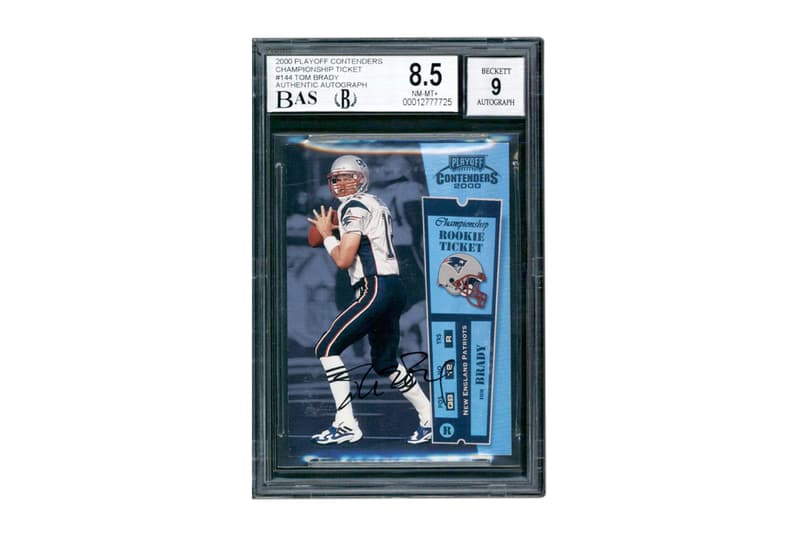 Tom Brady has set another record with an autographed 2000 Playoff Contenders Championship Rookie Ticket selling for $2,252,855 USD at Lelands online auction. The trading card is No. 99 out of 100.
According to the Beckett Grading scale, the card received an overall rating of 8.5, representing a near-mint condition. The autograph itself was given a grading of 9. The sale comes hot off the heels of a recent March auction where the same card, of a different number sold for a then-record of $1.32 million USD. With this sale of this autographed rookie ticket, Tom Brady has officially broken his own record.
The official auction listing states that the card is "one of only a handful ever offered for sale." The auction house comments on the autograph itself saying, "The autograph compares favorably for eye appeal and signature strength with any other graded 10 on the market, if not better than other 10's we have seen."
Tom Brady's cards have skyrocketed in the recent months as well as other NFL cards including Patrick Mahomes rookie card, which auctioned for $861,000 USD. Soon after Brady's Super Bowl win with the Tampa Bay Buccaneers, the athlete's trading cards have continued to sky rocket in the recent months.
JUST IN: Tom Brady signed Championship Rookie Ticket card sells at @Lelandsdotcom for $2,252,855. pic.twitter.com/teTEM4vc6Y

— Darren Rovell (@darrenrovell) April 3, 2021
Elsewhere in trading cards, UFC star Khabib Nurmagomedov unveiled his NFT card collection.