Devin Booker Shuts Down Comparisons to Kobe Bryant
"I should never be compared to Kobe Bryant."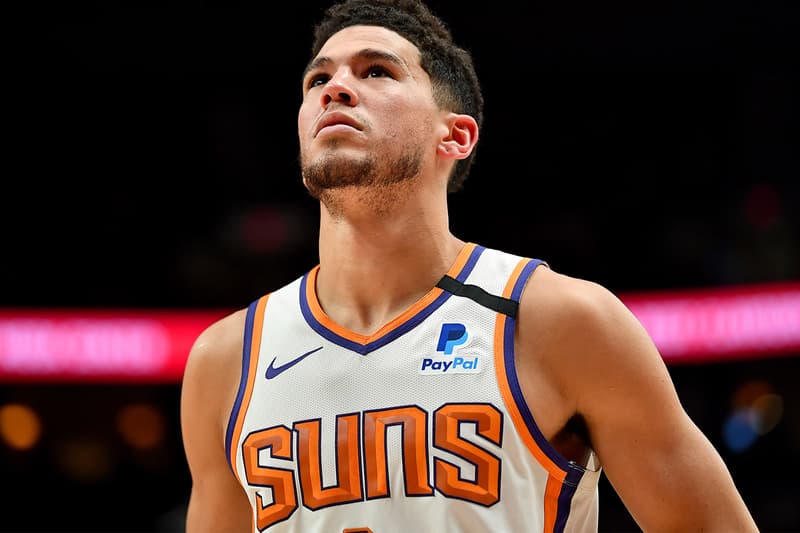 With the NBA finals closing in on Game 6, comparisons between Devin Booker and the legendary Kobe Bryant have been a topic of discussion lately, but the Phoenix Sun's shooting guard shared a blunt response to the matter.
In a recent interview with Richard Jefferson, Booker was asked how he feels being compared to Bryant. The 24-year-old made it known that there shouldn't be any comparisons made to his Hall of Famer mentor.
"I haven't really thought about it much," Booker stated. "I know it's something that everybody is gonna ask right now, and I didn't make that comparison myself. I just leave it at what he's done for me as a mentor and the advice that he's left me with, so I try to take bits and pieces of his mentality and approach, but I should never be compared to Kobe Bryant."
A lot can be said with the way Booker has made his way up in the league, which seems to parallel with Bryant's career. Despite similarities, the former Kentucky Wildcats star has already made a huge impact from being the youngest player to score over 60 points in a game and finish with 70 against the Boston Celtics in 2017 to scoring 40 points consecutively in back-to-back games in his first NBA Playoff Finals.
Currently, in just his sixth season in the NBA, Booker has banked a great number of achievements with still many more years to come. While he has an identical playing style with Bryant such as distinct isolation moves, the two developed a relationship in the later years of Bryant's career. Bryant told him to "be legendary" and till this day Booker wears those same words on his kicks in every game.
"I should never be compared to Kobe Bryant."

—Devin Booker pic.twitter.com/hcXFSPLScm

— NBA on ESPN (@ESPNNBA) July 19, 2021
I hate comparison questions. This man made it to the finals in his first playoff run. Just let him be great. Droppin 40 and leaving everything on the court. I'd pay per game to see this type of hoopin! This has been a good ass finals! Fans winning

— C.O.D. (@DecaturboyMusic) July 19, 2021
He's humble enough to understand the moment…but sometimes I see some of Kobe in his game…

— J.C. (@eight7zerooo) July 19, 2021
Devin booker and chris paul rn: pic.twitter.com/1oIemjd6SI

— Dan (@d3urnel) July 18, 2021
"Devin Booker the next Kobe" pic.twitter.com/e8YXsyk8oZ

— MrAntiSocial27 (@MrAntiSocial27) July 18, 2021
One thing I don't understand is all the Devin Booker hate out there. He's not the one comparing himself to Kobe. He plays hard and is a good ball player. Even better off the court. Just won NBA Cares man of the year. I see a lot of Giannis love because he hugged a fan.

— Tyler Sublette (@TSub08ASU) July 18, 2021
In case you missed it, Jordan Brand explores the link between British basketball and its American heroes.