The Rise and Fall of Eddie Plein, New York's Forgotten King of Grills
A new book charts a golden age of hip-hop, and a culture-defining jewellery empire.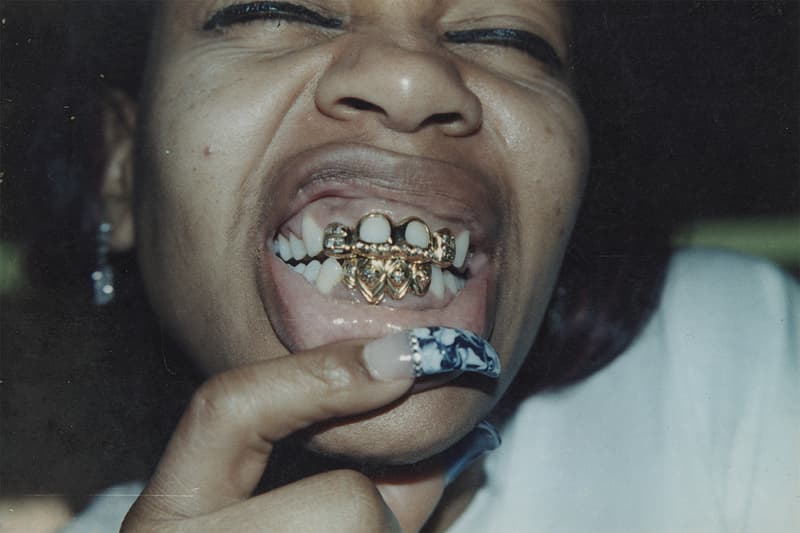 Moments of genius come from the strangest places. For Eddie Plein, it was cracking a tooth on a bowlful of fried cassava, some time in 1983.
Plein's invention — sparked by his time spent in the dentist's chair, having his tooth replaced — was fronts, a gold covering for the teeth that could be removed at will (as opposed to a permanent crown fitting, or a gold tooth). After months spent prototyping, Plein learned to produce styles that could be moulded perfectly onto his client's teeth, and that could be customized in any number of ways, giving a new generation of exuberant and extravagant dressers the opportunity to flex.
The timing of his creation was kismet: in the mid '80s, it came as an upsurge of rappers and musicians began to emerge in Queens, Harlem, and Brooklyn — and Plein's jewellery became a way for them to showcase their individuality and self-expression.
Plein's rise, and the extraordinary world he became a part of, is chronicled in a new book, Mouth Full of Golds, which releases August 29 and is co-authored by Lyle Lindgren. It's part biography, part memoir, part time-capsule, with contributions from everyone from Goldie to Cee-Lo Green and more recent converts to grills, including A$AP Rocky, who pens an essay on their cultural significance.
"It was all word of mouth…but it was the right people."
Beyond that, the book presents a vision of a forgotten New York: one filled with Russian mobsters, gang lords, pimps, and a cast of characters more colorful than a Charles Dickens novel. Not to mention the newly emergent musicians themselves: in any given chapter, Run DMC, Kool G Rap, or Flavor Flav is likely to make an appearance, drifting into Plein's shop for another piece. The New York presented in his recollections is the vibrant, dangerous and dynamic city of cultural mythology — and a long way from the gentrified boroughs of today.
"It's very different," says Plein today, speaking to HYPEBEAST from his brother's condo in Miami. "It was really the right time to be in New York, because Queens was brimming with artists and rappers – many, many, many, rappers. Like more than any borough. More than Brooklyn, even Manhattan. Queens was it."
As his profile grew in the late '80s and early '90s, Plein quickly became the jeweller of choice to a new generation, receiving ever-increasing orders and requests for custom pieces from his store at the Colosseum shopping mall in Queens. His description of that period sounds like a golden age of Black entrepreneurship: a newly affluent cultural group, finally receiving recognition within pop culture, and determined to forge their own aesthetics. "You could really see firsthand how electric it was," he writes in the book, "and feel the seismic vibrations it was making all through New York."
In a sense, too, his account offers a template for Black creators today: rather than banking on the acceptance and patronage of the overwhelmingly white fashion and jewellery industries, who would have sneered at his comparatively humble operation (and, likely, cast judgement on his clientele), Plein focussed on creations for his own community, and built a flourishing business through the networks that surrounded him. As the book's blurb puts it, he became "one of the greatest fashion icons you've never heard of."
"Atlanta was like a resurgence of New York. You could see it was gonna be big. It was just a different vibe."
"It was all word of mouth," he says now, "but it was the right people." He recalls an early meeting with the rapper Just-Ice, who became one of his first customers — and ended up wearing a custom front by Plein, moulded into the shape of his name, on the cover of his 1987 album, Kool & Deadly. "The posters for that album took up whole walls of New York City," Plein recalls. "That brought me many, many, new customers, who wanted to know where he was getting it."
As Plein's success grew, so did his reach — and, during the 90s, he moved to Atlanta, to expand his business there. Naturally, in line with the serendipity that shaped his career, he arrived just as a breakthrough musical scene was exploding in the city. Before long, his creations were being worn by Outkast and Goodie Mob, who were positioned right at the forefront of ATL's rise. "It was like a resurgence of New York," Plein says. "You could see it was gonna be big. It was just a different vibe."
As the South became the new epicentre of hip-hop, Plein's stature continued to rise — and by the early 00s, he seemed unstoppable, creating his-and-hers orders for Nas and Kelis, and setting diamonds the size of engagement-ring stones into his pieces. "It was raging," he writes in the book. "The fad was going wild…everybody and their mother now doing gold teeth."
Yet as Plein's empire grew, so did his competitors. By the late 90s, a host of imitators had emerged, creating their own versions of his pieces — and often at a reduced price, and reduced quality. Plein, refusing to compromise on the integrity of his work, watched as new contenders chipped away at his customer base, and his once unstoppable ascent began to falter. By 2006, Plein's store had closed. Far from the extravagant properties he'd purchased at his peak, he soon became unable to sustain his fortune. For the last decade, Plein has worked as a caretaker.
Plein holds no regrets, though, about his path. In particular, he's proud of his absolute refusal to accept any less than perfection in his pieces, despite the high cost and time it involved — and the window it created for lesser jewellers to undercut him. "Quality was the one thing," he says now. "You've got to take time to make it look good. We had a nice run. But maybe the game was changing. So it was okay for me to get out of it." He notes, too, that original customers of his still make contact with him to comment on the quality of those early pieces, 25 years later. It's a testament to the skill and artistry of the fronts he created.
These days, Plein's brother Lando has taken up the family mantle, and is creating his own pieces — taking care to maintain the standard set by Eddie. And as figures from Rocky to Rihanna have repopularized fronts for a new generation, Plein's original innovation, and his contribution to the history of the style, is slowly being reacknowledged more widely. "I can't believe it," he says now. "I thought it was gone, for a minute. But people are calling me to come and see me, because they missed me."
"I was really gone, and not many people knew where I was. But there are people who cared. Who really cared."
Mouth Full of Golds releases August 9 and will be available from the webstore here.