"Bottega Green" Is the Color of Summer 2021
The brand's crisp apple shade is adding flavor to all manner of looks.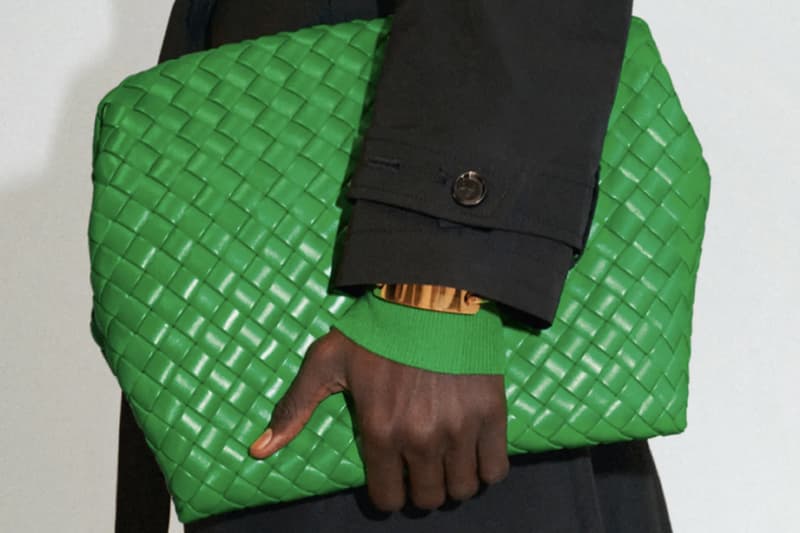 Few brands can remove themselves entirely from social media and still retain their level of influence. But Bottega Veneta, which has carefully cultivated an air of mystique since the arrival of creative director Daniel Lee, has seen its minimal separates and heavy-duty footwear being aped by huge swathes of the fashion industry.
And it seems that applies to its colors, too. The saturated shade of vibrant apple green that appears on the brand's shoeboxes — and that since came to the forefront of its recent Pre-Fall collection — has become the de facto color of the year.
And once you look, it's everywhere. While the color hasn't fully trickled down to the high street yet, there's a whole host of luxury brands exploring similarly oversaturated hues. As you're about to find out from our list below, Bottega's vibrant shade has taken over Instagram, and the world. Check out the HYPEBEAST edit below.
Bottega Veneta Jacket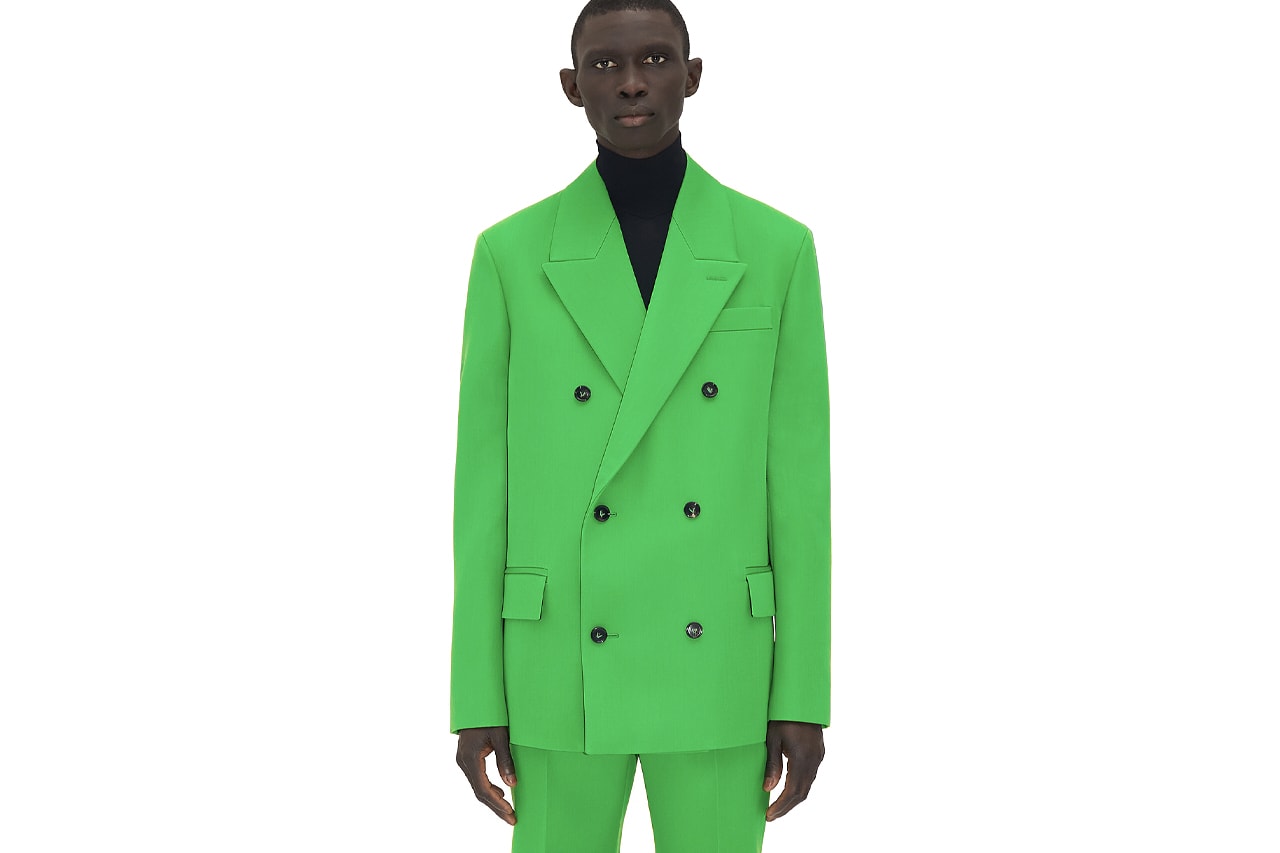 Kicking things off where it all started is this Bottega Veneta jacket in the house's signature shade of "Parakeet" green. It's a master class in juxtaposition: the class and elegance of a double-breasted blazer, the practicality of a relaxed fit, squared-off shoulder wool construction and the contrasting absurdity of it being vivid green.
JW Anderson Logo High Top Sneaker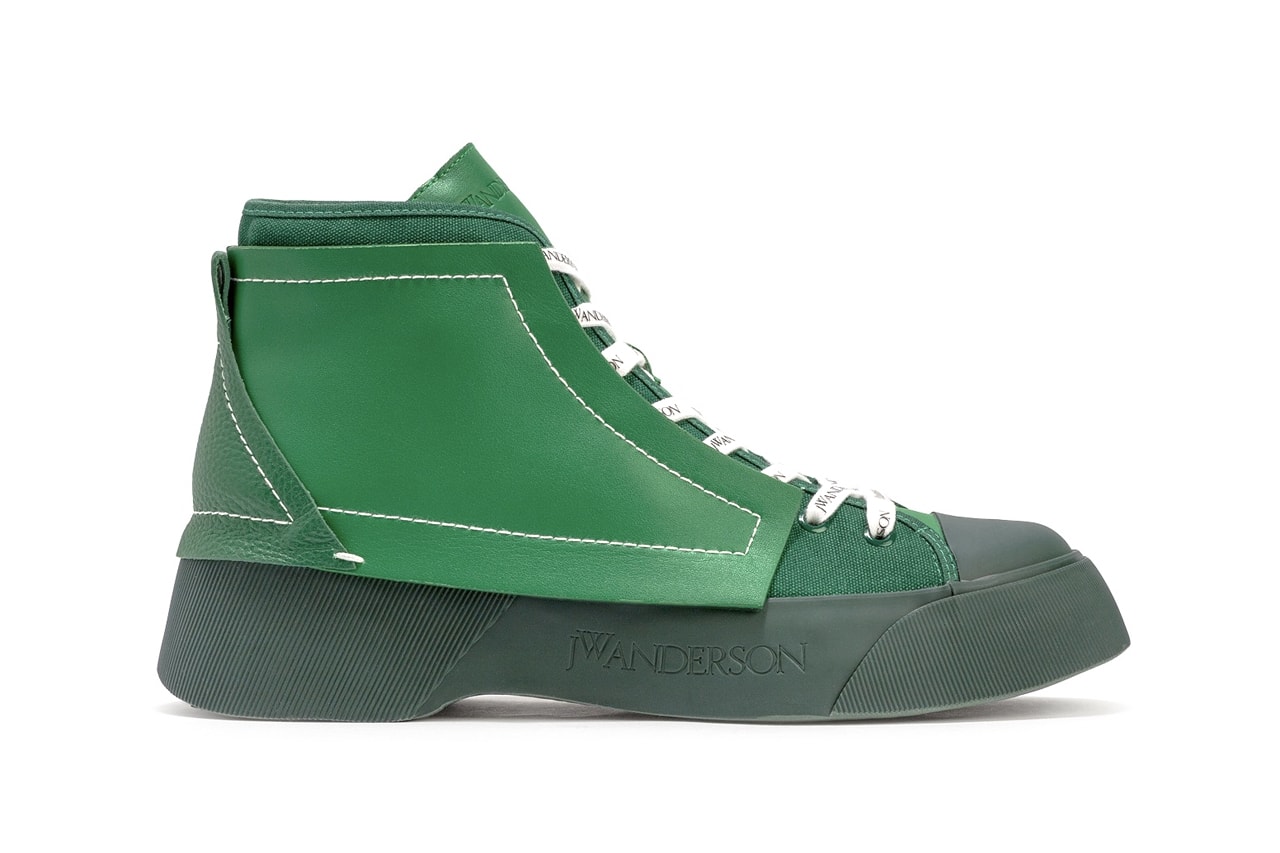 For something a bit more practical for the everyday run around, check out JW Anderson's very first in-house sneakers in green. This high-top pair is the perfect example of "saturation not shade," as even though it is on the darker side, the colors still pop (especially that leather panel on the lateral midsection). If the archetype sour apple hue is too bold for you, then the touches of dark green should help you out here. 
Bottega Veneta Sunglasses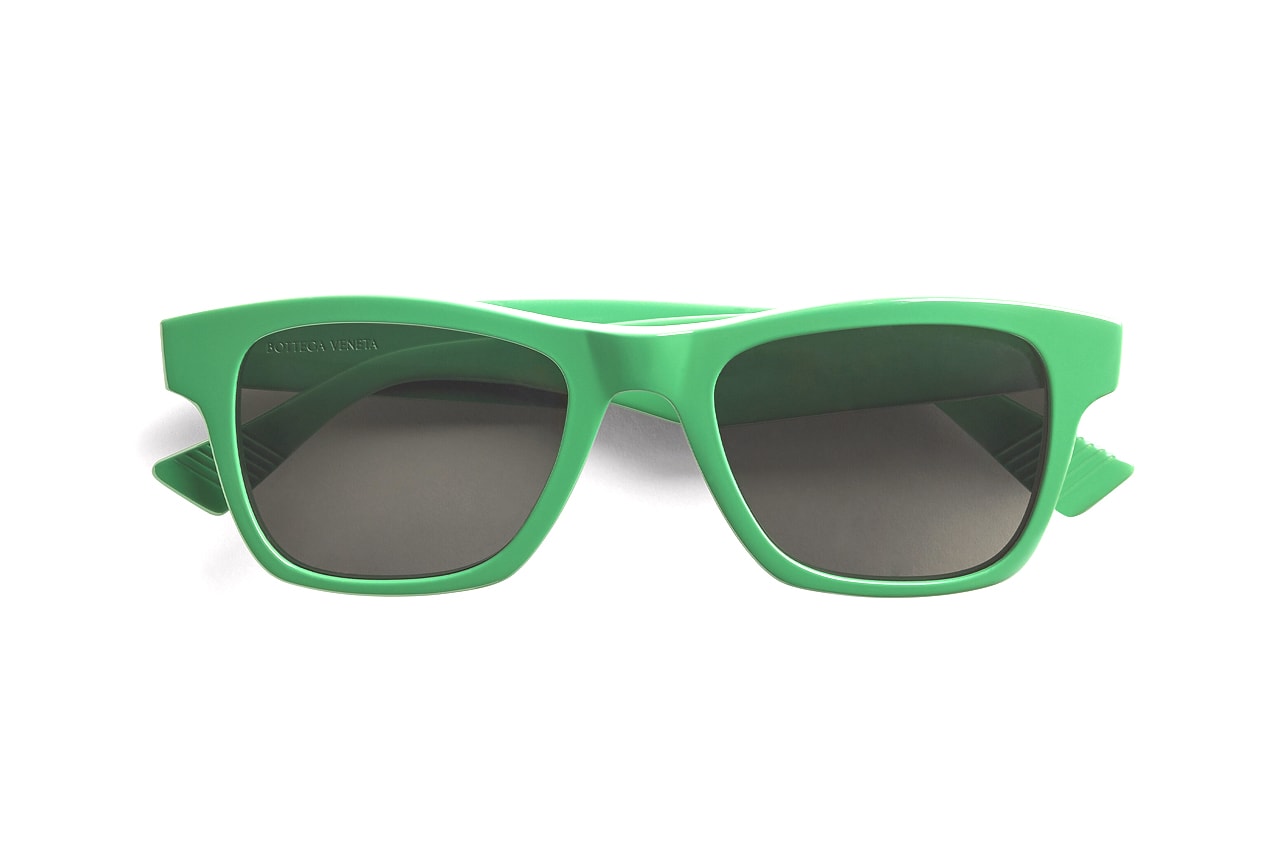 If green shoes or a whole blazer is a little too much, then it's worth considering a smaller accessory.These 100-percent acetate sunglasses are classic and simple, but are livened up with a slightly darker but still bold shade of green and signature gold-toned embellishments on the arms. 
Cav Empt Divide Knit Vest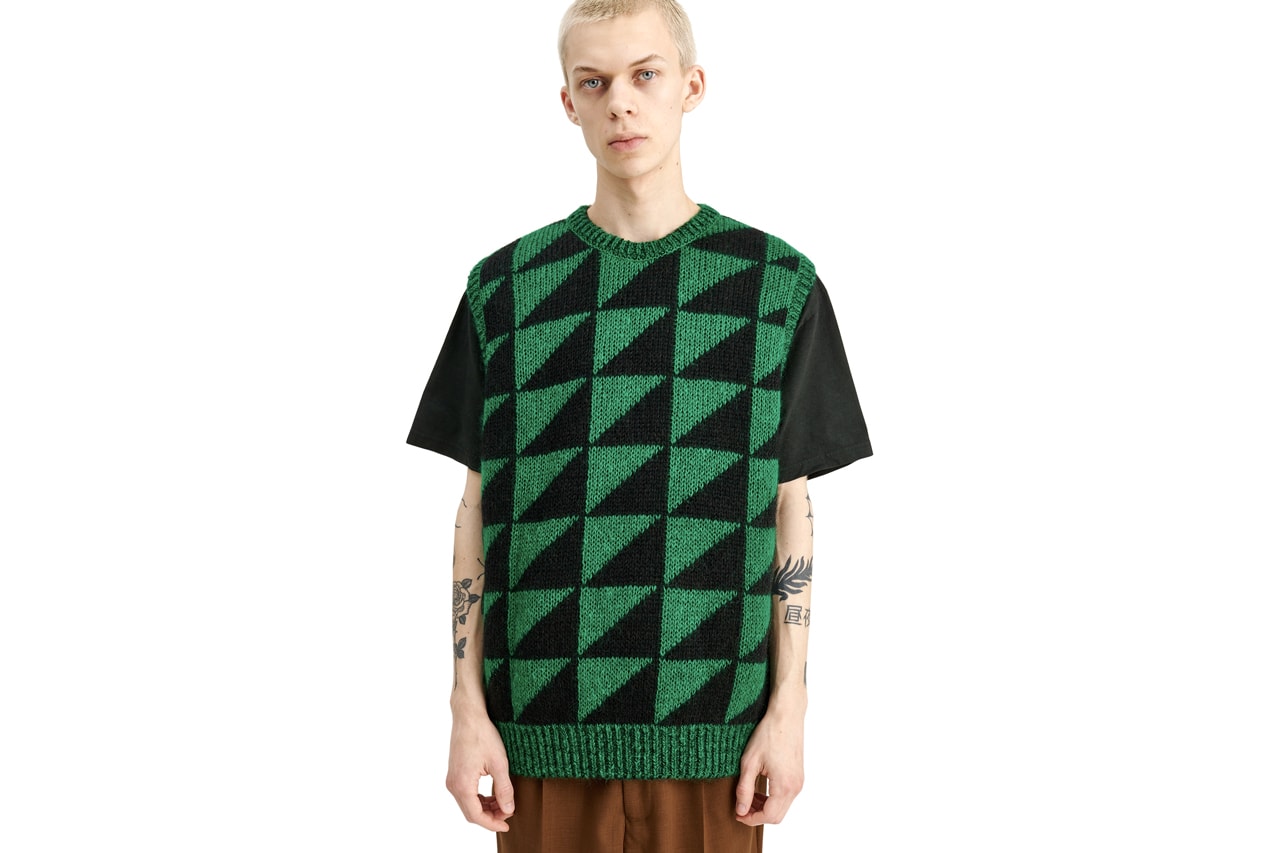 Cav Empt is seldom described as a brand for those who want to get an 'easy way in', as its pieces tend to skew towards the controversial and daring. But this Divide knit vest is quite the accessible garment indeed: by intersecting the green mohair blend with black triangles, Cav Empt splits up the garishness to provide us with something that transcends trends.
Kenny Scharf x Dior Oversized T-Shirt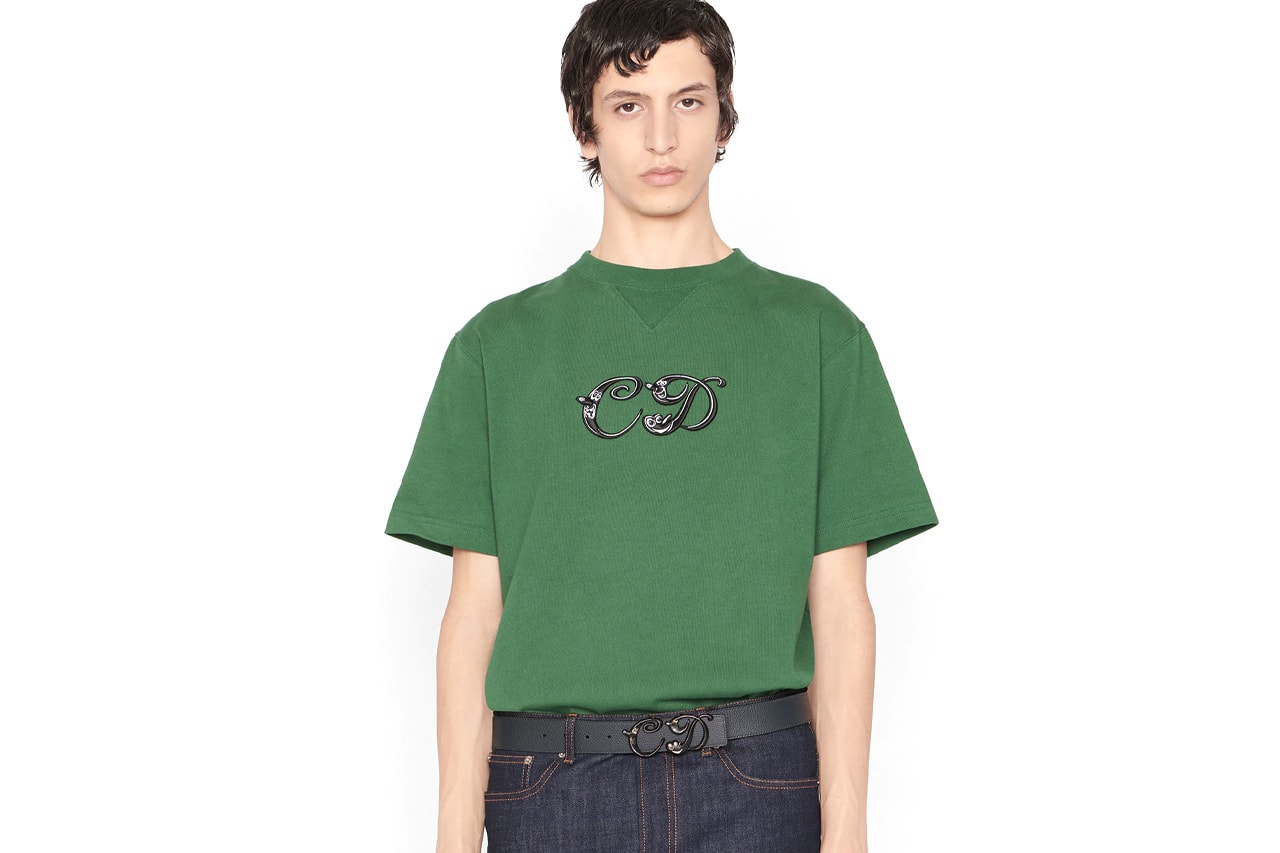 Dior's collaborative T-shirt with Kenny Scharf is yet another example of "saturation not shade" as this oversized, heavyweight tee is a deep bottle green that pops as boldly as the next acid hue. And its boxy cut and simple branding means it'll be an easy wear throughout the summer.
Freya Hartas x Gucci Animal Wool Sweater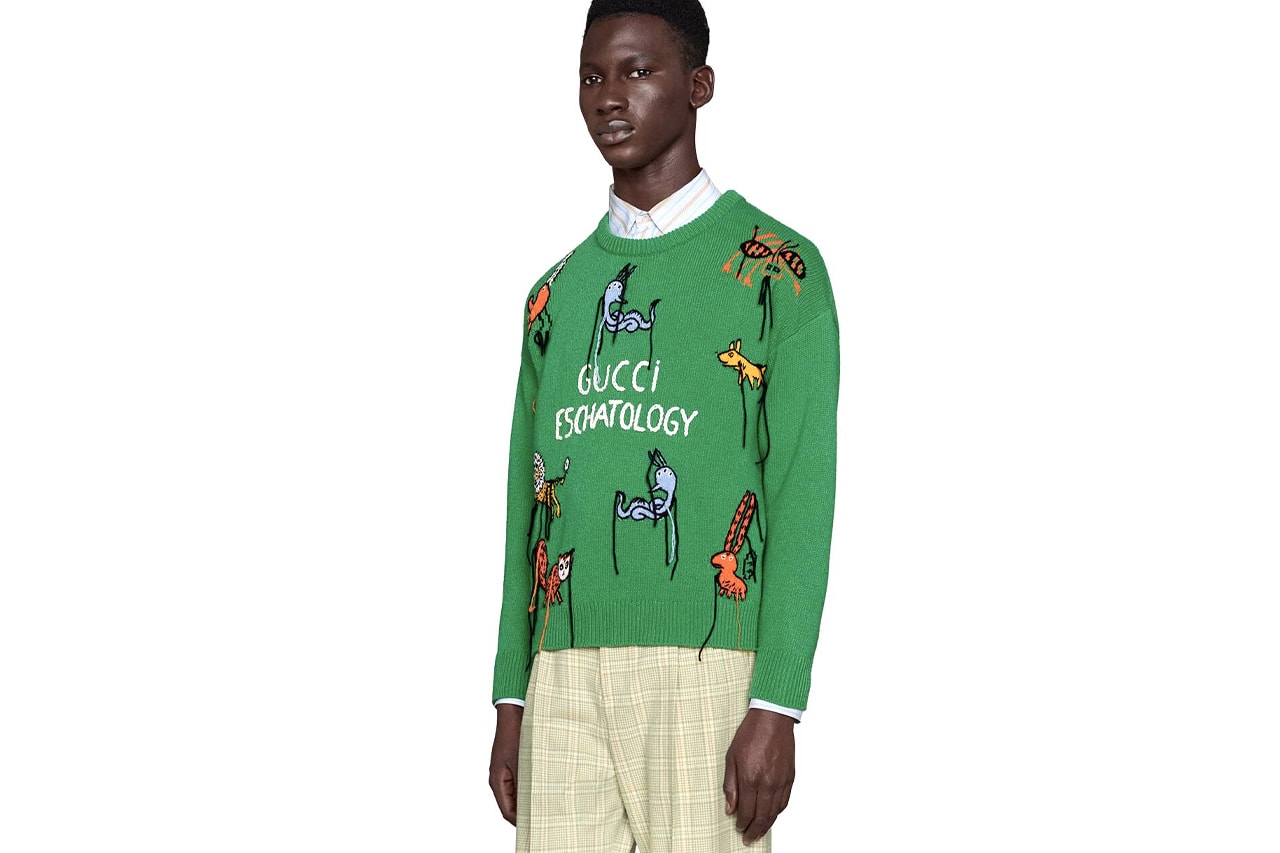 If we could wear one sweater for our "end of the world" look, it'd be the Freya Hartas x Gucci "Eschatology" animal jumper you see above. The rich hue serves as the base for a motif of mythically-inspired embroidered creatures and characters, in line with the "Gucci Eschatology" branding, which references a doctrine that explores the ultimate fate and destiny of humankind as we know it. But it's also just a great color.
Stone Island Basic Crewneck Sweater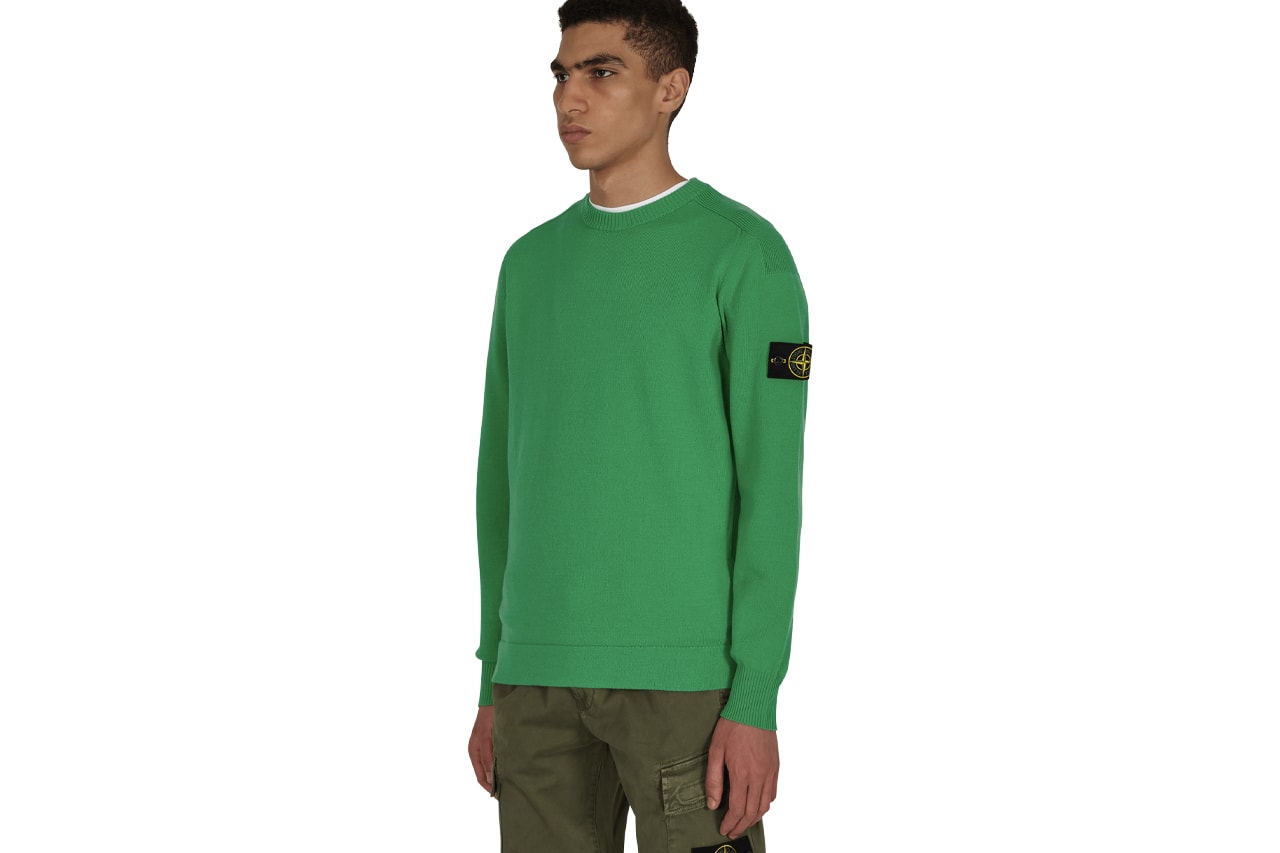 You can't go wrong with Stone Island's sweaters, and now everyone's going to want a bite of them thanks to this new green iteration. As per usual, little is going on — but that's kind of the point. Rely on that patch and this saturated green hue to take you far this season. 
HOMME PLISSÉ ISSEY MIYAKE MC MAY Shirt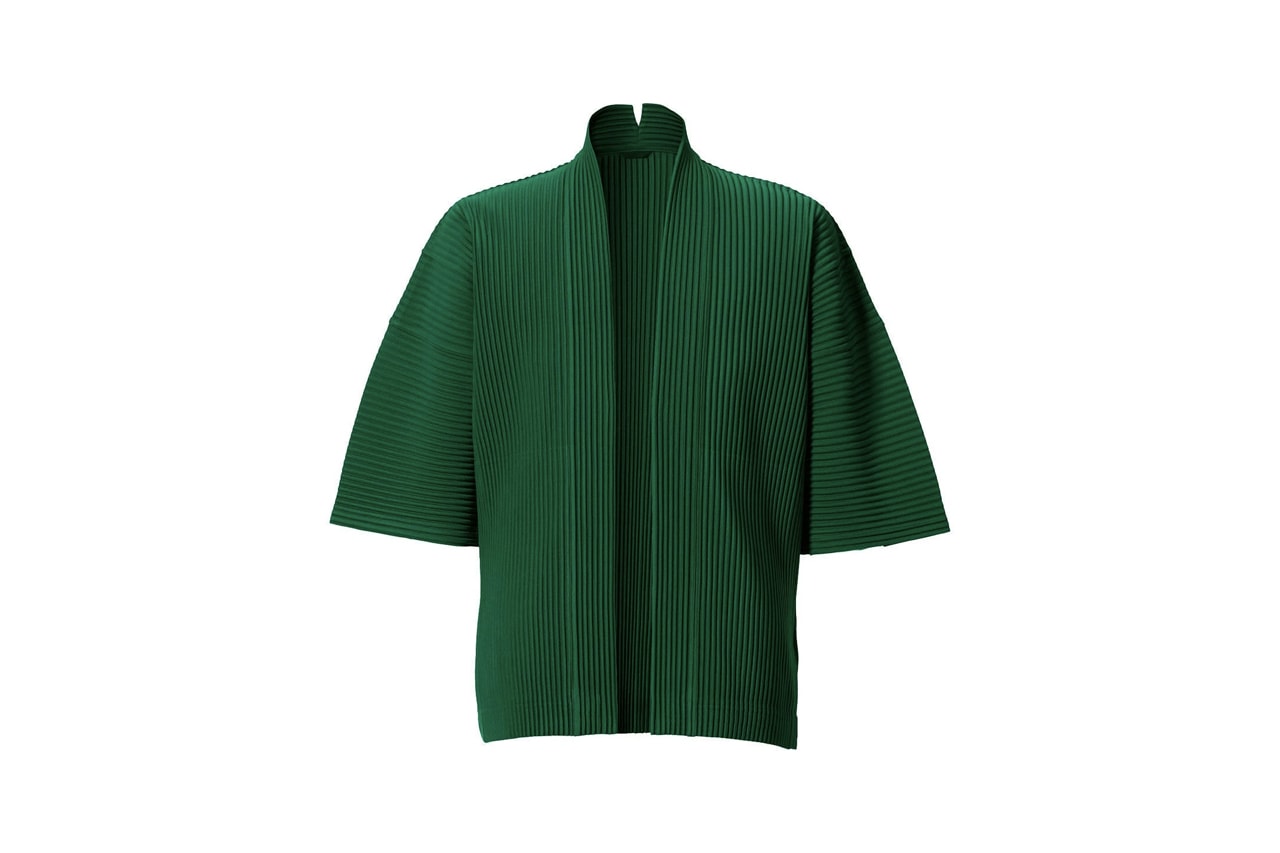 Cult favorites HOMME PLISSÉ ISSEY MIYAKE may have taken a moremuted route for SS22, but it still has a number of core pieces that are up for grabs — like this MC MAY shirt in "Viridian Green." Less of a shirt and more of an open-front, kimono-collar, mid-sleeve jacket, this piece is perfect for layering, and a smart update on the brand's signature pleats.
ERL Venice Short Sleeve Hoodie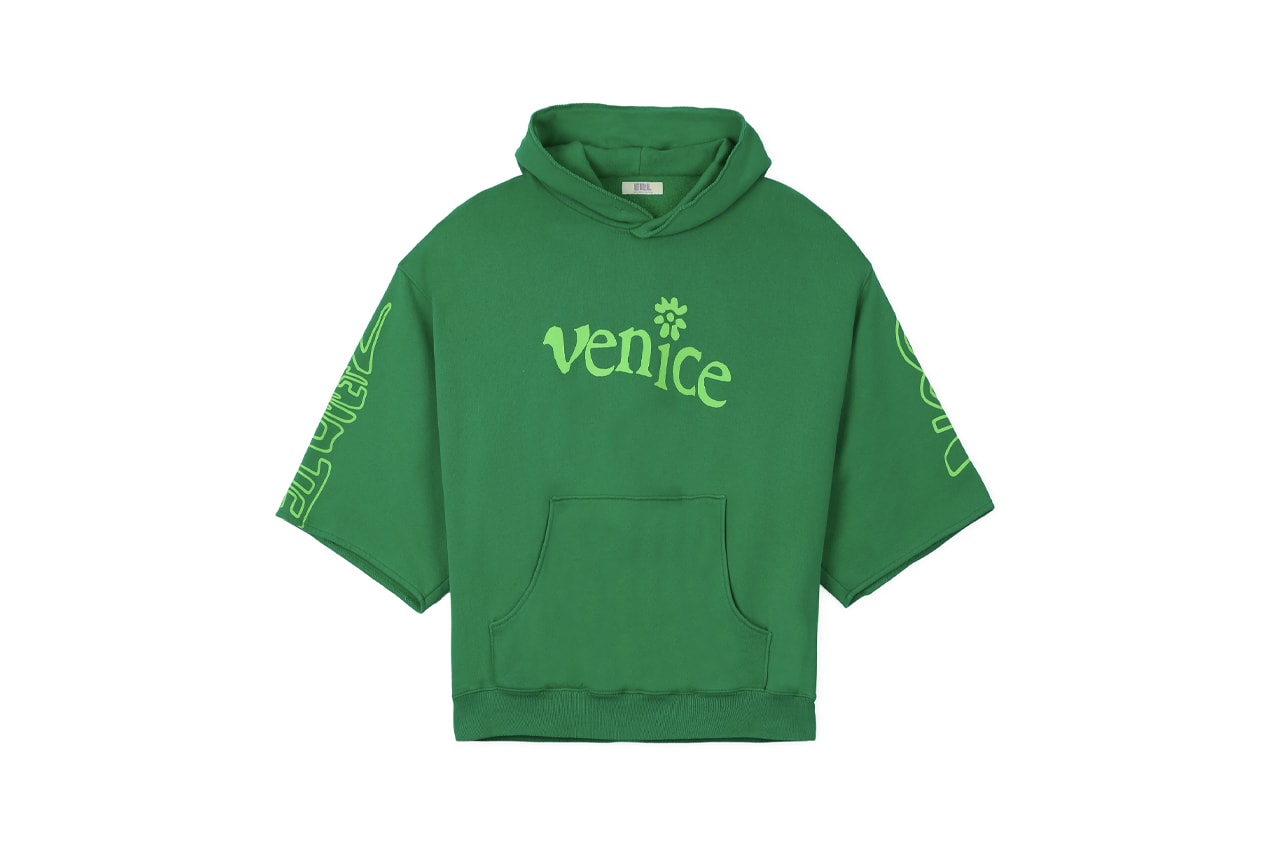 ERL is one of 2021's most promising brands as it continues to carve out a niche in the ever-growing world of unisex, "for everyone" clothes. There's nothing wrong with that — in fact we're rather fond of it — and we're especially keen when brands such as ERL produce garments like the short sleeve hoodie and get it right. Perfect all year round, this piece is sure to leave your friends green with envy for not picking it up sooner.