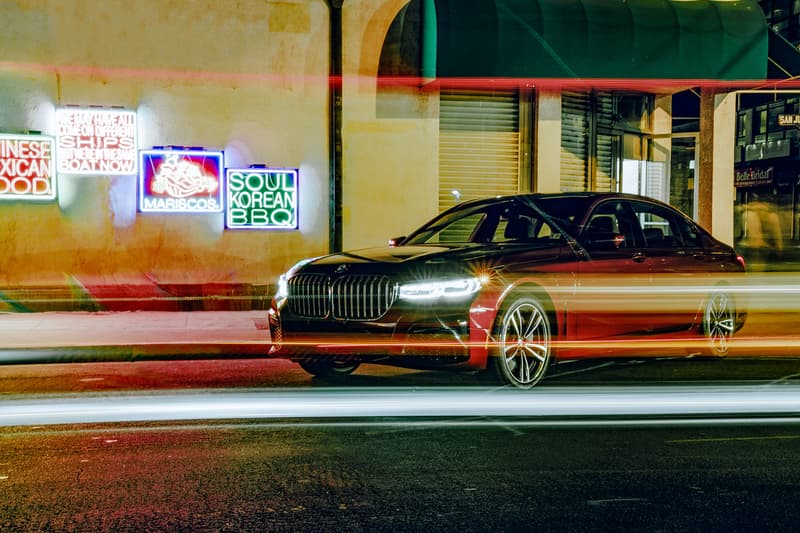 Patrick Martinez Captures the Unity and Resilience of LA Through Neon Artworks
The rising artist discusses the inspiration behind his latest public work entitled "Los Angeles Resilience", 2020.
---
Patrick Martinez is the celebrated Los Angeles-born artist who specializes in paintings, mixed-media and neon works. Martinez recently teamed up with independent curator Pedro Alonzo on a special project, in partnership with BMW, that sees the artist merging elements of LA's multiple cultures through a dynamic installation of neon pieces. The public display, entitled "Los Angeles Resilience", 2020 focuses on the spirit of unity and resilience while shedding light on the city's ever-changing landscape.
When asked why he creates neon artworks, Martinez expressed: "They're a 24-hour message even when everybody is asleep. The aim is to create work that can be placed in differing environments, whether it be a liquor store or a gallery, making it accessible."
Accompanying the installation is a video that offers an intimate look at the artist's motivations and process behind the project. In the short clip, the artist is cruising through the landscape of Los Angeles in a hybrid BMW 7 Series discussing his work with Alonzo and speaking on how the city appears throughout his practice. At some point, the pair discuss the efforts of small businesses and the initiatives they spearhead to attract consumers while eating food from a local favorite, the Mariscos Jalisco taco truck. Glimpses of LA's recognizable storefronts and neon signs appear in the short film as well.
Check out our exclusive interview with Patrick Martinez and Pedro Alonzo below as the duo discuss the project and their inspirations.
What is the inspiration behind this project?
Hedwig Solis Weinstein, Head of BMW Brand Cooperations Arts & Design: It starts with BMW's passion for creativity which is expressed in our 50 years involvement in cultural projects across various genres. We are driven by enabling creative dialogues and for this purpose we teamed up with curator Pedro Alonzo and Patrick Martinez to explore the influence of urban landscape on contemporary art and convey a feeling of community despite times of social distancing.
How do the streets influence your work and what are the key elements?
Patrick Martinez: The street landscape definitely influences my work as it provides the visual reference as well as physical material I'm using to compose my work. However my influences aren't limited to just a conventional "street" esthetic but I would say more of a community esthetic. When I approach these pieces I'm thinking about friends and family that live in different areas in and around LA. I think about personal relationships, histories, stories my brother tells me, stories my friends share. I run through these things as I'm responding to the materials I'm using or maybe of an idea materializes on the panel I will relate it to all of these thoughts.
What is currently inspiring your work/what is motivating it? Is it a sense of community, thoughts of resilience, the notion that Hybridization the mixing of cultures makes us stronger?
PM: Yes absolutely. But also the layering of people I interact with help inform my work, the complexities one faces when trying to create space for themselves. With my current body of work I'm in a way trying to create a third space. A space where I can live and negotiate not being put in a box so people can easily digest my work, or me as a person or some archetype they downloaded on television or advertising. I've always felt an ambiguity growing up as a child being from a mixed background, so in a way these pieces are me "figuring it out" but also speaking on the hybridization of materials, technique and people.
When it comes to your painting, "Defeat and Victory", can you tell us more about the inspiration and where it will be shown next?
PM: When I approached making this piece I worked with a community esthetic vocabulary (neon, led signs, banner tarp, latex house paint, spray paint, acrylic and ceramic) and logic. I imagine a painter or muralist recreating these Cacaxtla warrior / figures on a stucco wall at a community center or on the
side or a market or liquor store, then covered up by community graffiti and city abatement as well as the changing of business owners. I combine 4-5 difference spaces in the city into one piece.
I work from photos, memory as well as personal experience. I wanted to strip the figure(s) from its historical past and place them onto a new wall. These pieces explore the breaking down of walls in time that speak to art history and histories connected to people operating in the current LA landscape. "Defeat and Victory" will be on view at El Museo del Barrio in New York for ESTAMOS BIEN – LA TRIENAL 20/21 beginning March 13, 2021 through September 26, 2021, be sure to check it out if you are in the NY area, so many talented artists will be on display, the exhibition will not disappoint.
What inspired you to focus on street art?
Pedro Alonzo: Thinking back, I was drawn to street art before it was referred to as "street art". I was fascinated by a group of young artists who managed to forge a direct relationship with the public by putting their work on the street in front of people's faces. Artists who early on largely circumvented traditional galleries and museums by creating their own scene using public space. The direct and intentionally accessible nature of the work is so refreshing in an art world dominated by convoluted concepts. I love that it is made for everyone to understand.
One of the aspects that I admire most about street art is that it doesn't just reference urban culture, it is part of urban culture. Once I embraced the genre, I worked very hard to get Street Artists into museums as a way to build understanding about the richness and complexity of the work.
How did you spot Patrick for this project and what do you love so much about his work?
PA: Patrick does a masterful job of observing and absorbing LA. What he sees in the cityscape translates directly into his work. He is the perfect artist to discuss the influence of urban culture on contemporary art. I love that his work embraces hybridity and diversity as a form of strength and resilience. His work shows how different groups of people living in the same community can support and influence each other.