Looking Back on Jeremy Scott's Most Divisive adidas Originals Collaborations
As one of the most polarizing sneaker collabs makes a comeback, we revisit its most memorable hits.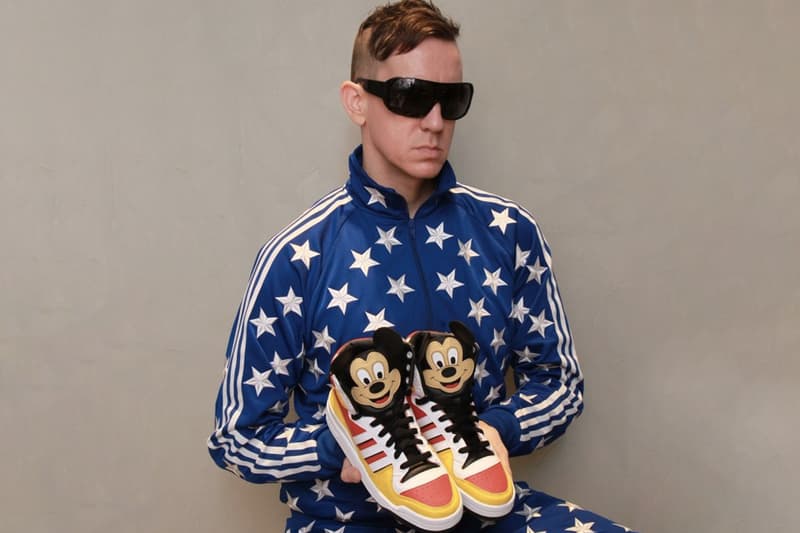 It's a sneaker industry love story: Jeremy Scott and adidas Originals are getting back together. The American designer, who now sits at the helm of Moschino alongside his eponymous label, first started working with adidas Originals in 2003. Over the course of the next 12 years, he produced some of the Three Stripes' most controversial sneakers ever. 
But back in 2003, this was just what adidas needed. It was a decade when collaborations were sacred and far less frequent than today's often-oversaturated market: Y-3 started in 2002, Stella McCartney came in 2004, and before it was soccer boots in the '90s, runners in the '80s, and tennis in the '70s. Scott was at the vanguard, undeniably paving the way for designers to take risks with collaborations. 
As we prepare ourselves for another round of Jeremy Scott x adidas Originals collaborations (deep breath), HYPEBEAST looks back at some of the best — and most hotly-discussed — pairs that defined his sneaker legacy.
Jeremy Scott x adidas Originals B-Ball FW03
It all started with a typically extravagant affair in 2003, when Scott debuted his FW03 collection in the theme of a spoof Hollywood awards ceremony. Rolling out the red carpet against a backdrop of self-branded sponsorships, Scott showcased his latest designs alongside sneakers he probably didn't think would steal the spotlight in the way they did. Scott's collaboration with adidas Originals was the sneaker-equivalent of a bejeweled flip phone and chihuahuas hanging out of tiny Louis Vuitton bags: it was excess, it was ridiculous, and so early noughties. Seen in the images above are arguably one of Scott's tamest designs — silver lamé adidas sneakers, that are now worthy of grail status to some. 
Jeremy Scott x adidas Originals "Wings"
While we may have seen Jeremy Scott add wings to sneakers before 2008, the metallic gold pair is by far the most stand out — at that time, that is. It was peak Kanye West excellence (having dropped 808's & Heartbreak around the same time), and 'Ye is even said to be the first person to wear the JS "Wings." This pair goes down in history, and even the uninitiated can spot this pair from a mile away. 
Jeremy Scott x Swarovski x adidas Originals "J-Wings"
Are you noticing a theme? Jeremy Scott was one of the first designers to make many collaborative efforts we're now so used to, including an early Swarovski link-up long before the likes of Supreme. Jeremy Scott launched this pair back in 2009 through the legendary Parisian concept store colette, and to top off the drama, they retailed for $3,700 USD. 
Jeremy Scott x adidas Originals Mickey Hi "Mouse Trap"
We're edging closer to the pinnacle of Scott's creative madness: in 2009 the designer debuted a pair of Mickey Mouse-themed, adidas Originals Eldorado-based sneakers. They didn't release for another year, but boy did you know it when they did finally drop. It was another groundbreaking collaboration as the Walt Disney Company itself actually approved these (again, brand collabs such as these are the norm nowadays), and they, like many other pairs, sold out to become a future classic. 
Jeremy Scott x adidas Originals "Teddy Bears"
No roundup of Jeremy Scott's wildest creations is complete without a mention of his "Teddy Bears." Appearing in pink initially ("Brown" and a Panda version followed not long after), these shoes were decked out in an audacious mix of pink and white faux teddy fur, and as if that wasn't enough, the tongue was a full-sized teddy. 
Jeremy Scott x adidas Originals MEGA SOFT CELL Sandal
Between 2010 and 2012, Jeremy Scott's sneakers were less wacky than usual (think lots of takes on the "Wings" such as this clear pair or the "Fire" look), so we're jumping straight to the tail-end of 2012. The collaboration came back with a new direction, littered with Scott's take on formal shoes such as these MEGA SOFT CELL sandals. Full-grain Gladiator-style leather was contrasted by a technological, gel-like midsole that was paired with adidas' proprietary MEGA Flex outsole and a Torsion system tooling. Vestiges of sandal designs that were popular in the early 2000s were reimagined for the first time, kickstarting a trend in gladiator sandals that lasted until the mid-2010s. 
Jeremy Scott x adidas Originals MEGA SOFT CELL Cowboy Boots
You'd be forgiven for thinking Virgil Abloh at Louis Vuitton was the first to combine sneakers with cowboy boots, but you'd be wrong. Yet another first, these cowboy boot-sneaker hybrids utilized the MEGA SOFT CELL unit we saw earlier, and in a similar vein, paired it to something completely unexpected. The result was typically polarizing, but certainly set the template for a whole host of future collabs. What's more, the low-top style of the mid-panel contrasted with what's essentially just a massive tongue, covered in traditional cowboy boot motifs and adidas' Trefoil logo. That was — and still is — genius.
Jeremy Scott x adidas Originals "JS-Wings 3.0"
Again, we saw Scott entering a new era (as between 2012 and 2014 all were given were more "JS-Wings" and poodle and gorilla takes on the aforementioned "Teddy Bears" sneaker). They were made from patent leather and sported a set of molded 3D wings, as opposed to the flatter wings that came on previous iterations. Jeremy Scott's signature was placed on the midsole which seldom appeared before, and we finally entered a new age for the collaboration. 
Jeremy Scott x adidas Originals "JS-Wings Metallic Silver"
We've come full circle. When the collection first debuted in 2003, Scott covered sneakers in metallic leather and this continued to develop throughout the collaboration, but by the end, it seemed that it was time to celebrate the thing Scott and adidas did well: the "JS-Wings," in "Metallic Silver," of course. Yes, other pairs such as the car-inspired "Shark" may be big-ticket must-haves by today's standard, but back in 2015 the re-release, or homage if you will, to where it all began was about as hyped as Kanye West restocking the YEEZY 750.