Metallica's BLACKENED Whiskey Pack Is Sonically-Enhanced With Songs From 'The Black Album'
Celebrating the influential project known the world over.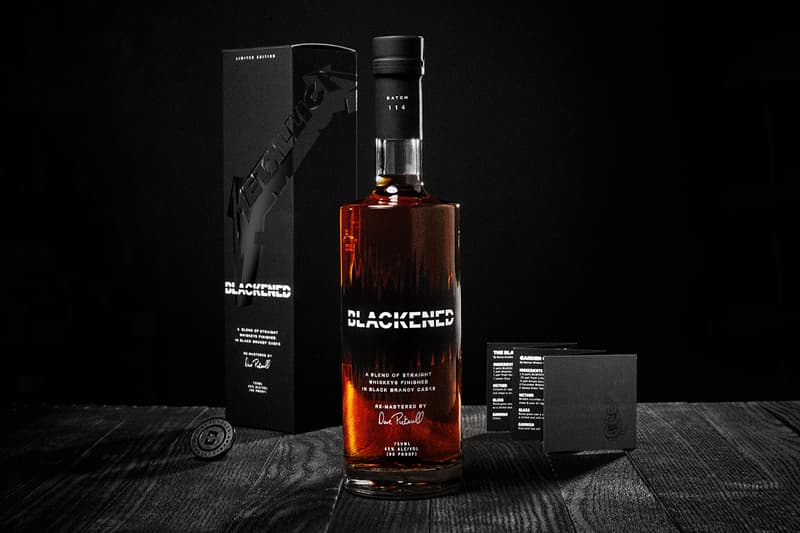 1 of 2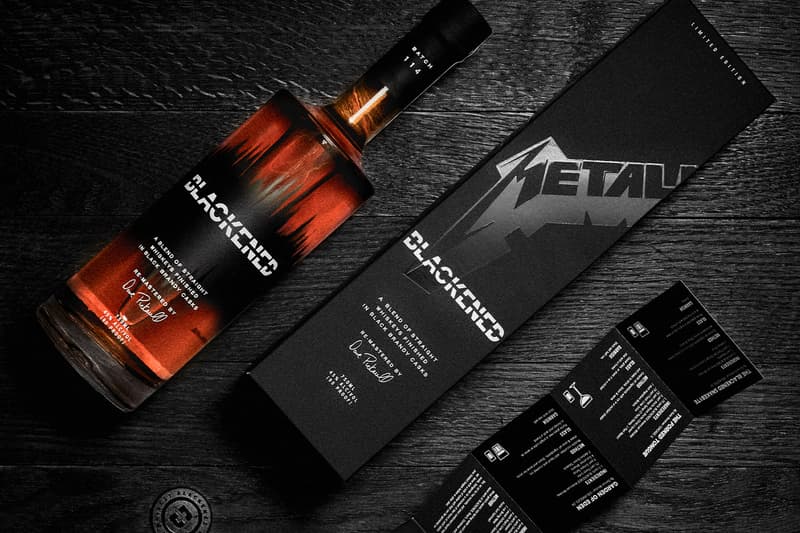 2 of 2
After releasing Batch 106 which was sonically enhanced to a playlist from the Metallica and San Francisco Symphony S&M2 album, BLACKENED, the award-winning American whiskey brand from late Master Distiller Dave Pickerell and Metallica, has returned with a release that celebrates The Black Album.
Released on August 12, 1991, The Black Album is the highest-selling album of any genre in the last 30 years, with 17 million units sold in the United States and 35 million units sold worldwide.
The Metallica BLACKENED The Black Album Whiskey Pack features a 750ml bottle of Batch 114, a fine mix of straight bourbons and ryes that have been aged for an average of 8 or more years and finished in black brandy casks subjected to low hertz frequencies of songs from The Black Album. The proprietary NOISE™ sonic-enhancement process enhances the interaction between whiskey and wood to bring out deeper flavors and colors. The pack comes complete with a collectible whiskey coin, Snakebyte Cocktail Booklet, finishing playlist and packaging all inspired by the cover of The Black Album.
"So many things changed for us externally after The Black Album release," said Metallica co-founder, vocalist, and guitarist, James Hetfield. "The perception of the importance of Metallica changed greatly. Obviously with songs like 'Sandman,' 'Unforgiven,' 'Nothing Else Matters' becoming embraced by a lot of the world, we became a household name. It changed our lives and hopefully helped the world connect."
"The Black Album was one of the first albums that I truly took up as a personal anthem. It is such a bad*ss record and it carried me and my buddies through some intense times during our military deployments in the early '90s and beyond," said BLACKENED Master Distiller and Blender, Rob Dietrich. "Just like the record, The Black Album Whiskey Pack's Batch 114 has been masterfully crafted and is heavy-hitting and well-balanced, with buttery caramel and oak on first sip, rolling through notes of apricot and almond, followed by an earthy chipotle, walnut, and maple finish. So good! Now it's time to sip a little whiskey, throw this record on the turntable, and crank it until the windows blow out!"
Priced at $50 USD, Metallica's BLACKENED The Black Album Whiskey Pack is available now on BLACKENED's website and at select retailers like Cask Cartel, CraftShack, ReserveBar and Spirited Gifts.
DISCLAIMER: We discourage irresponsible and/or underage drinking. Drink responsibly and legally.
For more food and beverage news, firecracker popsicles inspire Faygo's new Firework soda.