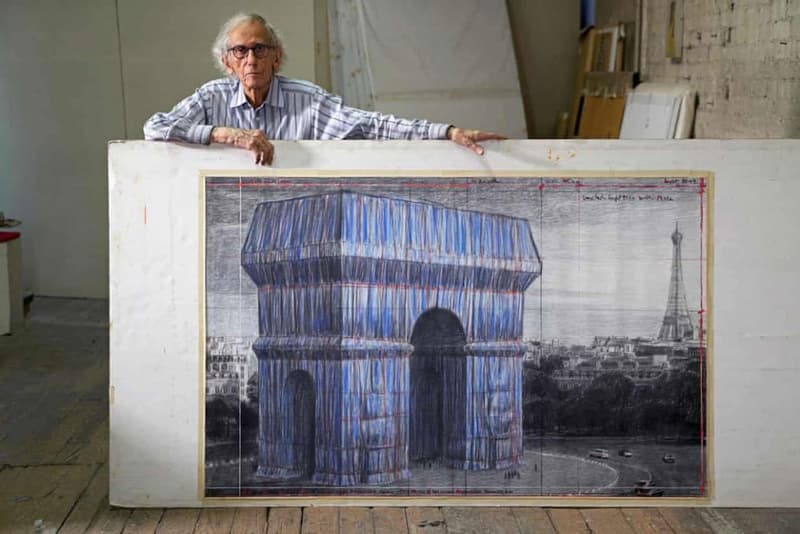 Christo's Dream to Wrap the Arc de Triomphe Will Be Realized in September
Originally planned for Spring 2020.
---
Before his untimely death last year at the age of 84, the late iconic artist Christo planned to wrap the L'Arc de Triomphe in Paris. Originally planned for spring 2020, the installation was delayed due to the COVID-19 pandemic. The artist's plans for the installation included covering the Champs-Élysées monument in nearly 25,000-square-meter of sleek blue fabric made of recyclable polypropylene and fastened with 7,000 meters of red rope.
Christo initially conceptualized the installation 60 years ago with his wife and longtime collaborator, Jeanne-Claude, who passed away in 2009. The pair made plans to enrobe the Arc de Triomphe in 1962 while they were renting out a small room near the landmark. In the years to follow, the couple engaged in ambitious projects such as wrapping the Post Neuf in Paris in 1985 and the Reichstag in Berling back in 1995. "Like classical sculpture, all our wrapped projects are not solid buildings; they are moving with the wind, they are breathing," Christo told The Art Newspaper in an interview. "The fabric is very sensual and inviting; it's like a skin."
The installation officially entitled L'Arc de Triomphe, Wrapped was approved in 2017 by the Paris city authorities and the Centre des monuments national, which overlooks the preservation and protection of monuments. Construction for the artist's posthumous wrap will commence on July 14 and will be complete by September 18. The city is planning to break down the installation on October 3 ahead of the city's Armistice Day ceremonies.
Anne Hidalgo, the mayor of Paris, said in a statement, "More than a year after Christo's death, Paris is continuing the work of this great artist. It is an opportunity to say 'thank you' to him and to defend our attachment to contemporary creation."
Elsewhere in art, artists are addressing racial inequality as part of a group exhibition at New York City's Allouche Gallery entitled "Operation Varsity Blues."