Are YouTubers Ruining Professional Boxing?
Paul vs Mayweather might have been the sport's "jump the shark" moment.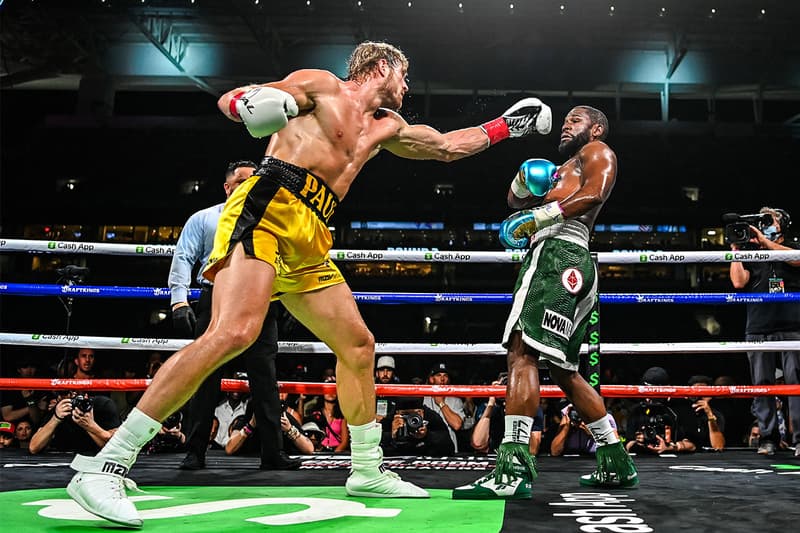 As a chorus of boos rang following YouTuber Logan Paul's eight round exhibition bout with Floyd Mayweather last night, the question again raised its head as to whether boxing's new-found celebrity trend had been taken too far.
Paul — whose only professional fight to date was a points loss to fellow YouTuber KSI after a controversial draw in the pair's ametuer bout beforehand — surprised pundits by going the distance with the unbeaten former five-weight world champion Mayweather, of whom he was 18 years his junior, 16kg heavier and six inches taller.
While Mayweather's reputation as "The Best Ever" saw him go into the bout as favourite, the 44-year-old's domination throughout failed to materialise into a knockout blow, and saw the fight end largely uneventful — much to the disappointment of the crowd.
Logan's brother and fellow YouTuber Jake Paul has also taken steps into the ring in recent years, too. After comfortably defeating YouTuber AnEsonGib in Miami last year, boxing's new-found celebrity trend was called into question when he brutally knocked out former NBA star Nate Robinson in the second round of their bout late last year. The former New York Knicks and Chicago Bulls player needed urgent medical assistance in the ring after laying motionless.
Despite an admitted lack of training and preparation from Robinson pre-fight, the bout was sanctioned by the California State Athletic Commission and featured on the Mike Tyson vs. Roy Jones Jr undercard — another questionable match-up.
While the sports integrity has been brought into question by experts as a result of this celebrity trend, it remains the fighters' safety and well-being that's the major concern.
"They need to stop this stupid celebrity boxing thing," said Seven-weight world champion Amanda Serrano following the bout last year. "Boxing is a serious game. Nothing to be doing for YouTube likes. Most amateurs turning pro fight four rounds, these guys are debuting in a six-rounder. Someone's going to get really hurt one day".
Mayweather admitted that he expected to earn around $50m from last night's event, referring to the exhibition as "legalised bank robbery". And while the money involved in these events undoubtedly plays a major part in them getting over the line, the interest and coverage that arises from the unlikely match-ups certainly shows there's an appetite for it.
When Jake Paul faced YouTuber Ben Askren earlier this year, the event reportedly resulted in around 1.5 million pay-per-view subscribers. Although dwarfed by the 6.7 million buys and $700 million generated in 2017 when Conor McGregor faced Mayweather, it still shows there's a desire and alongside Paul's combined 40 million subscribers, introducing boxing to a new audience can be no bad thing either.
For boxing Hall of Famer Mike Tyson — who had a criticized fight of his own against Roy Jones Jr. last year — the sport of boxing should be more thankful to celebrities and YouTubers alike. "Boxing owes these YouTube boxers some kind of respect," he said. "They should give them some belts because these guys make boxing alive. Boxing was pretty much a dying sport. Now we got these YouTube boxers with 25 million views. Boxing is going back thanks to the YouTube boxers".
Alongside the obvious financial benefits for both promoters and fighters, many have put the sudden rise in celebrity bouts down fans losing interest in the sport as a result of the boxing authorities failing to get bigger professional fights over the line.
Last month Tyson Fury announced that he'd agreed a deal to fight fellow Brit Anthony Joshua in a highly-anticipated unification fight, only for it to be foiled less than 48 hours later when U.S. legal ruling ordered Fury to undertake a third bout against Deontay Wilder. These frustrating interactions and long lead times are something many believe are putting the sport's future at risk.
With the fact that there remains an appetite for these celebrity bouts — and as heavyweight title clashes between the likes of Fury and Joshua continue to face delays — it's hard to shake the feeling that the sport of boxing is only heading one way.