Neymar Jr. On Being Part of the PUMA Family, What He Looks for From His Footwear and More
The Paris Saint-Germain star spoke to HYPEBEAST ahead of the PUMA Wild Rider launch.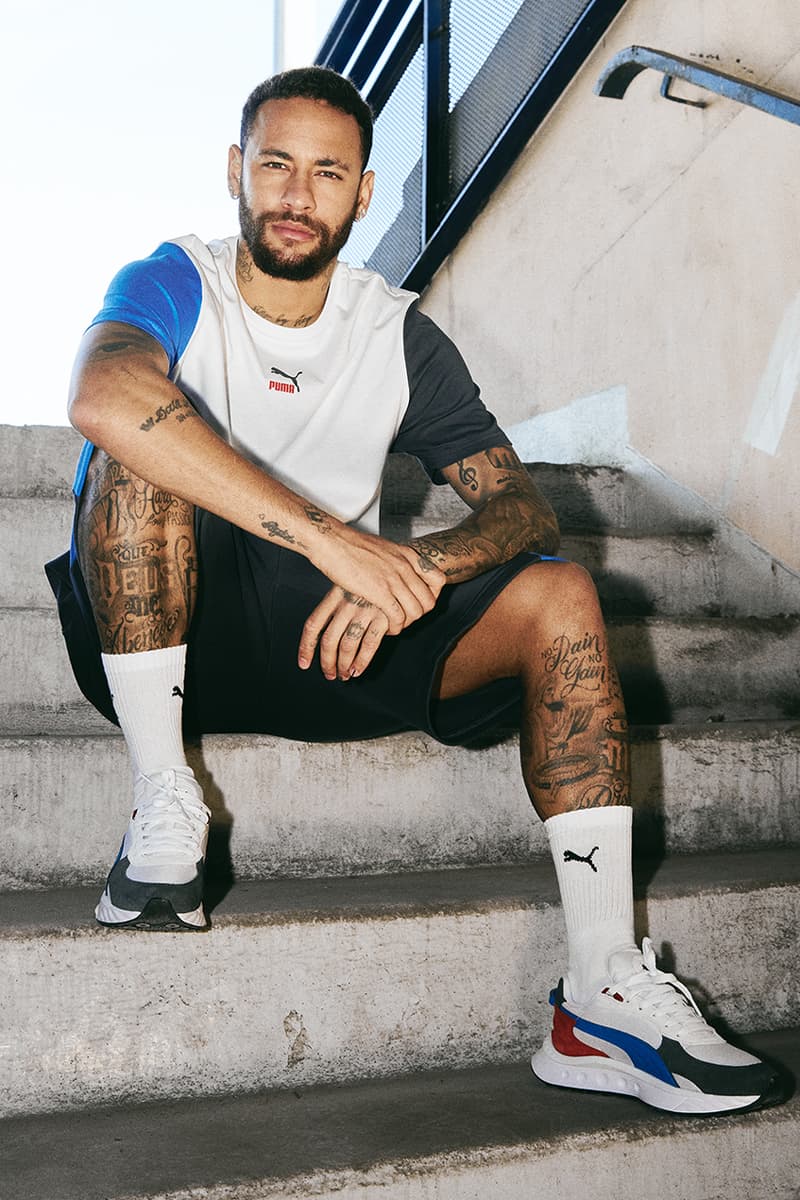 Neymar Jr. On Being Part of the PUMA Family, What He Looks for From His Footwear and More
The Paris Saint-Germain star spoke to HYPEBEAST ahead of the PUMA Wild Rider launch.
Neymar Jr. is one of the most popular footballers in the world, but even as he's risen to become a leader of elite Parisian club Paris Saint-Germain he's managed to retain the joy and energy he displayed as a young forward from Mogi das Cruzes, Brazil. The only thing that matches Neymar Jr.'s on-pitch theatrics? His off-field flair, which PUMA has encapsulated in its new Wild Rider sneaker.
Neymar Jr.'s favorite off-pitch sneaker, the Wild Rider features a sleek-yet-sturdy design inspired by the constant movement and motion of city life. Fusing elements of the OG Rider sneaker with design elements from '90s PUMA track spikes and modernized embellishments like a Formstrip that flows into the heel pull, the Wild Rider is equal parts past and future. This hybrid look is right up Neymar Jr.'s alley. "As someone who loves streetwear, I was thrilled when PUMA approached me about being the face of a shoe outside of football," he said. "You won't take the Wild Rider off; I've been wearing it non-stop. É o meu favorito!"
Since leaving Nike to join the PUMA family in September 2020, Neymar Jr. has worked on four collaborative football boots — but the Wild Rider marks his first post-Swoosh foray into the lifestyle market. Ahead of the Wild Rider's official release, Neymar Jr. sat down with HYPEBEAST for a question and answer session that covered everything from what being a part of team PUMA felt like to the difference between working on performance and lifestyle designs and his unique swagger. See the full conversation below, and expect the Wild Rider to hit the PUMA webstore on May 28.
Editor's note: The responses listed below are translated — Neymar Jr. originally answered the questions in Portuguese.
HYPEBEAST: What's the main difference in being a part of the PUMA family as opposed to other footwear brands you've endorsed in the past?
The sense of belonging and how they make you feel like you are part of a big family. As soon as I stepped into the door for the first time, I knew I was in the right place.
Over the course of your career, you've worked on many performance designs and several lifestyle models as well. Tell me about the main differences between the two processes — and the similarities as well, if there are any.
The design process is very similar, choosing the materials, the colors, etc. But technology and performance are very important for my boots, as they need to be in perfect condition for me to have the best performance possible.
Obviously, performance comes first when you're playing football. What's the first thing you look for from your off-pitch footwear? Style, comfort, something else?
All are things I look for, but mainly comfort. I can really say that the Wild Riders are my favorite. In fact, I've been wearing them for a few weeks.
What's your favorite design feature of the Wild Rider?
The midsole is the main part of the sneaker; it makes it look sharp and fresh. I was lucky enough to have a peek at [other upcoming styles], and I know you will want them all.
Do you differentiate between your on-pitch flair and your off-pitch style, or are they one and the same for you?
No way! You can see it on my social channels, I do crazy things anywhere, on and off the field – even in the virtual world. I like to be myself, and I believe that shows who I really am. I like to have fun, enjoy the moment and share it with my fans.
Brazilian footballers seem to have a unique, captivating flair both on and off the pitch, from style of play to personal swagger and more. Why is that?
I believe it's our culture — Brazilians are well known for that flair. We like to dance, party, have fun, be happy. That style is in our DNA.
If you had to pick one phrase to describe your personal style, what would you choose?
Bold and joyful.
Which of your PSG teammates has the second-best style on the club?
Difficult question, huh?! I think Keylor Navas has a lot of style too.
What's next for Neymar Jr.?
I will soon be launching a new collection with PUMA, but it is still top secret.