A Burgeoning Rap Scene Is Breaking Out in Dubai
And it's ready for global recognition.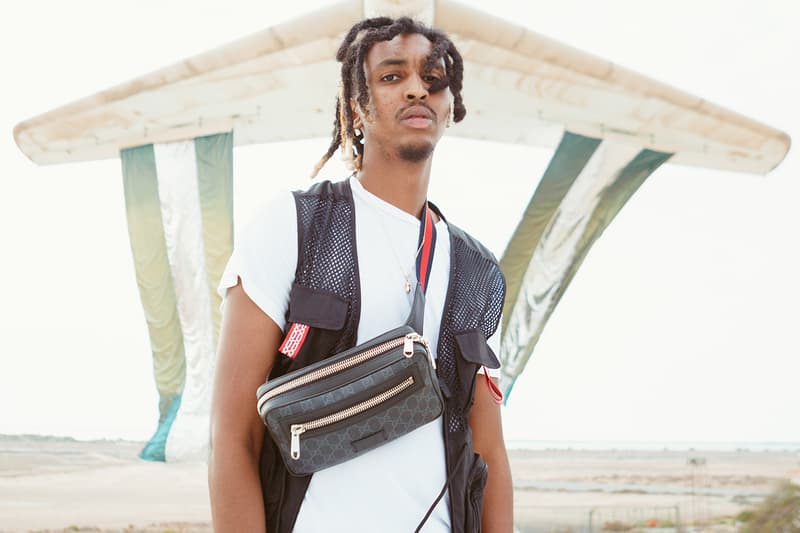 Tac would like to make something clear about his life in Dubai.
"I'm really broke. We're all broke as f*ck here."
As a rising rapper in a city so often viewed as the nucleus of global wealth, he feels like something of an outlier. But Tac is part of an emergent musical subculture in the region: one that is unravelling the stereotypes about the Middle East, and carving out a space for itself in the process.
Though some musicians of Middle Eastern origin have found worldwide success (most notably DJ Khaled, who is of Palestinian descent, and French Montana, who was born in Morocco), there have been no artists living and working in the region that have achieved the same level of international fame.
A new generation, though, hopes to be the first, and is looking at the template set by K-Pop and Latin American artists – all of whom reached mainstream recognition without the support of the American record industry. But the UAE has one-fifth of the population of South Korea — and almost 90% of them are expatriates, not locals. Can such a small and splintered audience create a critical mass of hype, to propel an artist towards fame?
Tac believes so. "We have a culture here, which nobody knows about," he says. "We've never had anyone repping the city like that. So that's our job now."
"We took the culture from the West, but we're doing it our way."
He is relatively new to the music industry, having grown up in a household without connections to it. "My parents weren't against music, but they never really facilitated it at home," he says. "I just never really got that musical influence growing up. But at around 12 years old, I came across a hip hop record. And from there, I just fell in love."
But since focusing on music four years ago, Tac has become a rising presence, known for his melodic and introspective approach to rapping on singles including 'Bounce' and 'Wessside'. In 2019, he was invited to perform as a headline act at Sole DXB, the region's largest streetwear event, alongside heavyweights like Mos Def and Talib Kweli.
Though he raps in English, Tac believes that his music has a quality that's uniquely influenced by his upbringing in Dubai. "The difference is in our perspectives," he says. "It's the acknowledgement that we are Dubai kids — we're not American, we're not British."
By way of example, he points to a contemporary of his, Freek, who has amassed 1.4 million YouTube views for his track 'Wala Kilma' [an Arabic slang expression that translates, loosely, to 'shut up']. "It's a phrase that, you don't need to be Arab to use it, but it's a perspective that only he has," says Tac. "It's because he's one of us. And no one else could have that perspective, unless they're one of us."
Freek is arguably the biggest success story in Dubai's nascent rap scene, and a figure that many other local artists often make reference to. He has a fast-growing online audience, despite making music solely in Arabic. "I always thought that if I wanted to make it, I'd need to rap in English, because that's where the industry is," he says. But when a chance recording of a parody song, 'Batali' (which means "unemployed"), blew up online, his assumptions were upended. "Suddenly everyone started singing along to the hook, even if they didn't know what it meant" he recalls. "It made people think that Arabic is kind of cold."
More recently, Freek began collaborating with Live Base, a talent and bookings agency in Dubai that offers studio space and representation to musicians within the city, while building their profile beyond the UAE. "Their vision is sick," says Freek. "They want to build a bridge between Dubai and the Western world. We've never had this bridge before."
Live Base was founded by Amer Nawaz, a former promoter and events organiser from the U.K.. After a few years spent working on music nights, a chance encounter with Kanye West's creative team led him to collaborate with the artist on an event in 2004. It provided a foothold into the music industry, and soon led to projects with artists including Drake and Travis Scott. "I realized then that it really could happen for me," he says now. "It was all doable."
From there, Nawaz and his business partner, Patrick Alcide, began operating as a kind of connection point between the U.S. and U.K., introducing artists from Atlanta, LA, and Boston to the European market. Now, they're turning their sights to the Middle East, where they relocated the company during lockdown.
"It felt interesting that that region is untapped, musically," says Alcide. "People know the glamorous Dubai: the clubs, the bars, the cars and stuff. But we want to show what's actually happening musically, and the culture."
"There's normal people here. It's not like what people think."
Overcoming those preconceptions could prove challenging. To many Westerners, at least, Dubai is a city overwhelmingly defined by a sweeping stereotype: as a culturally vacuous, superficial home to the nouveau-riche and their super-yachts. Though it's a reductive (and often xenophobic) image, it's one that the city's inhabitants are all too aware of.
"Part of me is happy that Dubai has that reputation – it gets us tourism, it gets us media attention," says Tac. "But it's a lot easier to see Dubai as a business, rather than a city with its own culture. The representation in the media is inaccurate. The majority of us don't live like that. The majority of us are very humble. We're not all shopping in the luxury malls. Most of us are hanging around outside of them."
Freek agrees. "I think that's the image we're trying to show," he says. "There's normal people here. It's not like what people think. We're trying to build an image that young kids can actually relate to."
The art, then, lies in offering a more authentic view of the region, while acknowledging the unique cultural influences that have shaped it — and that will make its music different from anything produced in New York, Atlanta, California, or London. As Saud Ibrahim, another Dubai-based artist and manager (who goes by SG), explains, making music in the UAE comes with its own boundaries and taboos. "At the end of the day, you present the culture that you're in," he says. "So the culture here won't accept you talking about b*tches and hoes and drugs, because you reflect the family you're coming from. We took the [rap] culture from the West, but we're doing it our way."
What's unclear — for now, at least — is whether the West will take interest. But for most of the artists, that's not a source of concern. In their eyes, the idea that the American music industry is a gatekeeper for global success is antiquated and outdated. "You don't really have to blow up in the States anymore," says Freek. "All it takes is a couple of TikTok dances, and you can be popping in other countries."
"Things just go viral," he says. "People will take notice."