Beeple Artwork 'TIME The Future of Business' Sold For Over $320,000 USD
The special magazine cover pays homage to the artist's creative process.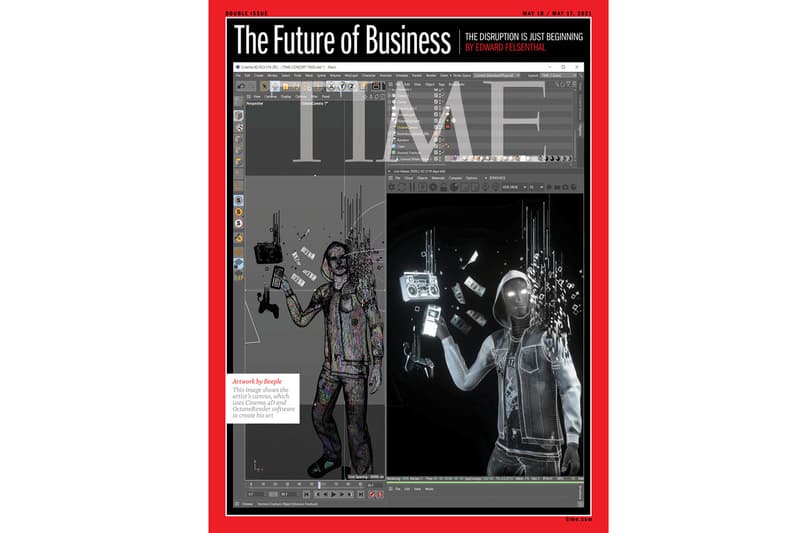 Beeple, the pseudonym used by digital artist Mike Winkelmann, created a special cover for TIME Magazine's May 10th/17th 2021 issue that just sold for 126.5 ether, roughly equivalent to $320,000 USD.
The NFT was first listed on SuperRare, a digital art marketplace that runs on the ethereum blockchain, earlier this week. D.W. Pine, the Creative Director of TIME, explained the piece's significance in a description under the artwork:
"For our May 10th/17th 2021 issue, [Beeple] wanted to take our readers inside his 'canvas' to depict the stratospheric acceleration of the digitization of our world by creating an image that focused on his artistic process," he said. "The cover image depicts his actual computer interface mid-design, complete with a wireframe render of a figure interacting on the left and a more complete version on right. He created this digital world using Cinema 4D and OctaneRender software that is powered by nearly a dozen Nvidia graphics cards."
Beeple said his piece reflected the changing nature of digital art:
"People have been creating digital artwork for the last 20 years and it has just as much craft, message, intent, as anything made on a canvas and has just as much ability to affect people emotionally and intellectually," he said. "It has been exciting through NFT's to see people start to realize the value of this type of work and I think we're just at the beginning of the next chapter of art history."
The winning bidder was a user by the name of Hanrgb, who, in addition to purchasing the first NFT minted by Beeple himself, also received a physical digital display with a custom red border — a shoutout to TIME Magazine's distinctive styling.
The "TIME EVOLUTION COLLECTION" highlights two important pieces from the @TIME archives: TIME's first issue from 1923 and a more recent cover by an artist who's been at the forefront of the digital art movement for more than a decade, @beeple?

Auction Details Below? pic.twitter.com/DP8bAdrj1g

— SuperRare ? (@SuperRare) May 19, 2021
The crypto collector praised the work on Twitter, writing: "I am happy to spend most of my earnings I have saved as an artist to this 'meaningful & historical piece' by Beeple x Time."
Beeple recently gained media attention in March after Christie's auctioned off his NFT artwork titled The First 5,000 Days, which fetched a record-breaking $69.3 million USD.