Nas, LL Cool J, Fat Joe and More Break Ground With the Universal Hip Hop Museum in the Bronx
Celebrating nearly 50 years of the genre that once reset culture.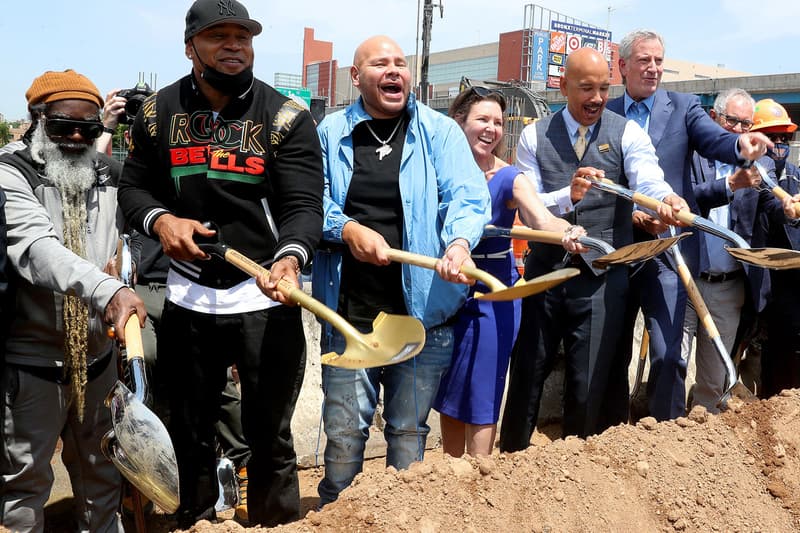 The Universal Hip Hop Museum will pay homage to the culture-shifting genre in the place where it all started: The Bronx.
The museum held its official groundbreaking ceremony on Thursday with a slew of star-studded New York rappers, including LL Cool J, Nas, Fat Joe and Grandmaster Flash. The new hub will open in 2024 as part of a $349 million USD mixed-use project along the Harlem River slated to provide affordable housing, new public spaces and community-focused programming, according to the Associated Press.
"Hip-hop made me believe that anything was possible," LL Cool J told the New York Post. "It was the first time that I heard, you know, young black men sound empowered. Most of the time when I saw young black men, they were, like, putting their heads down being put in a police car … This was, like, the first time where I felt like, 'Wow. It's possible to be powerful. It's possible to be somebody.'"
View this post on Instagram
Situated at 50 East 150th Street, the Universal Hip Hop Museum will reside only two miles away from 1520 Sedgwick Avenue — the historical birthplace of hip hop where DJ Kool Herc hosted a "back-to-school jam" on the block that was renamed to Hip Hop Boulevard in 2016.
Councilman Kevin C. Riley took to Instagram to share the importance of the museum's construction, writing: "Today we Broke Ground on the First of its kind, Hip Hop Museum. Rappers from all generations and from all boroughs pulled up today in support of the Universal Hip Hop Museum. For a young black boy from The Bronx, Hip Hop played a pivotal role in my life. Times when I didn't know how to express myself I would listen to lyricist @nas or @daveeast."
View this post on Instagram
Hip hop is approaching its 50th anniversary in 2023. In honor of the monumental milestone, Nas and Mass Appeal CEO Sacha Jenkins will launch Hip Hop 50, a series of original programming set to run for three years on Showtime.