Virgil Abloh Reveals Latest Baccarat "Crystal Clear" Collection
Interpreting the unique savoir-faire of the 255 years world-famous crystal brand.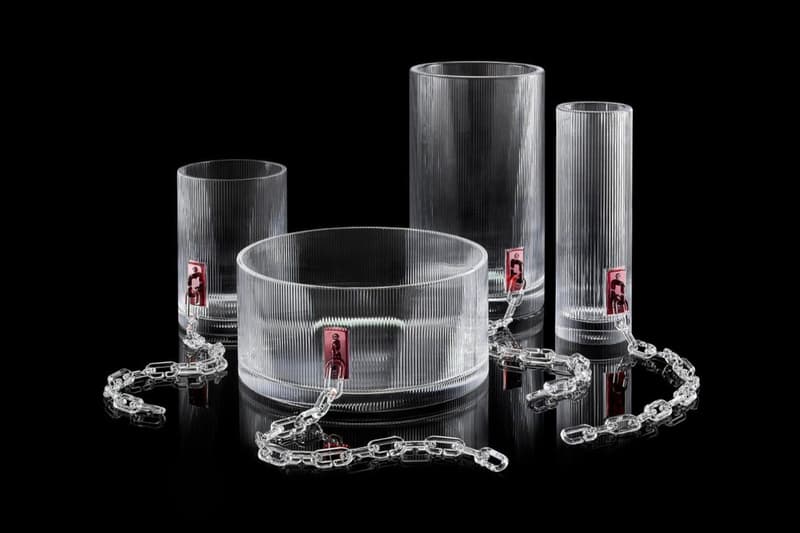 Continuing his partnership with Baccarat, Virgil Abloh recently took to Instagram to share his latest work for the world-famous crystal brand. Dubbed "Crystal Clear" by Virgil Abloh, the collection serves as artful creations that represent a mix of heritage and modernity.
The range of brilliant flower vases and table vessels are marked with both elegance and industrial codes that form Virgil's interpretation of the unique savoir-faire tied to Baccarat's 255 years of craftsmanship. Each piece features tight ridged edges accented by a bold red clasping segment complete with a crystal chain link that offers a new sense of interaction. According to Virgil, "the method is to link the crystal chains together or hang them off the edge of a fireplace mantle/edge of a dining table, as one prefers."
Going on to note, "In any creative endeavors, I am interested in collaborating with the best in class. For me, Baccarat represents the expression of the dynamism of crystal through history and today. The "Crystal Clear" line of objects is an extension of my art practice, expertly realized by the artisans of Baccarat."
Check out the "Crystal Clear" by Virgil Abloh collection above and head over to Baccarat's website to learn more.
View this post on Instagram
In case you missed it, Chrome Hearts recently released a "Pink/Black" take on its WWW.CHROMEHEARTS.COM HOODIE.