New Photo of Tupac Shakur and Biggie Smalls Discovered by Photographer T. Eric Monroe
The photograph was never published in magazines due to an obscene gesture.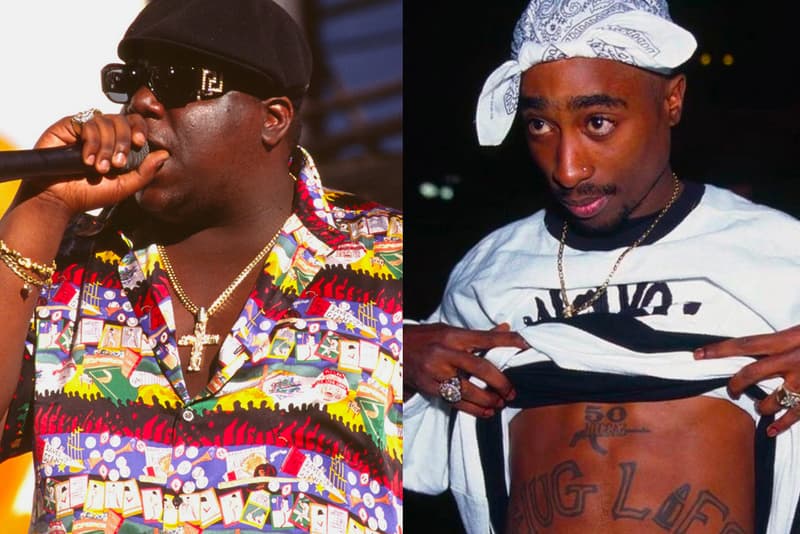 A new and rare photograph of Tupac Shakur and Biggie Smalls has been unearthed by photographer T. Eric Monroe.
Speaking to HipHopDX, Monroe revealed that he took the photo in 1993 when he set up a shoot with Onyx for a Thrasher article. The hip-hop group was opening for either Ice-T, Public Enemy or someone else, so Monroe and the former four-piece went down to the stage before the performance began. "As I was packing my equipment away, someone from the other side of the stage goes, 'Yo, come take our picture.' I literally said, 'Yes, give me a second.' Then I ended up going over to the guys who said it. Literally just look at them, line up the picture and took one picture and said thank you and then went back to the dressing room to Onyx," he said. "I got the film developed at some point and I kept remembering this giant middle finger. I remember writing the name Tupac on it, but I didn't really understand who he was in 1993."
Because of the obscene gesture in the image, the photograph was never published and Monroe set it aside. He rediscovered it in 2012 as he was looking through his storage, and he took a moment to carefully examine the picture with a light box and magnifying glass. "To me, it was always a moment I knew I couldn't publish," he continued. "I'm looking at it and looking at it — something makes me stare at it. Then I just started laughing. I get up from the light box and can't stop laughing. I realized it was Biggie and 2Pac together in 1993 wearing 'I'm A Bad Boy' t-shirts, which was Biggie's label. He said that in his first song 'Party & Bullshit.' That was basically his catchphrase."
He digitized the photo shortly after but didn't publicly share the gem until a year after he unearthed it. He did a video interview with Monster Children in 2013, but there wasn't a lot of buzz solely because he wasn't as active on social media yet. Monroe waited it out and "just wanted to let people know I'm the one who took this picture."
The Source and Thrasher photographer ended up linking with Lil Cease who gave more information on the night that photo was taken. "I have a whole video of him talking about that night and he remembers that night vividly of all of them hanging out," Monroe confirmed. "So that's another piece of content that I was able to create and create a new friendship with Lil Cease who didn't know me from Jack. Now he has a face with an image of a historic moment of him, Biggie and Tupac together being friends, just pure friendship. So it's helped bridge the gaps in the story."
Take a look at the image below.
View this post on Instagram
Elsewhere in music, Raekwon and Ghostface Killah are set to battle it out on VERZUZ.