Nas' 'Illmatic' and Janet Jackson's 'Rhythm Nation 1814' to Be Inducted Into National Recording Registry
Tracks from Kool & The Gang and Kermit the Frog will also join the selection.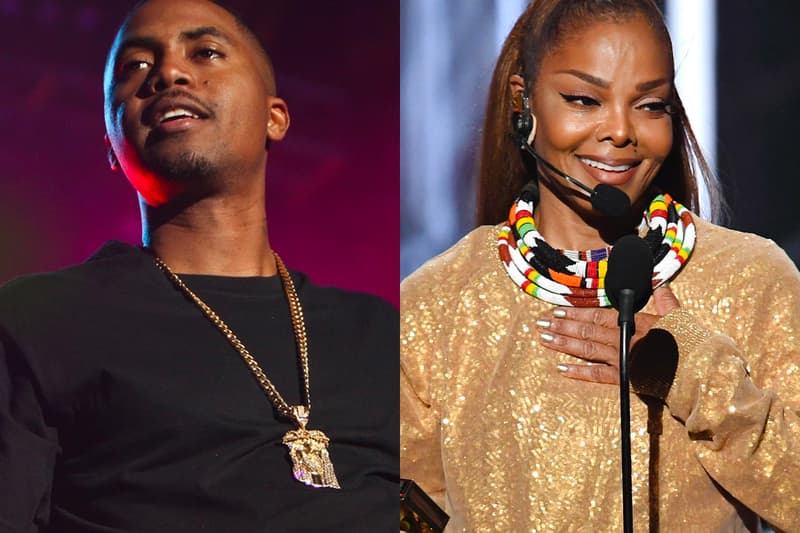 Nas' Illmatic and Janet Jackson's Rhythm Nation 1814 have been named as two of the 25 works that will be inducted into the National Recording Registry.
The Library of Congress formally announced the news, labelling the recordings as "audio treasures worthy of preservation for all time based on their cultural, historical or aesthetic importance in the nation's recorded sound heritage." Librarian of Congress Carla Hayden shared that the works included "have reflected our humanity and shaped our culture from the past 143 years," adding, "We received about 900 public nominations this year for recordings to add to the registry, and we welcome the public's input as the Library of Congress and its partners preserve the diverse sounds of history and culture."
1994's Illmatic marked Nas' debut album and is considered as one of the greatest hip-hop records of all time. Featuring production from the likes of DJ Premier, Large Professor, Pete Rock, Q-Tip, L.E.S. and the rapper himself, the 10-track album heard Nas' inner-city experiences growing up in Queensbridge, New York. "When Nas released his 1994 hip-hop album "Illmatic," it was celebrated for its rhythmic originality and complexity, and its technique has been widely copied since," the Library of Congress wrote.
Meanwhile, Jackson's Rhythm Nation 1814 was released in 1989 and was written and recorded in the studio of James "Jimmy Jam" Harris III and Terry Lewis. "We wanted 'Rhythm Nation' to really communicate empowerment," Harris said. "It was making an observation, but it was also a call to action. Janet's purpose was to lead people and do it through music, which I think is the ultimate uniter of people."
Other works to be inducted include Louis Armstrong's "When the Saints Go Marching In," Labelle's "Lady Marmalade," Kermit the Frog's "The Rainbow Connection," Kool & the Gang's "Celebration" and Israel Kamakawiwo'ole's "Somewhere Over the Rainbow"/"What A Wonderful World."
Take a look at the full list of selections below.
National Recording Registry Selections for 2020

Edison's "St. Louis tinfoil" recording (1878)
"Nikolina" — Hjalmar Peterson (1917) (single)
"Smyrneikos Balos" — Marika Papagika (1928) (single)
"When the Saints Go Marching In" — Louis Armstrong & his Orchestra (1938) (single)
Christmas Eve Broadcast–Franklin D. Roosevelt and Winston Churchill (December 24, 1941)
"The Guiding Light" — Nov. 22, 1945
Odetta Sings Ballads and Blues — Odetta (1957) (album)
"Lord, Keep Me Day by Day" — Albertina Walker and the Caravans (1959) (single)
Roger Maris hits his 61st homerun (October 1, 1961)
Aida — Leontyne Price, et.al. (1962) (album)
"Once a Day" — Connie Smith (1964) (single)
Born Under a Bad Sign — Albert King (1967) (album)
Free to Be…You & Me — Marlo Thomas and Friends (1972) (album)
The Harder They Come — Jimmy Cliff (1972) (album)
"Lady Marmalade" — Labelle (1974) (single)
Late for the Sky — Jackson Browne (1974) (album)
Bright Size Life — Pat Metheny (1976) (album)
"The Rainbow Connection" — Kermit the Frog (1979) (single)
"Celebration" — Kool & the Gang (1980) (single)
Richard Strauss: Four Last Songs — Jessye Norman (1983) (album)
Janet Jackson's Rhythm Nation 1814 — Janet Jackson (1989) (album)
Partners — Flaco Jiménez (1992) (album)
"Somewhere Over the Rainbow"/"What A Wonderful World" — Israel Kamakawiwo'ole (1993) (single)
Illmatic — Nas (1994) (album)
"This American Life: The Giant Pool of Money" (May 9, 2008)
Elsewhere in music, take a look at HYPEBEAST's New Gen: Spring 2021, a list of artists to watch out for this season.