KFC Indonesia Is the Latest Fast-Food Chain to Succumb to the Pokémon TCG Craze
Complete with a KFC Colonel Sanders promo stamp.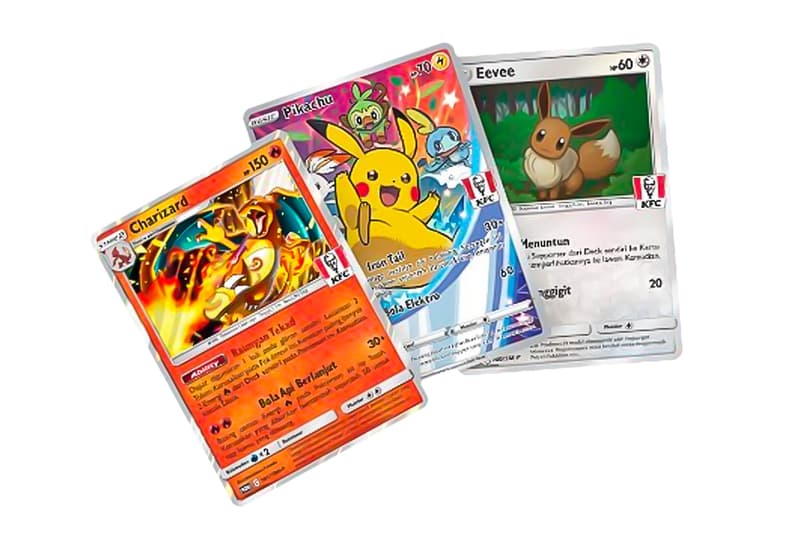 KFC Indonesia is the latest fast-food chain to succumb to the Pokémon TCG craze. Released earlier this month, KFC Indonesia teamed up with Pokémon for the release of eight promo cards, one card per purchase of a Kids Meal.
The cards take on designs seen previously with Sword & Shield and Sun & Moon releases like a full-art Pikachu friends promo that resembles a non-holo version of the Hong Kong/Taiwan Chinese New Year Rapture release. There's also a Tag Bolt-gen holofoil Charizard and Double Blaze Mewtwo. While the names of the Pokémon remain in English, the moves are in Indonesian, and best of all, there's a promo KFC Colonel Sanders stamping on the left.
Taking advantage of this limited release, some card scalpers have already started reselling these cards for prices upwards of $200 USD, which is a lot considering these were free with the purchase of each Kids Meal. Take a look at these finger-lickin' good Pokémon TCG cards below.
Update on the KFC Indonesia Pokémon Card Promotion.

The full set is:

180/SM-P Bounsweet
181/SM-P Charizard holo
182/SM-P Litten
183/SM-P Slowpoke
184/SM-P Mewtwo Holo
185/SM-P Dratini
186/SM-P Eevee
16/S-P Pikachu (Full Art) pic.twitter.com/0FZ7mK0y6Z

— PokeGuardian.com (@PokeGuardian) February 26, 2021
In other Pokemon news, test your dexterity with Takara Tomy's Pikachu electric shock wire loop game.