Heinz Introduces New "Ketchili" and "Buffaranch" Condiments
Continuing to expand its mashup sauces.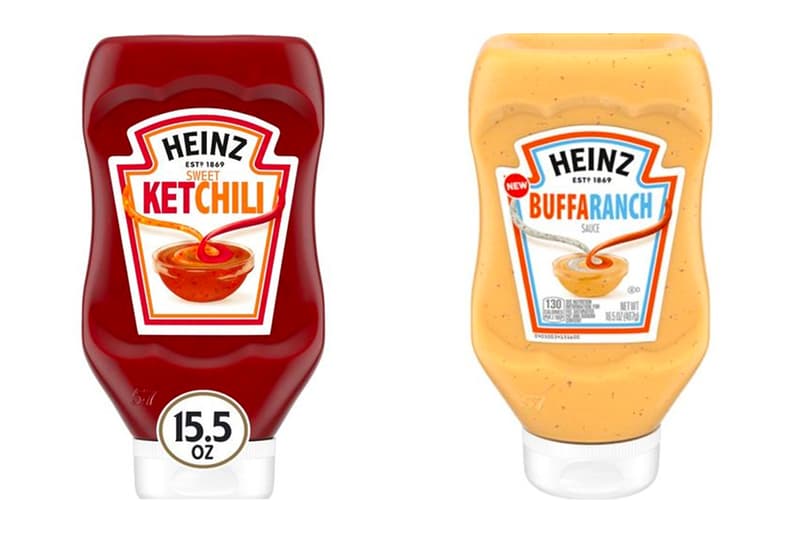 Kraft Heinz is introducing its two new condiments, the Ketchili and Buffaranch, with Heinz continuing to do the mixing for condiment lovers everywhere with its newest array of mashup sauces.
Sweet Ketchili blends the tangy and spicy flavors of original ketchup with the flavor of spicy Thai sweet chili sauce. The condiment is not only versatile but could be an ideal dipping choice for everything from onion rings to tots, to fries. Alternatively, it works with food that might typically require hot sauce or ketchup, including chicken nuggets, and burgers.
As for the Buffaranch sauce mix, it fuses a typical spicy Buffalo sauce with the cool, creaminess of ranch dressing. Though on opposite sides of the flavor spectrum, the mashup makes for an iconic pairing that is sure to stand out from staple condiments in the pantry.
Though Heinz has not officially announced the release of the new mashups, retailers such as Walmart have already listed it on their websites. The F&B company previously launched the Wasbioli, Hanch, and Tarchup sauces earlier this month. An official announcement from Heinz is expected to make its way to sauce lovers soon.
In case you missed it, ramen lovers can now sample famous Japanese ramen from Maruyama Noodle Co.'s "Noodle Tours" vending machine.