Best New Tracks: Benny The Butcher, Chika, GIVĒON and More
10 music projects to round out your week.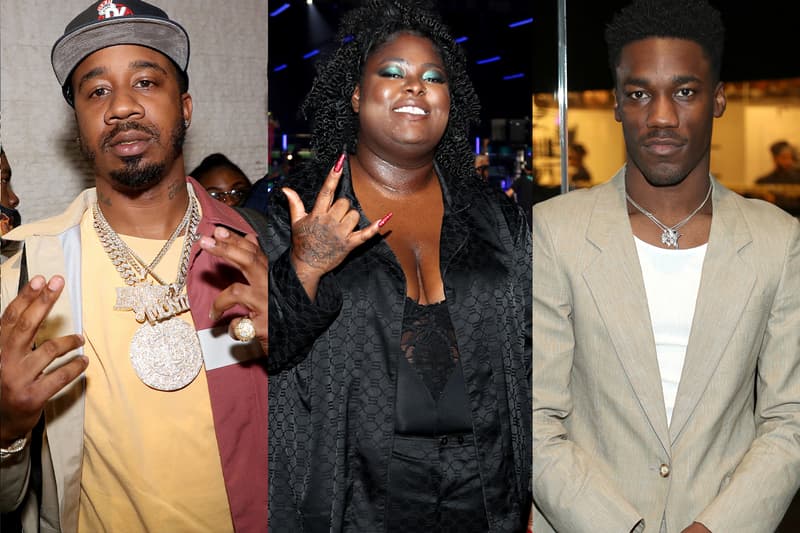 As the week in music comes to a close, HYPEBEAST has rounded up the 10 best projects for the latest installment of Best New Tracks.
This week's list includes Benny The Butcher and Harry Fraud's The Plugs I Met 2 single "Thanksgiving," CHIKA's Once Upon A Time EP and the deluxe edition of GIVĒON's When It's All Said and Done. Also joining this selection are a pair of cuts from IDK, collabs between AG Club and Sam Truth, Blxst with Drakeo The Ruler and Russ, plus Curren$y and Larry June and, finally, entries from SwaVay, Phoebe Bridgers and Kenny Mason.
Benny The Butcher x Harry Fraud – "Thanksgiving"
Griselda/Black Soprano Family's Benny The Butcher reunited with Harry Fraud for the collab "Thanksgiving." The two-and-a-half-minute cut is billed as the lead single of their upcoming sequel project The Plugs I Met 2, which is set to release March 19.
Listen: Spotify | Apple Music
CHIKA - Once Upon A Time
Chika has finally followed up her March 2020 project Industry Games with the six-track EP Once Upon A Time. The 24-year-old shared the record just days before the 2021 GRAMMY Awards, where she's nominated for Best New Artist.
Listen: Spotify | Apple Music
AG Club x Sam Truth – "UGUDBRU"
Bay Area's AG Club dropped off a brand new visual for their Sam Truth-assited track, "UGUDBRU." Directed by the group themselves, the track will appear on their awaited album FYE (F*CK YOUR EXPECTATIONS), which is set to release this Spring 2021.
Listen: Spotify | Apple Music
Kenny Mason – "Pup"
Kenny Mason announced the arrival of his upcoming project Angelic Hoodrat: Supercut with the new single "Pup." The Atlanta rapper's next record is set to feature 12 tracks with guest appearances from frequent collaborator Denzel Curry and Freddie Gibbs.
Listen: Spotify | Apple Music
Phoebe Bridgers - Spotify Singles
Phoebe Bridgers finally officially released her cover of The Cure's "Friday I'm In Love" via Spotify alongside a new recorded version of "Scott Street" — both recorded at Spotify Studios in New York City. The back-to-back tracks arrive just shortly before the 2021 GRAMMYs where she's in the running for Best New Artist, Best Alternative Music Album for Punisher and Best Rock Performance and Best Rock Song for "Kyoto."
Listen: Spotify
IDK – "Back In Blood (Freestyle)" / "Gravity (Cover)"
IDK has dropped off his own takes on Pooh Shiesty and Lil Durk's "Back In Blood" and Brent Faiyaz and Tyler, the Creator's "Gravity." The covers mark his first release of 2021, following "2 Cents" in November 2020 and his IDK & FRIENDS 2 EP in June 2020.
SwaVay – "Shooter"
SwaVay is prepping for the release of his debut studio album Almetha's Son with the new single, "Shooter." The rising artist has his sights set on the Atlanta throne, and the intricate details sprinkled throughout his latest release is evidence that he's more than a worthy competitor.
Listen: Spotify | Apple Music
GIVĒON - When It's All Said and Done (Deluxe)
GIVĒON shared the deluxe version of his 2020 EP When It's All Said and Done. The 13-track project features the four tracks on the original EP and several cuts from his TAKE TIME project, which is currently nominated for Best R&B Album at the 2021 GRAMMYs.
Listen: Spotify | Apple Music
Curren$y x Larry June - "Shout Out"
Curren$y debuted a music video for his Larry June-assisted effort, "Shout Out." The cut is the only track on Spitta's Collection Agency project that features a guest appearance, and the accompanying visual sees how the pair enjoy a night out in their high-rolling lifestyles.
Listen: Spotify | Apple Music
Blxst - Just for Clarity
Blxst surprised fans with a two-pack entitled Just for Clarity. The gift hears the Los Angeles artist team up with Drakeo The Ruler on "Don't Forget" and Russ on "Fck Boys," and marks his first release since 2020's No Love Lost.
Listen: Spotify | Apple Music