NEPENTHES New York Releases Wall Clocks Made by Blind People
Partnering up with The Chicago Lighthouse that helps visually impaired communities.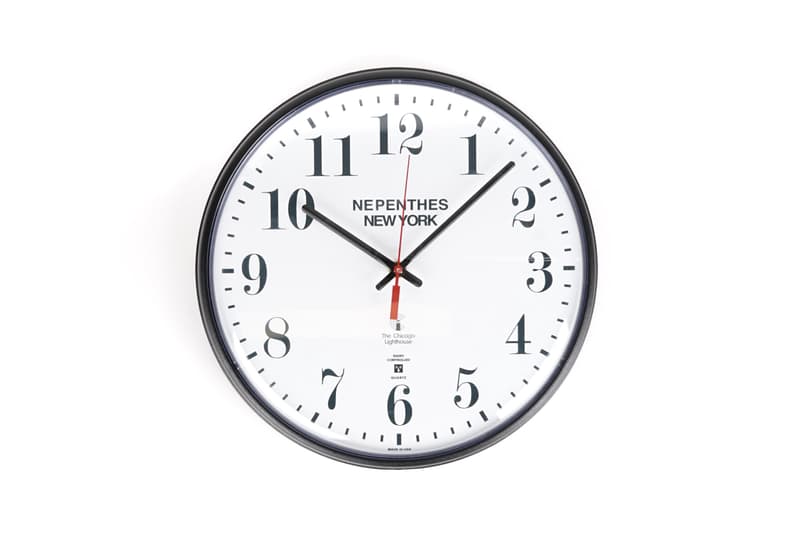 After launching "It's Cozy Inside" group art exhibition, NEPENTHES New York continues to expand its ventures beyond clothing. The Japanese imprint has teamed up with The Chicago Lighthouse to create a selection of minimalist wall clocks. The Chicago Lighthouse is an organization that provides assistance to the blind and has helped visually impaired communities in Chicago for over 114 years. Each clock is handmade by a person who is legally blind at the organization's manufacturing facility.
"In 1977, under a government program designed to increase employment of the visually impaired, TCL began manufacturing wall clocks, primarily for use in US government facilities," said the label in a statement. "Inspired by the clocks' compelling story and quintessential American look, Nepenthes NY asked TCL to produce a custom series of wall clocks."
The collaborative wall clocks feature the NEPENTHES New York logo and operates using atomic radio control. The clock taps into the 60 kHz longwave radio signal broadcast from the National Institute of Standards in Fort Collins, Colorado. Moreover, its time is set automatically and corrects itself for daylight savings.
The Chicago Lighthouse x NEPENTHES New York wall clocks are available for purchase online and in-store for $92 USD.
Elsewhere in design, this pre-owned KAWS x Medicom Toy BE@RBRICK from 2005 is currently selling for $24,000 USD.