Ford Unveils Shelby Mustang Mach-E GT Concept at SEMA
Who wants Ford to produce this electric performance car?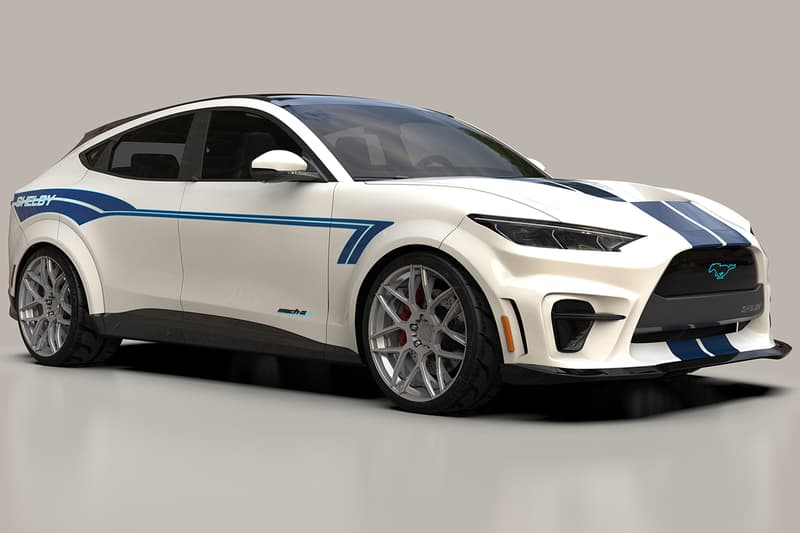 The North American car show SEMA has kicked off, and staying true to itself, it is already playing host to a number of wild concept cars — including Ford's latest offering, the Shelby Mustang Mach-E GT concept.
"Inspired by Carroll Shelby's own dream for electric performance," this concept car draws from some of the most important Shelby cars such as the Mustang GT350 and GT500 as well as the marque's history, evident in the car's signature off-white and blue livery that's complete with stripes and Shelby branding.
The aesthetics are absolutely on-point for a "could be" Shelby-tuned Mach-E, with the car sitting on 20" one-piece forged Monoblock wheels that are wrapped in Michelin Pilot Sport EV tires before being subjected to a suspension lowering courtesy of a set of Shelby-tuned Ford MagneRide dampers with composite carbon fiber springs.
All around, we find graphene-infused carbon fiber body pieces hitting up the front spoiler with an additional splitter, new air intake winglets and gills, extended side skirts, a redesigned Shelby-enhanced "grille" — of course, there is no real grille as the car is an EV — and wider arches to accommodate those wheels. At the rear, a custom flared look has been added, while the front hood now features a deep vent to help combat front-end lift.
As it's just a concept, there are few images and very little information to go off. However, something like this in real life could take the Mustang Mach-E GT to new electrified realms. The current flagship model is the GT spec, which packs 480 HP and 634 lb-ft. of torque, resulting in a 0-60 MPH time of just 3.5 seconds.
Take a look at the Shelby Mustang Mach-E GT concept above, and sound off below on whether you'd like to see something like this appear IRL.
For more car content, check out what happened when HYPEBEAST got its hands on the Lamborghini Huracán STO.