'Guardians of the Galaxy Vol. 3' Set Image Confirms Sylvester Stallone's Return
Reprising his role as Starhawk.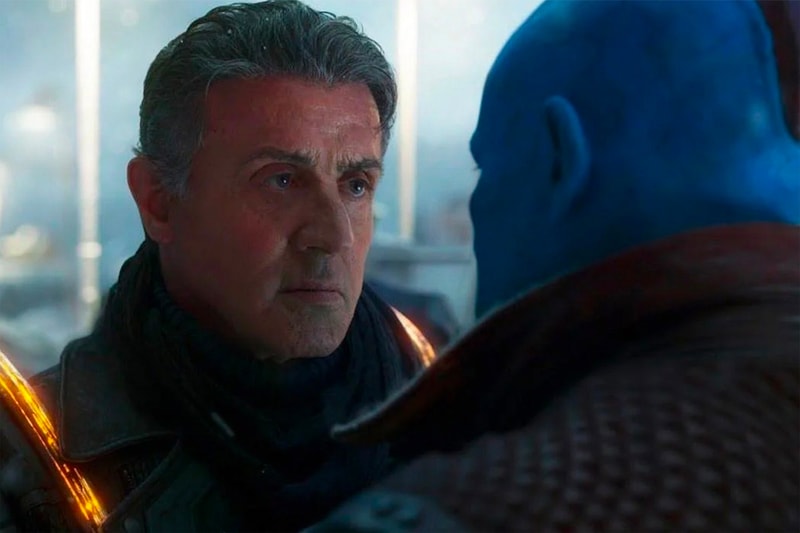 With production now underway for Marvel Studios' Guardians of the Galaxy Vol. 3, Sylvester Stallone has just confirmed his return to the epic superhero franchise.
Seen in a new set image of the upcoming sequel, the Creed and Expendables actor is spotted donning what looks to be a much updated version of his Ravager outfit for Stakar Ogord, also known as Starhawk, with his signature golden arches wrapping over his shoulders. Stallone is returning to the MCU alongside co-stars Chris Pratt, Zoe Saldaña, Dave Bautista, Vin Diesel, Bradley Cooper and Karen Gillen, who will all be reprising their roles as Star-Lord, Gamora, Draxx, Groot, Rocket Raccoon and Nebula respectively.
Most significantly, the bunch of misfit heroes will also be joined by Black Mirror: Bandersnatch, The Revenant and Midsommar veteran Will Poulter, who'll be playing the long-awaited Adam Warlock. Plot details remain scarce at the moment given its early stages of development, so Marvel fans should definitely stay tuned for more updates to come.
Guardians of the Galaxy Vol. 3 is currently slated to hit theaters May 5, 2023.
Sylvester Stallone reveals he is returning for 'GUARDIANS OF THE GALAXY VOL 3'. pic.twitter.com/bo8FQ4kJWq

— DiscussingFilm (@DiscussingFilm) November 15, 2021
Elsewhere in entertainment, Spider-Man: No Way Home has released its highly anticipated second trailer.