Reese's Puffs Gets Shaped in a New Cluster Crunch Form
Packing the same flavor with a new texture.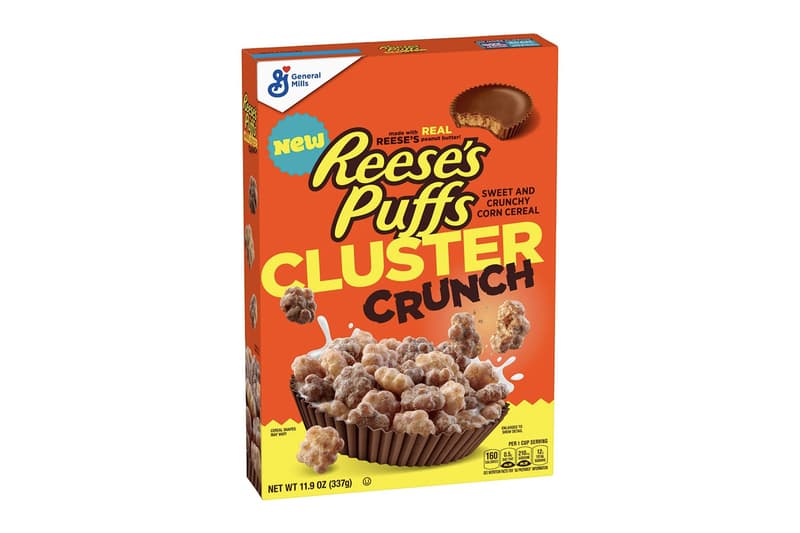 Reese's has been on a roll lately as the cereal will be getting a whole new upgrade in Cluster Crunch form. The brand has been prepping for the upcoming Thanksgiving festivities with its very own Reese's Peanut Butter Cup pies as well as a collaborative effort with prominent Brooklyn artist KAWS to unveil KAWSPUFFS which will be launching anytime soon.
Along with the new Reese's Puffs cereal, other General Mills cereals such as Cinnamon Toast Crunch and Cheerios are receiving a spin with honey-sweetened graham crackers for the former and a strawberry and banana puree infusion for the latter.
The new Cluster Crunch cereal features the same beloved mix of peanut butter and chocolate-flavored pieces but in the shape of light and crispy corn clusters for fans to enjoy a new type of texture with a familiar taste.
Look out for Reese's Puffs' latest edition to stock shelves at select retailers later this month and with a nationwide rollout at grocery stores by January 2022 for $4.31 USD.
In case you missed it, Pop-Tarts hit up Banner Butter to launch a full-range Butter Kit.