Sole Mates: Aman Tak and the Saucony Shadow 6000
Celebrating the shoe's 30th anniversary and the brand's "Saucony x Saucony" range.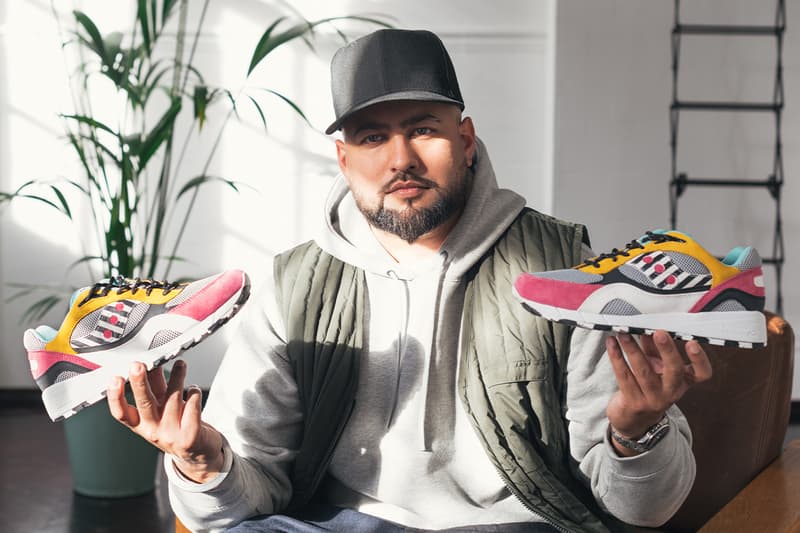 1 of 2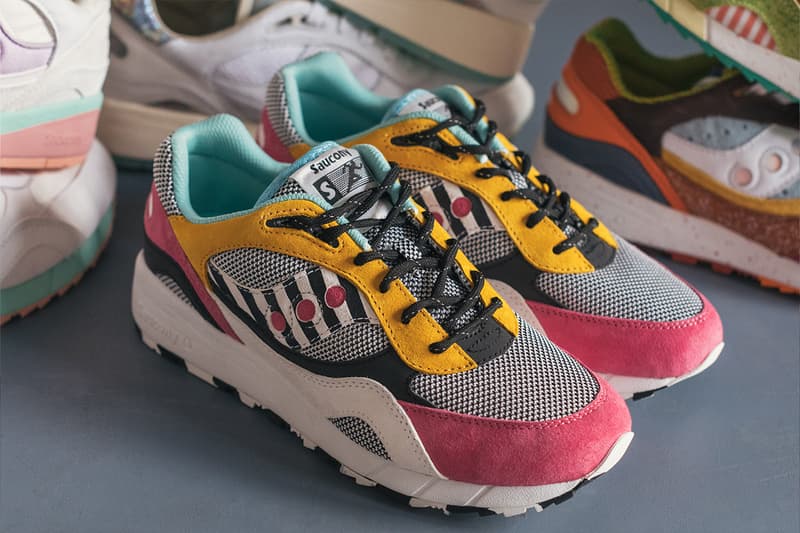 2 of 2
Saucony's Shadow 6000 was born in 1991 and, much like Offspring's buyer and collaboration designer Aman Tak, it also grew up and learned a lot about itself in the '90s. That was a time for evolution, amid a melting pot of cultural influences that, to this day, remain a cornerstone of the sneaker industry. It's become a kind of golden age for the community to look back on, and remember what it's all about: authenticity, originality, and self-expression.
It's those qualities, too, that Tak prides himself on, especially when it comes to his choice in footwear. It follows, then, that for this installment of Sole Mates he's decided to put the spotlight on the Saucony x Saucony collection, centered around the Shadow 6000, which inspired a range of limited-edition sneakers.
The range gets the same premium treatment that is normally reserved for collaborations, and in many ways, it is one, as the drop is Saucony's take on its own work. Celebrating 30 years of the Shadow 6000, it also represents the brand's creative and energetic approach to storytelling. The Fall/Winter 2021 range of Saucony x Saucony includes the Shadow 6000 "Pearl," the Shadow 6000 "Sweetstreet," "Marshmallow" and "Food Fight," with new collections being released every season going forward.
The collaboration succeeds at introducing a new aesthetic and design language to shoes that are steeped in running history and the brand's archive. Originally, Saucony designed the Shadow 6000 with high-mileage runners in mind, fitting them with EVA cushioning and plenty of stability-enhancing features that made them a firm favorite in the '90s. Fast-forward to 2021 and the sneaker appears in many guises, but all of them are true to the original.
Read on to find out what this sneaker means to Aman Tak, and why it will always stand the test of time.
HYPEBEAST: What got you into sneakers?
Aman Tak: I was born in the '80s, but the '90s was the era that I really remember. It was a time of color, innovation, and newness from brands. Growing up on a council estate around various cultures and elders wearing different brands, we looked up to those elder people in the community to see what they were wearing and how they were dressing.
One thing that was the equalizer or something that would capture anyone's attention was someone's shoes; color was so prevalent at that time. Neons, bright yellows, pinks — you could be wearing a regular pair of trackies, but your shoes were the neck breakers, that was the first thing people saw. I guess it was a way of validation, a way of gaining respect from your elders or your peers. There was always an element of trying to outdo one another as well, and things snowballed from there.
It was never about "I'm into sneakers now," it was just one of those things you did. In the '90s, you'd either ride bikes, you were into skateboarding, you were into breakdancing, or you were watching things on TV, and sneakers were one of those elements that you'd be into. The influence of the U.S. with shows like The Fresh Prince of Bel-Air, you'd see Will Smith wearing all sorts of sneakers and you just wanted to emulate that. That was the influence.
Many people who liked shoes and grew up in the '90s are figures in the U.K. sneaker scene today. Did you ever think you'd become the person that you are today?
I've been in shoes for over 20 years now, I started working in shoes in 2000 and I've been at Offspring for 17 years. Before that, I was working at shops while I was at university. We never really knew there was a career that you could get in this culture; I was studying culture and economics at university and working part-time in a sneaker store.
To answer this question: no, I didn't think I'd still be here 20 years on. But, I think I was lucky in the sense that I got an opportunity and I took a risk, someone took a chance on me, and I'm lucky enough to work in something I love and am passionate about. A lot of other people aren't as fortunate to do that.
But with that, there's a lot of responsibility — especially from a retailer's point of view. With the community that we've built over the last few years there's a lot of responsibility, and especially myself being in the game for such a long time, I was there in its infancy in the late '90s and early 2000s there's a responsibility for us — as a retailer — to communicate to the new consumer as well as engage the OG consumer, and really be able to tell those stories for the brands, like Saucony.

Overall, it feels that being raised in the '90s, your association with the industry, your taste level, it's all a full-circle moment and feeling, right?
Yeah, I think so! The stuff that we were wearing in the '90s is still the product that we wear today, and that's because of the design of the product. A lot of these products are timeless — at the time we didn't know that, it was innovation and something new. We went from, in the '80s, having very clean silhouettes to technology that was visible, it was mind-blowing. That really hasn't gone, but there's also been a circle of people going back to familiar silhouettes and collegiate looks.
On the topic of evolution, how has your style adapted over the years?
I was very much into basketball silhouettes, to begin with. New technology came and it all became more futuristic around the millennium. It was a mindset of wearing something completely different, that was when my interests peaked. It was different from what we were wearing before, there was no function, it was purely fashion shoes. For me, that was a way for me to express my individuality and be different from the next person.
But I've also kept that nostalgic feeling inside, being able to go back and buy what I liked when I was younger, now. Those silhouettes are timeless, and they haven't aged
"When I think of Saucony, I think of the Shadow 6000."
Another shoe that's stayed true to itself is the Saucony Shadow 6000. You remember that shoe from the '90s, and this year it celebrates its 30th anniversary — how have you seen that shoe, or consumers, adapt to the changes in the scene and industry?
It came out in 1991 and it was created for runners, giving stability and flexibility. Fast-forward 30 years on, it's become a cult-status silhouette. Brands and retailers across the world have worked on that model.
When I think of Saucony, I think of the Shadow 6000. It's become a brand within itself, and it's one of their most iconic models. It's a testament to itself as it's stood the test of time, and while it started off in one guise, over time it's fallen into more fashion and street culture realms; [especially] with the likes of us working on it in 2014. That was the first time I was properly introduced to it, when I worked on the project with the Shadow 6000.
There's so much you can do with that shoe, you can play it down and keep it to one color, or because there are so many panels on the shoe you can play with the materials. It plays into what's big at the moment: retro-running. It sits in that realm.
And how do you see the Saucony Shadow 6000 in the wider sneaker scene?
Within sneaker culture in the U.K., the Shadow 6000 specifically has cult-like status. It has its die-hard following who will look for a different color every season and the brand has always played to this strength. The Shadow 6000 has been the silhouette of choice for so many collabs we've seen over the years globally, including our own, and sits alongside iconic models from other brands in any sneakerheads collection.
Look at the packs we have for this season, with the "Food Fight" or the "Sweet Street." These aren't for your everyday guy, these are targeting that very consumer, the sneaker-obsessed who's looking for a limited product with purpose and meaning behind it.
At a time when there's a lot of noise from the bigger brands within the streetwear scene, I believe people will look outside the norm and alternative product that is done in that meaningful way. The whole thing about individuality and self-expression that this culture promotes will definitely play into the hands of Saucony, which continue engaging with the consumer in a compelling way, similar to the shift in 2013 and 2014, where people were looking for alternative brands outside the top three which enabled many to get some more shelf space in stores and in peoples collections.
"At a time when there's a lot of noise from the bigger brands within the streetwear scene, I believe people will look outside the norm."
More specifically, what does the Saucony Shadow 6000 mean to you?
The Shadow 6000 was the first Saucony collaboration we did with the brand so it means a lot. To be mentioned within that collective of retailers that's worked on that shoe is a big honor, and we don't take it lightly. We hope we've been able to treat and respect that model in the right way and give it the respect it deserves.
It's also just a great silhouette to work on, with all the paneling allowing it to take a mix of materials and multiple colors as well as being able to add extra hidden details. Working with smaller, agile brands like Saucony is always a pleasure too. They really allowed us the freedom to put our spin on the iconic silhouette and push the boundaries of a shoe that was originally designed for function in classic athletic colors.
I think it also means a lot to the Offspring community as a whole. If you search through the comments on our Instagram page it's always one of our collabs that gets mentioned and one that the community wants to see again, which is a testament to a brand and silhouette that is timeless. Hopefully, there isn't such a long time to wait for the next one, so watch this space!
The Shadow 6000 "Food Fight," "Sweet Treat," and "Marshmallow" are all releasing as part of the shoe's 30th anniversary. What makes them stand out for you?
The fact that we are still talking about a shoe 30 years on is a testament to great, timeless design and the longevity of the brand. The consumer nowadays is, as we know, super clued up, and they know what is a quality product or not. Let's be honest, they have a lot to compare against. For them, it's all about the attention to detail, it's more than just the shoes, it's the whole package, the story, and the exclusivity.
Take the younger generation today — how many sneaker walls do we see on a daily basis? It's no longer about showcasing the sneakers alone, but also displaying the boxes too and how they fit within their rotation and visually on that wall for the 'gram!
With these upcoming packs, Saucony has really played up to this and treated these tier one packs as almost like a collaborator would by obsessing [over] the details. They've looked at every detail to create a fun compelling story that evokes nostalgic vibes. By doing this, Saucony has been able to differentiate the range and elevate itself from other brands, and that is really important to cut through at this level.
Does it just go to show that authenticity is sometimes better than trying to reinvent the proverbial wheel?
Yeah, 100% man. It comes down to these other guys to look at the details of what they do, especially on something like the Shadow 6000, and really try to capture that new audience.
Saucony is a multi-faceted brand, they don't just live in the lifestyle realm as it also has a claim in technical running. The fact that it's able to transition into the heritage side is a testament to itself, and definitely plays into authenticity. The products that were sitting in lifestyle and now in performance, again it's a testament to great design.
And is that a reflection on the wider sneaker industry, retro pairs and GRs doing well at the moment?
Saucony has captured it really well. It's continued and stuck by its original silhouettes — there's obviously new stuff that's dropped in between — but really its core heritage lies in the models they've had previously. With other brands, they've done remixes of old shoes… Saucony have done that in elements, but in the realm of U.K. sneaker culture, the real silhouettes that people look for are the Shadow 6000 and the Jazz.
What does the current sneaker industry look like, and what do you think the future will look like?
That's a difficult question — there's a lot going on at the moment. From a retailer's perspective, it's great because we've gone from two launches a week to seven a week, so financially it's amazing, as is building a community and communicating with it.
But again, how much more can the consumer buy? Not everyone has an infinite amount of money or space, and how much more hype can you get? There's going to be a time when people can't be bothered to enter another raffle, they just want to go in and buy a pair of shoes.
That's when Saucony is going to be able to capitalize, they're going to have good, well-made, solid products on the shelves in great, on-trend silhouettes that people are just going to be able to buy, and that's where it's probably going.