What the Tech? Heron Preston's 3D-Printed Shoe Manufacturer Could Change the World
For Zellerfeld, the HERON01 was just the start. Next, it wants 3D shoes on every foot.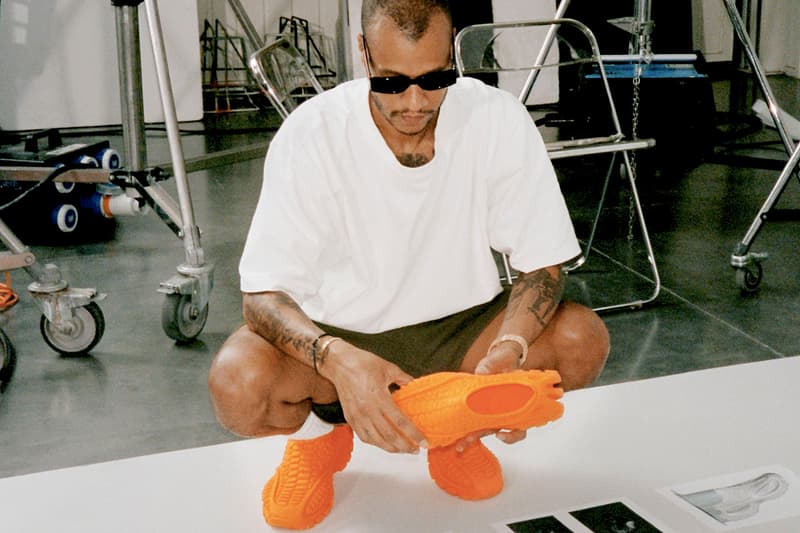 Despite 3D printing existing since 1984, it took another 30 years until there was even a whisper of a buzz — and still, it was a short-lived boom, as consumers entertained the pipe dream of owning a printer of their own. But at the time, it failed to catch on in any meaningful way, as the industry failed to bring prices down and demand up. 
Yet some brands did make use of this newly-growing technology, and the possibilities it offered for product manufacturing. By 2015, adidas had pioneered its FUTURECRAFT line of 3D printed sole units, Gucci started making 3D Mickey Mouse bags, and more recently, even wagyu beef can be printed.
Today, there are plenty of brands using printing to bring down production costs and times. But there's a problem: sustainability. While being able to produce a product at the push of a button may reduce waste, it's the processes that can be harmful. As a 2016 study noted, "desktop 3D printers can emit large numbers of ultrafine particles… and some hazardous volatile organic compounds" into the atmosphere. Additionally, the energy required can be 50 to 100 times higher than the energy used by typical injection molding methods.
But for Cornelius Schmitt, CEO of the German start-up Zellerfeld, conscious production is at the forefront. Using recycled materials that, in turn, can be later recycled to create a new pair of shoes, Zellerfeld opens itself up to a circular production economy, meaning it could both never run out of shoes or designs. 
Following on from its recently-revealed collaboration with Heron Preston on the HERON01 and the shoes it made in collaboration with Rombaut for Elon Musk and Grimes' baby X Æ A-XII, Zellerfeld wants to put a 3D printed shoe, as Schmitt puts it, "onto every foot in the world." To understand more about its ambitious plans, as well as how it wants to evolve into producing all kinds of consumer goods, HYPEBEAST sat down with Zellerfeld for our latest issue of What the Tech? to dig deep into the tech that aims to shape the future of… anything. 
HYPEBEAST: Why was 3D printing the right method for Zellerfeld to experiment with?
Cornelius Schmitt, CEO of Zellerfeld: It started while I was studying engineering. I always loved shoes, but what I hated as a young sneakerhead — and I do iconize them, the Jordans, the Stan Smiths — was "what about the new stuff?" I can buy the same shoes as my parents did, but there are so many cool people on Instagram who are so passionate about designing new shoes, sketching and rendering, you can see the detail and how much love they put into it.  
I hate the fact that I could get Jordans, but not the stuff where I see the love for footwear again. I asked myself why is this, and I realized it's because of upfront investments. It's hugely expensive to start, you need lasts, molds, so if you are a designer you need to spend [a lot of money] on just one design — and risk it. 
I think [the sneaker industry] should be democratized. Designers should be free, they should experiment, even if the shoe doesn't sell. With 3D printing, we could reduce the spending from half a million dollars to zero, and if you bring it to zero, everyone can experience it. We can be sent a file, we send them the shoe the next day. 
"We want to build the AppStore or YouTube of shoes."
There are no minimum order quantities, there is no upfront investment, we can democratize this so that designers can experiment and so consumers [get what they want]. We had to build it.
Is 3D printing the method that will enable designers to fulfill their experimental dreams?
Absolutely, you don't have to assemble a shoe anymore you just have to push a button if you do it correctly. 
Our technology is a little bit different, too. Over the last six years, we built those printers, the software, and the hardware. The big change is that a sneaker takes 150 manual labor steps, which is [predominantly] why they're produced overseas, but here we're just pushing a button — tens or hundreds of people design a shoe over the course of months, now, one designer can make a shoe in a day. You can have an idea in the morning, throughout the day you can 3D model it, and in the evening you can send it to us. If those printers were [all around the world], we could make a shoe and the next day ship it. 
Some people might say that making a shoe with just the push of a button takes away the beauty of craftsmanship.  
In reality, the craftsmanship isn't really there. What you see is inhumane working conditions in those factories, and I would say, those designers cannot be free. You have to think about stitching, how the sole is going to be glued, and those are huge restrictions. With [3D printing], more time can be spent on the design, and we get rid of those working conditions. 
If you look at computers, when they first started we had human computers. Rooms filled with someone with a calculator, and as soon as you needed something you'd call someone to solve it. 
In the future, if Elon Musk wants to send the economy to space he shouldn't have to think about putting shoe cobblers on space. He should have a machine, we send him a design that he can download, or maybe there's a cool design on Mars that he can fire back down to Earth, that's how the future should be. 
Especially if it's recycled we can then re-use it and update it to fresher kicks. 
Moving on, how did you come to work with Heron Preston on the HERON01?
At some point we realized our print quality was better than other brands, so we reached out to a New York brand who wanted to work with us. We printed pairs and they exhibited them in store for people to wear and test, and Heron walked in and asked what it was. Heron said he wanted to work with us, and that's how it came about. 
He loved that we're just some engineering college kids from Germany, he might have seen himself in us as just kids who wanted to push. We had Zoom calls and then quickly moved to WhatsApp, texting every day for maybe half a year…
What was it like to work via text?
Heron is a huge idol and inspiration of ours. It's exciting when you can work with someone like him. Every text message was exciting. He seemed to care so much about you sending him a text, two seconds later he'd reply. He had lots of ideas, so quickly. 
What was the creative process like?
He wanted to see what we could do first. He asked us to print an Air Force 1 — we modeled it in a day and two days later it was with him. We gave him a comparison: when radio was first invented, people didn't know what to do with the medium so they filmed radio shows. He liked that, he asked if we can print an AF1 — of course, we can print an AF1. But, in a sense, it's what we know already and nothing further. We both agreed on doing something crazier, inspired, a neck-breaker, when you walk on the street people should stop you. 
We also [had design help from] Daniel Bailey of CONCEPTKICKS. He's the reason why I started Zellerfeld. It was super special because CONCEPTKICKS always reposts shoes, and he was the reason why I always wanted those concept kicks, so it was special for me. 
More specifically, how exactly is the HERON01 made?
So we modeled it [digitally] first, and then because everything is printed — from concept to a wearable shoe — it was done in three days. 
[The shoe is] made from plastic, a TPU, like UltraBOOST. It's made using fine lattices which also makes it breathable. We say it's the most breathable shoe in the world because of the thousands of holes. You can have many different textures, something glossy or a sock-like upper. We love this technology because it's recyclable but also medical-grade, this is not what you'd usually see. 
[There are no] toxic monomers. You don't have to worry about materials harming your skin, but then [production] does get harder.
What we do here is we use superfine nozzles that print very fine threads, and it gets finer and finer over time and this way we can print fibers. In the end, it's like a textile, you can think of it as the sole feeling like UltraBOOST but the upper feeling like a Balenciaga Speed sneaker. We focus on this technology that extrudes those fine textile-like threads, but if we put gas into it we can make foam. 
On a material level, how can it be that nylon can be fluffy, but it's actually hard plastic? The only difference is that it's roughened up. By roughing it, there's more surface area and it becomes softer, and this is what we're doing with the printer.  
These shoes are also fully recyclable. Is that a natural result of the process, or something that you wanted to make sure of as a company, to be sustainable?
We think long-term and we wanted to build an infrastructure for every shoe. Not just for prototypes. We want to put printed shoes onto every foot in the world. 
When you think about that scale you have to choose something sustainable and long-lasting. Using those materials was the first decision we made. Those types of materials are thermoplastics, and you can shred them up, wash them, grind it, and reuse it when it's reheated. This is a huge way we differentiate ourselves, others often used toxic monomers where they wear masks in the process, and to us, it's important to show how to do it differently. 
Do you think the sneaker industry needs to start championing other production methods such as this? 
Yes. Definitely. 
I believe, however, this won't happen by them just making promises to themselves, it'll happen when production facilities make better technology for us. It's much like Tesla: you had the Toyota Prius, it didn't really change the industry, but Tesla did change the industry. It's cheaper [comparitively], this is what changes the industry and [targets] the big German automotive companies, they're all switching from internal combustion engines because they know electric cars are better, they are faster, they are easier to maintain. In almost every category they are better. 
Wearing custom printed shoes that are also flexible [aside: they can fold in on themselves], they are made for your ballpoints, your perfect arch height, the girth measurements… I can't see a way where the future isn't printed. 
In the end, the process will be cheaper, by next year we can produce shoes in the U.S. cheaper than in sweatshops overseas. This is because of it being a push of a button, it's basically now just almost neglectable energy costs and material costs, which is $5 USD per custom pair. 
Should, or perhaps will, the future of commodities and products adopt 3D printing too?
10 years ago there was a 3D printing boom and a vision that everyone would have one in their home. But it was way too early, and was just hype. But I wake up every morning because I want to live in that future, when I have children I want them to live in that future. 
This is why we want to do this. [3D printed] materials are hard or soft, but it doesn't have to end there. It could be electronics, sensors, tools that put chips or WiFi into shoes. We need to make technology that scales long-term, we want to create that future with our printers. 
We want to create a world where Elon would need a printer on the Starship and we just send a file across the universe. With every step we take this is what we have in mind. Multi-material, multi-color, multi-texture, metals, plastics, all of that. We want to build the AppStore or YouTube of shoes. This is applicable for every physical object — we have seen so much innovation in software, and this can be the same for 3D printing, finely transferring it to the physical world.