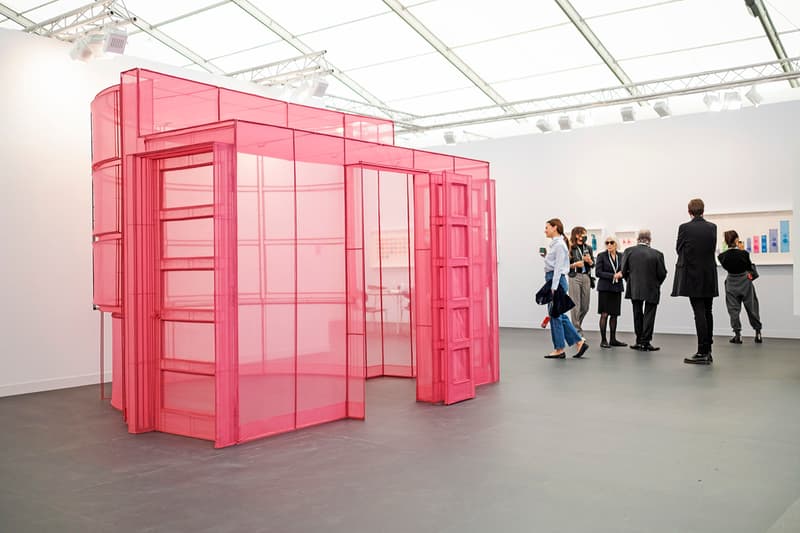 10 Things to See at Frieze London 2021
From established names to emerging galleries.
---
Frieze London is back. After last year's hiatus from the U.K. capital, the international art fair returns to London's Regent's Park alongside Frieze Masters. Between the two fairs, more than 40 galleries from across the world will be on show, with art ranging from ancient items and old masters to contemporary and modern works.
As this year's Frieze London and Frieze Masters open their doors, HYPEBEAST has picked 10 highlights from across London, that are worth checking out.
Big-Name Galleries
As always with Frieze, the focus is on the great and the good of the art world. With participating galleries from around the world, some of the biggest names in art will show work at this year's fair. This includes galleries such as David Zwirner — featuring works by Oscar Murillo and Carol Bove — as well as Stephen Friedman (showing new works by Deborah Roberts) and Lisson Gallery (a solo presentation by Garrett Bradley).
And Big-Name Artists
With some of the world's best-known galleries taking part, it's no surprise that Frieze London will also feature work from some of the best-known artists in the world. Highlights this year include Yayoi Kusama, whose work is being displayed in Victoria Miro's botanical-inspired presentation, as well as Wolfgang Tillmans (at Maureen Paley), Kenny Scharf (at Galerie Perrotin's Frieze Masters installation) and Gilbert & George (Thaddeus Ropac at Frieze Masters).
The Focus Section
Frieze is not just about the big names, however, and the Focus section is a showcase of emerging galleries. Each of the galleries was established within the last 12 years, and each of them acts as a platform for work by new and emerging artists. Stand-out galleries participating this year include London-based Arcadia Missa, Hong Kong's Blindspot Gallery, and Hot Wheels Athens, making its first appearance at the fair with a solo presentation of works by Yorgos Prinos.
"Unworlding"
For the curated section of the fair — titled "Unworlding" — Frieze has recruited Cédric Fauq to showcase "international artists whose practices are centred around the idea of undoing the world as we know it." The works on show include an installation by Ndayé Kouagou featuring three episodes of his Good People TV project, as well as a large-scale lightbox works by Nora Turato that are situated along the entrance to the fair.
Frieze Cork Street
After plans for the venue were announced late last year, Frieze has now opened the doors to its 9 Cork Street properties. Described as "a new hub for galleries in the heart of Mayfair, London," the space will host a number of Frieze events including its series of talks. Building on the collaborative idea on which the space was founded, it will feature exhibitions by three international galleries — New York's James Cohan, Guatemala's Proyectos Ultravioleta and L.A.-based Commonwealth and Council — each displaying work until October 23.
Frieze London Talks
This year's programme of talks focuses on collaboration and exchange, bringing together names from art, fashion and beyond. Highlights from the live talks include an appearance from artist Arthur Jafa in conversation with director Garrett Bradley, as well as a discussion between Kiko Kostadinov, Laura and Deanna Fanning (of Kiko Kostadinov women's), artist Eric Mack and stylist Haley Wollens. A stand-out talk from the Frieze Masters programme is Dries Van Noten's appearance with Michaël Borremans.
Damien Hirst's NFTs
Damien Hirst has partnered with LG for an innovative new exhibition that showcases his recently-announced series of 10,000 NFTs. Each NFT corresponds to a physical work, with these digital works appearing on OLED TV products from LG that are "self-lift." This showcase at Frieze London also marks the beginning of "The Currency Exchange Period," when purchasers of the NFTs can choose to keen the digital work or replace it with its physical counterpart. Whichever one they decide not to keep will then be destroyed.
Frieze Sculpture
Kicking off Frieze London as always, Frieze Sculpture opened in the surrounding Regents Park in mid September. Returning for the ninth time, the sculpture park features an array of international artists, including Isamu Noguchi, Daniel Arsham, Rose Wylie and more. All of the works will look at themes associated with architecture, geopolitical power structures and environmental concerns, while Serpentine will also take part with "Sumayya Valley, Counterspace," marking the first time a public institution has participated in Frieze Sculpture.
The Frieze Viewing Room
While this year's Frieze London marks a return to physical art fairs in the city, it is also accompanied by a digital viewing room. Building on the hybrid approach that came to the fore for more recent fairs, this year's installment will see the digital offering further expanded. The online viewing room will feature a wider programme, as well as an expanded list of participating exhibitors.
Away From the Fair
As always, Frieze London is not confined to the fair itself. Off-schedule events and exhibitions are set to take place across the city, showcasing a range of other artists at various galleries. A stand-out this year is the Antwaun Sargent-curated "Social Works II" at Gagosian's Grosvenor Hill location, featuring works from Tyler Mitchell and Grace Wales Bonner among others. Elsewhere, White Cube is showing Theaster Gates' "Oh, the Wind, Oh the Wind" to coincide with other exhibitions by the artist at Whitechapel and the Victoria & Albert, while Stephen Friedman Gallery is showing works by Marina Adams. Additionally, MatchesFashion is hosting a series of events at its 5 Carlos Place location, beginning with a conversation between Turner Prize co-winner Alberta Whittle and Nicky Wilson, director of Jupiter Arland.