Notes of Last Man To Walk the Moon Are Up for Auction
Gene Cernan wore the checklist cuff on his 1972 moonwalk.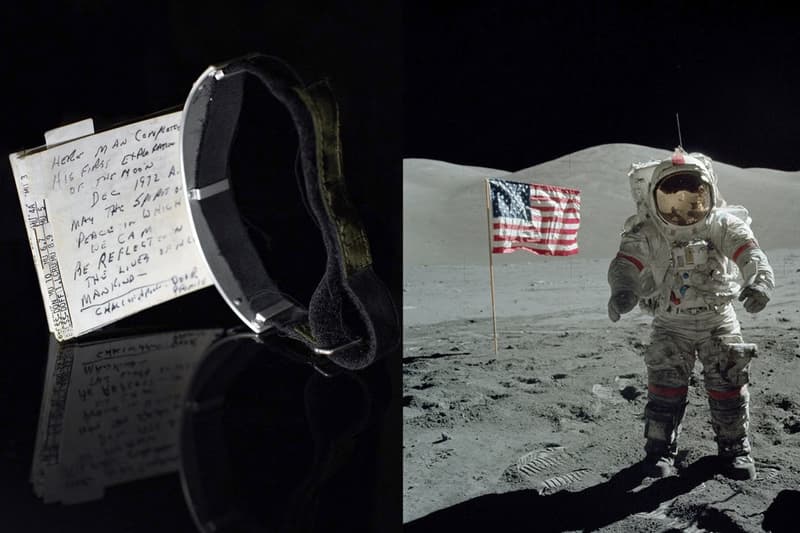 A checklist worn by Apollo 17's Gene Cernan over the seven-plus hours that he walked the surface of the Moon is up for grabs at the RR Auction, a space collector's event with over 700 items taking place online now. Cernan wore the checklist via a cuff on his wrist for the lunar trip in 1972 and he still remains the last man to walk on the Moon today.
The checklist contains preparation procedures and maps of lunar routes and landmarks. It also includes handwritten notes that echo the words of Cernan's predecessor, Neil Armstrong, from three years earlier, reminding the astronaut that the journey was "one giant leap for mankind."
Cernan's cuff checklists for his other spacewalks, EVA-1 and EVA-2, have already been sold privately, so this is the first artifact of its kind to be publicly offered.
Another highlight of the auction is Buzz Aldrin's Personal Preference Kit (PPK) from 1969's Apollo 11, a bag containing mementos from Earth that he used to bring materials for religious communion.
There's also a rare Project Mercury spacesuit glove that was specially built for America's first man in space, Alan Shepard. Artifacts will be auctioned off alongside dozens of mementos, astronaut autographs and a handful of meteorites.
Online bidding for the space exploration and aviation sale from RR Auction is taking place now and will conclude on October 21.
In other tech news, Apple will host its Unleashed event on October 18.