On the Ground in Dubai's Booming Skate Scene
A rapidly-growing skate culture is breaking out in the UAE — and three of its leading figures spoke to HYPEBEAST Arabia.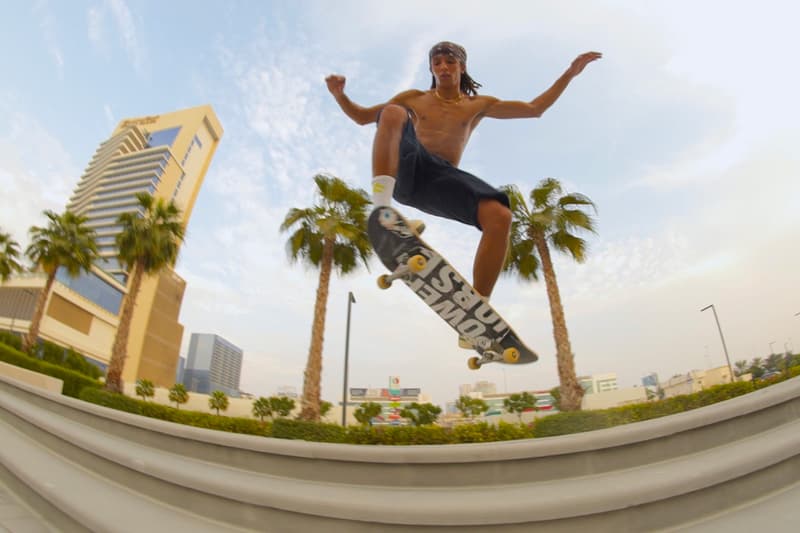 Drenched in sweat, but unfazed by the approximate 40 degree celsius heat, Karim Nassar, Maysam Faraj and Wathek Allal are deciding who skates first with a round of rock, paper, scissors.
Faraj is up, reminiscing on his time at summer camp during the mid-90s, where he first met a counselor on a skateboard. "The skateboard was a cheap plastic thing you'd find at your common sports shop. He was cool enough to let me stand on it, which I could barely do," he remembers. I remember being confused. I asked myself, 'How can I not stand and balance on this thing? Why is this so hard? I should be able to do this.' I was humbled and I became obsessed".
"At some point I realized how these brands were just tourists, there to make themselves look cool"
Faraj soon went hunting for a board of his own — leading him to a swimwear shop, Heat Waves, which his friends had suggested to have "cool-looking" skateboards. "Apparently, they were props for display, but if you asked hard enough, they'd sell them to you. So, we headed over to Jumeirah Plaza on Beach Road. Sure enough, they were the real deal. My first skateboard complete was an Alien Workshop – Fred Gall slick deck with Tracker B2 trucks and Santa Cruz wheels. The rest is history."
The skateboarding scene has always had a spot within the UAE region — indeed, HYPEBEAST profiled its rising presence in the culture three years ago. But in recent years, the admiration for the sport as well as its aesthetics have increased. With a growth in number of skaters, brand deals and campaigns, the community in the MENA region is flourishing and building a gateway for future skaters. It's representative, too, of a rising subculture of young people in Dubai who — far from the ultra-rich stereotype — are developing a creative scene on their own. It's no coincidence that local rap music, too, is experiencing a boom in popularity.
For Nassar, skating is a long-held love. "My parents actually got me a skateboard-scooter hybrid when I was a little kid. Vibes were a little off, but the skate aspect felt pretty cool," he says. "I think it was around early middle school when I saw this dude pushing around and dropping curbs where I thought I wanted to get into it. Parents got me a board for my birthday, I fell in love with it then and there and haven't fallen out since. This was probably around 15 years ago."
"I was into breakdance and graffiti when I was a kid," says Allal, "and always loved the culture. To me, it was very close to skateboarding – graffiti artists and breakdancers would always practice in skateparks, so I was already drawn to the scene. When I moved to Dubai, I got to see that in person and love it more. The skate community has always been a very welcoming and friendly environment that I love being involved in – the idea of having a group of friends who share the same passion for a sport".
With the increase in global campaigns involving skating aesthetics and athletes, there has also been a rise in interest towards the sport. "I think the influence skate culture has recently had on the community is pretty cool… significantly," says Nassar. "It's great to see the world recognize skateboarding – its creativity, carefreeness and everything within it. I don't think non-skaters will ever truly see the world from a skateboarder's perspective, but I think its influence has become pretty prominent."
"I'd love to see some heavier unrelated collaborations come together including the skateboarding culture," he continues. "Skating just makes everything cooler."
As Allal reflects on skating culture within the region, he notes, "When I started skateboarding, it wasn't as highlighted in Dubai as it is now – that is the biggest growth I've witnessed. Otherwise, skating never changes in my opinion. We're still the same crew from 2012."
Looking at the city today, there has been an increase in destinations – XDubai Skatepark, Damac Hills Skatepark, Business Bay Skatepark, and more spots allowing skaters to express themselves. There has also been a noticeable increase in interest for skateparks from developers across Dubai, Abu Dhabi as well as neighbouring countries according to Turanyik on Arabian Business.
"I'd like for city planners, security guards and the general public to see how skateboarding is the ultimate freedom of expression for the youth"
According to Faraj, the first decade of skating in Dubai was seen as the peak. He, alongside his friend, Evan Collisson, worked hard to hold it down on their own dime. Traveling to areas such as Egypt, Jordan and Lebanon while documenting the local skaters and making friends, Faraj and Evan took photos, burned DVDs and showcased the sport in magazines in Dubai.
As time passed and the second decade emerged, Faraj looked at the misalignment in local skate shops – witnessing the gentrification of the scene by different brands, "At some point I realized how these brands were just tourists, there to take a couple of photos and videos and then leave, having stolen a bit of our magic to make themselves look cool," he says. "I and many others owe everything good in our lives to skateboarding. It's given us much more than we can ever give back, so with that much love involved for what you do and represent, it fucking hurt to see us get used and abused in that way. We had allies but we were all younger, poorer, and so busy sorting out our lives and careers".
To add on to his passion for skateboarding and admiration for the community, Faraj pondered around the idea of launching his very own skate shop. "In early 2020, I was made redundant from my job and the pandemic hit. Greta, my girlfriend, brought up the idea again and gave me the courage and support to finally go for it. Thank you habibi, I will forever be grateful for that." Faraj and Greta launched Habibi Skate Shop. "We are ready to serve and represent our scene as well as other allies in the region because I truly believe that skateboarding is good. It saved and positively changed my life and I want the future generation of skaters to have a fair shot at experiencing the same impact it had on my life. I want to build something that our community can be proud of, something they feel represents them. And when or if they move away, feel like they can represent us and our city in return."
"Ah man, where do I start?" Faraj asks, when thinking of the future of the sport's culture. He hopes for big brands to correct and involve themselves. "I'd love to see the attitude of skateboarders and skateboarding being seen as rebellious troublemakers shift over to something more positive. I'd like for city planners, security guards and the general public to see how skateboarding is the ultimate freedom of expression for the youth. I dream that skateboarders are listened to and are allowed to contribute and shape their communities and future."
"I hope the skateboarding scene never stays constant," explains Nassar, "and I hope it just gets cooler, weirder, bigger and better. So long as you're in love with it, it'll love you back. Growth comes out of that sort of thing you know? I want to see people expressing themselves through their skating in a more truly 'liberating' way".