How Dubai's Skate Scene Is Changing the Perception of the UAE
Bringing together different cultures to create something new.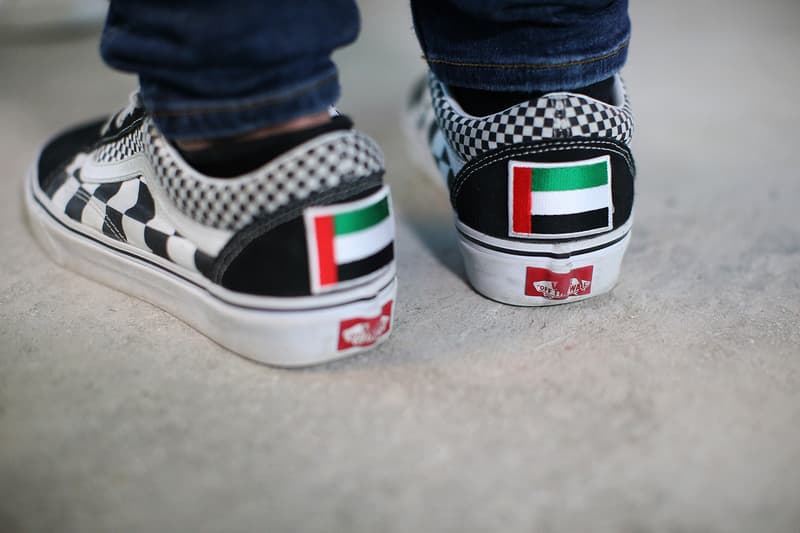 Dubai isn't the first, second, third or fourth place you think of when you think skating, but that doesn't mean that the scene doesn't exist there. Vans recently launched its latest House of Vans in the city, to the surprise of some, who didn't think the city was a viable destination.
But a deeper look into the scene reveals that the launch makes perfect sense. Rodrigo Salazar works for Gulf Marketing group, a distributor across the Middle East that works with brands such as The North Face, Timberland and Vans. "Street, Skate and pop culture has been evolving a lot from the last few years," he notes of Dubai's burgeoning alternative culture. It's something Salazar puts down to the blank canvas mentality of the city — 88.52% of the Dubai population are expats — and Salazar himself moved to Dubai from Mexico City two and a half years ago. "Each one of these people brings their unique thing here," He notes. "Eventually, there's a clash where everything is adopted and something new is born."
In that sense, Dubai is similar to Japan, which took cues from British and American menswear, creating something totally new by paying obsessive attention to the details and adding a local spin. The key difference between the UAE and Japan is that the latter is the amount of expats, with only 3.6% of Tokyo's population being from another country. "Here you have people from India, from the Philippines, from South Africa, from Europe, from America, so everybody puts their own spin and that makes it very special."
Dubai's strict reputation precedes itself in the worst ways at times, but it's not something that affects the local skate scene. "I think it's more friendly than you would imagine," says Salazar. "It has their own restrictions, but that works for everything here in Dubai, there's certain rules even for walking."
Despite the rules, locals are still able to put their spin on the burgeoning scene. Excel Figueroa is another expat, having moved from the Philippines in 2016 and he's seen the change in skateboarding, which he says has come from changes in infrastructure. "There's been a growth in skateparks being built in the past year in different areas and in different villages." Running the digital and marketing elements of surf store Surf House Dubai, Figueroa has seen these changes first hand and is directly involved in building both the skate and surf communities, running lessons for skaters on Tuesdays and for Surfers on another day of the week and is joining forces with a business development with its own skatepark.
Figueroa originally moved from the Philippines because his sister was in the country. "I wanted one thing – change," he said. The Filipino community is the third largest expat group in the UAE, coming in just behind India and Pakistan. The reason for this is mostly for work, as Filipino expats, called overseas Filipino workers (OFWs for short) are a major source of economy for the Philippines, contributing $28.4 billion USD in 2015 according to the World Bank's figures. While the food & beverage industry is a well-known aspect of this, Figueroa notes that it's also arts that have received an influx of Filipino workers. "Most of the known surf photographers are Filipinos," he notes which he says helps "when it comes to marketing because they always want to show a different kind of culture."
This difference is seen in the House of Vans space, which takes part inside what appears to a very standard housing development for the city. Once you walk past the signs marked with "this building is not for skating" and "skater's helmets must be woren [sic]," you get taken to the 44th floor of the building via an ear-poppingly quick lift. Inside, the space was of a grand industrial ilk with 30 foot high ceilings — complete with chandeliers — blending in with the partly rundown decor. The result was a building that felt like a mashup between seminal 1975 documentary Grey Gardens and a local skatepark. A skate demo was held on both nights, with Vans skaters Chris Pfanner, Nassim Guammaz, Fabiana Delfino, Amy Ram, and Robin Bolian taking part.
During the demo, locals were invited to partake in skating alongside some of the Vans team, and one of the locals and a sign of the growing skate trend was 17-year old skater Leia. Born in Michigan, Detroit and moving to Dubai soon after, she's a relative newcomer to the world of skateboarding, having only done so for three months. "I've always wanted to be into skating but I never actually went out and got a board," she says. "Like I never could afford one or got one. But when I finally did I was like 'Skatepark!'"When asked what the scene's like in Dubai, she notes that "there aren't many girls, but it's pretty fun skating with all the boys."
Leia is a sign of the city's growing scene, which is in contrast with another growing local alternative scene in surf. Rodrigo Salazar handily breaks down the differences between the two scenes and also why Skateboarding is a burgeoning scene in the UAE. "People like to surf but Dubai is not known for being a place you can surf, it has waves at certain times of the year but that's it," he says. But the simplicity of skateboarding wins out. "You don't need all that, you just need a skateboard and the world to go out into."
In other news, our latest digital cover story is with Spider-Man: Into The Spiderverse star Shameik Moore.