Dior and Technogym Collide to Launch "Dior Vibe" Line
Creating a range of home fitness equipment marked by elegance.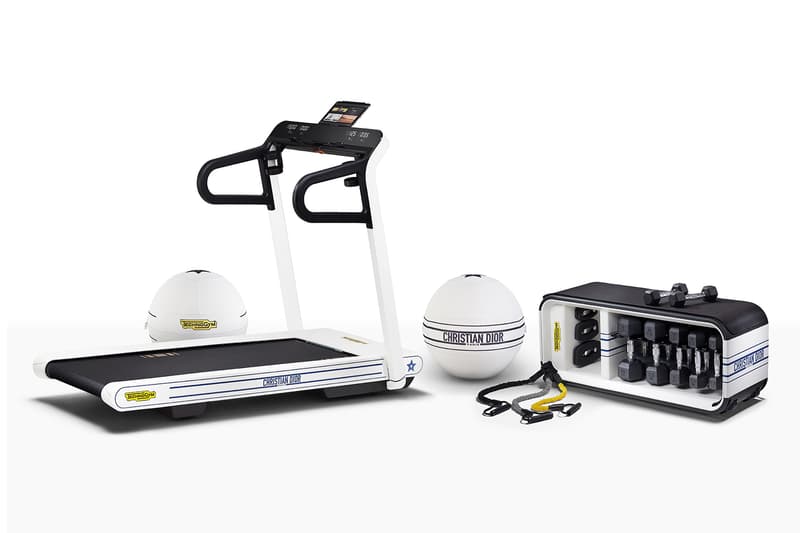 As part of its upcoming 2022 Cruise show, Dior has teamed up with Technogym, one of the world's leading specialists in high-end sports equipment and digital technologies, to launch the "Dior Vibe" line. Combining sportswear and elegance, the duo crafted a range of limited edition home fitness equipment designed by Maria Grazia Chiuri.
Offering its take on Technogym's connected treadmill and multifunctional weight bench, the Italian luxury fashion house looked to offer its vision of well-being and fitness. The connected treadmill is outfitted with state-of-the-art electronic features, while the multifunctional weight bench comes complete with accessories like dumbbells and gym ball.
Each piece from the inaugural Dior Vibe release is marked by a white design centered around the Dior star, the founding couturier's lucky charm, five horizontal stripes motif and "Christian Dior" embellishment.
"This shared goal of excellence gives life to a limited series of innovative Technogym products interpreted with the Maison Dior's unique allure. Created to inspire the concept of wellness with new generations, it also offers people the opportunity to live a unique and irresistible experience," said Nerio Alessandri, Founder of Technogym and Wellness Designer.
Check out the Dior x Technogym Dior Vibe exercise equipment set to be available January 2022 above.
In case you missed it, GilletteLabs taps Bugatti for a Special Edition Heated Razor release.