Best New Tracks: Nas, Don Toliver, James Blake and More
Enjoy the weekend with these 10 music projects.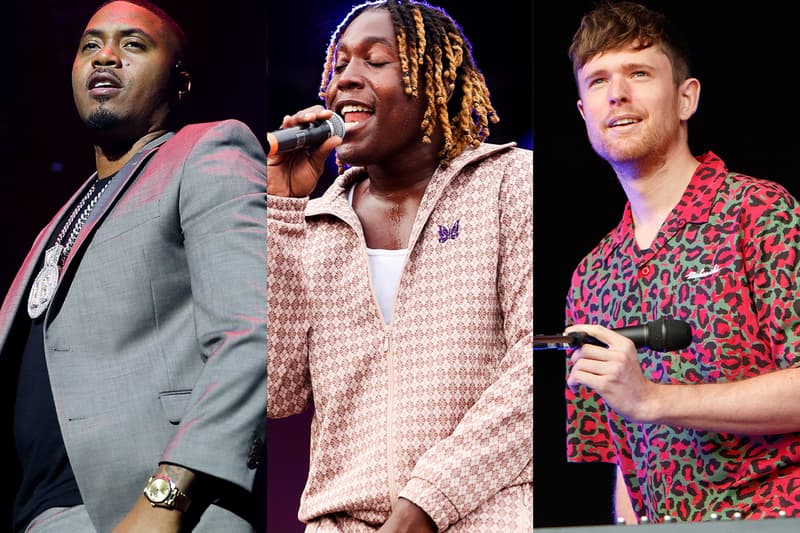 As the week in music comes to a close, HYPEBEAST has rounded up the 10 best projects for the latest installment of Best New Tracks.
This week's list is led by Nas, Don Toliver and James Blake, who released the new single "Big Nas" and the albums LIFE OF A DON and Friends That Break Your Heart respectively. Also joining this week's selection are fresh offerings from Lute, Koffee, Kay Young, Paris Texas, Robert Glasper with D Smoke and Tiffany Gouché, Joshua Crumbly and Masego with JID and Big Boi.
Nas – "Big Nas"
Nas is celebrating the release of his MasterClass, Nas Teaches Hip-Hop Storytelling, on October 14 with the new single, "Big Nas." The new Hit Boy-produced cut follows just two months after King's Disease II, and arrives after September 23 was named as Nas Day in Queens.
Listen: Spotify | Apple Music
Don Toliver - LIFE OF A DON
Cactus Jack signee Don Toliver has followed up his Heaven or Hell record with LIFE OF A DON. The 16-track album features contributions from the likes of Travis Scott on "Flocky Flock" and "You" Kali Uchis on "Drugs N Hella Melodies," Baby Keem on "OUTERSPACE" and HVN and SoFaygo on "Smoke."
Listen: Spotify | Apple Music
James Blake - Friends That Break Your Heart
James Blake's newest record Friends That Break Your Heart is finally here after a short delay. Described as a "concept album," the project features guest appearances from SZA on "Coming Back," JID and SwaVay on "Frozen" and Monica Martin on "Show Me." Blake called it his "favorite album so far," adding, "I know that's what you'd expect me to say because I made it, and all artists think their new album is their best album…But it actually is, so…"
Listen: Spotify | Apple Music
Koffee - "West Indies"
Koffee is celebrating her west Indian heritage with the new single, "West Indies." Produced by Iotosh — also one of Jamaica's young breakout stars — the cut is the GRAMMY winner's ode the to the islands and delivers her trademark hopeful and positive messages.
Listen: Spotify | Apple Music
Lute – Gold Mouf
Rising Dreamville star Lute has released his debut studio album, Gold Mouf. Enlisting the help of JID, WESTSIDE BOOGIE, Saba, Little Brother, BJ The Chicago Kid, Ari Lenno and DEVN, Lute opens up about  his family trauma, the wins in his life and the romance he finds himself entangled in.
Listen: Spotify | Apple Music
Robert Glasper x D Smoke x Tiffany Gouché – "Shine"
Robert Glasper has joined forces with D Smoke and Tiffany Gouché for his latest single, "Shine." The cut is set to appear on his upcoming project Black Radio 3, which is billed as a "cultural moment that celebrates black love and resilience." The four-time GRAMMY winner shared his excitement for the collab in a statement, "I was so happy to collaborate with D Smoke on this song. He's definitely one of the leading voices in today's new generation of hip hop. He has his feet planted in the soil of real music and comes from a family of amazing musicians and artists. That being said, also shout out to Tiffany Gouché, his cousin who's on the song as well. We want to see everybody shine."
Listen: Spotify | Apple Music
Paris Texas – Red Hand Akimbo
Paris Texas delivered their second offering of 2021 with Red Hand Akimbo. The five-track EP of Louie Pastel and Felix is an exciting whirlwind of influences from the genres of rock and hip-hop, highlighted by the flippant yet smart lyricism of the Los Angeles duo. The pair is set to perform a trio of shows this month before hitting the road with BROCKHAMPTON in Spring 2022.
Listen: Spotify | Apple Music
Kay Young – This Here Feels Good
New Gen: Fall 2021 star Kay Young has dropped off her newest EP, This Here Feels Good. The London-based artist, rapper and producer utilizes the five-track project to touch on the dualities of the human experience as she smoothly jumps from tightly-rapped verses to glorious vocal performances in the span of a few minutes. "Creating this EP during lockdown kept me sane," she said in a statement. "I simply got lost in it because it felt good and I felt safe regardless of what was going on outside my bedroom studio. I dug deep and gave it my all!"
Listen: Spotify | Apple Music
Masego x JID x Big Boi – "Garden Party"
Masego teamed up with Altanta's Big Boi and JID for his new single, "Garden Party." The sultry yet fun cut arrives just shortly after he released Studying Abroad: Extended Stay, the deluxe edition of his celebrated 2020 EP.
Listen: Spotify | Apple Music
Joshua Crumbly – ForEver
Bassist Joshua Crumbly has followed up his 2020 album Rise with ForEver. The sought-after performer, who has recorded and toured with artists like Kamasi Washington, Leon Bridges, Terence Blanchard and Bob Dylan, revealed that the project came together after a phone call with friend and collaborator Shahzad Ismaily. "He told me that I needed to record a solo bass album. It started out as such, then I added some other instruments. It branched out even further when I reached out to a few friends, whose voice I was strongly hearing on particular songs. I'm grateful they were down to be a part of the record," Crumbly shared.
Listen: Spotify | Apple Music