Roby Dwi Antono Releases New 'Di Restoran' Screenprint Edition
A hand signed edition of just 99 pieces.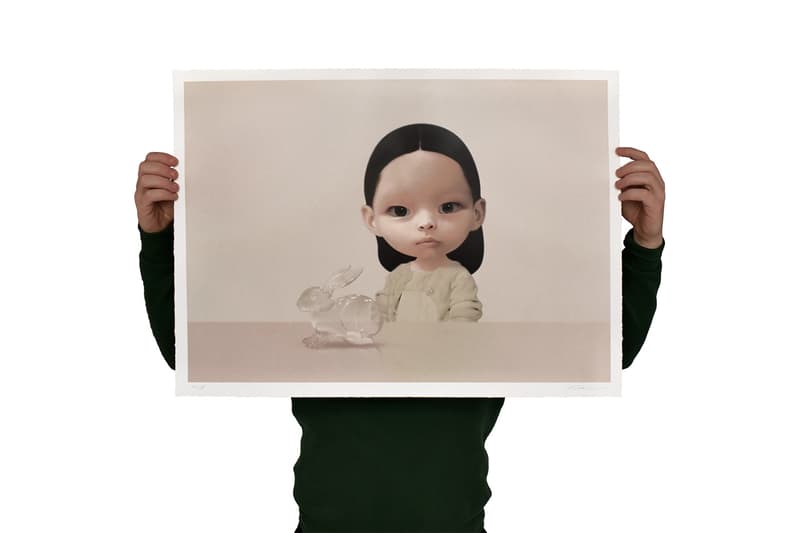 Roby Dwi Antono's works continue to be recognized in the contemporary art sector with the Indonesian artist having recently displayed works as part of a group exhibition for New York City's Padre Gallery this past November. Dwi Antono is known for his surrealist portraiture depicting young children and hybridized creatures with magnetic eyes. His portraits are often set against muted backdrops or natural environments such as mountainscapes that evoke the picturesque surroundings of his native Yogyakarta in Indonesia.
Dwi Antono recently partnered up with U.K.-based Moosey Art to release a limited edition screenprint called Di Restoran which translates to "at the restaurant." Sized 69 by 51 centimeters, the work portrays a young girl sitting at a table with a glass rabbit placed on top of it. The 20-layer work was screen printed on Somerset velvet paper and arrives in a hand-signed edition of just 99 pieces. Those interested in purchasing a print should submit requests on Moosey Art's online store.
"I like to see contradicting characters within each subject in my art, as long as they can convey my message in full. I think there are always two sides to everything, so normally I paint subjects that can represent both the good and the bad," the artist told HYPEBEAST in a 2019 interview. "As absurd as they are, I believe that such contrast would end up as a harmony. The celebrities are a different case because I simply love their works. I also admire people who consistently break the status quo, which is exactly what I see from them."
Get a closer look at the Di Restoran print above and let us know your thoughts on this work. Moosey Art will contact all successful applicants via e-mail on January 20. The work is priced at £400 GBP plus shipping (approx. $544 USD) apiece.
Elsewhere in art, Josh Sperling recently closed a show in Perrotin Shanghai that featured his latest innovations in the medium of sculptural painting.