Seesaw for Children on US-Mexico Border Wins Beazley Design of the Year
"The 'Teeter-Totter Wall' encouraged new ways of human connection."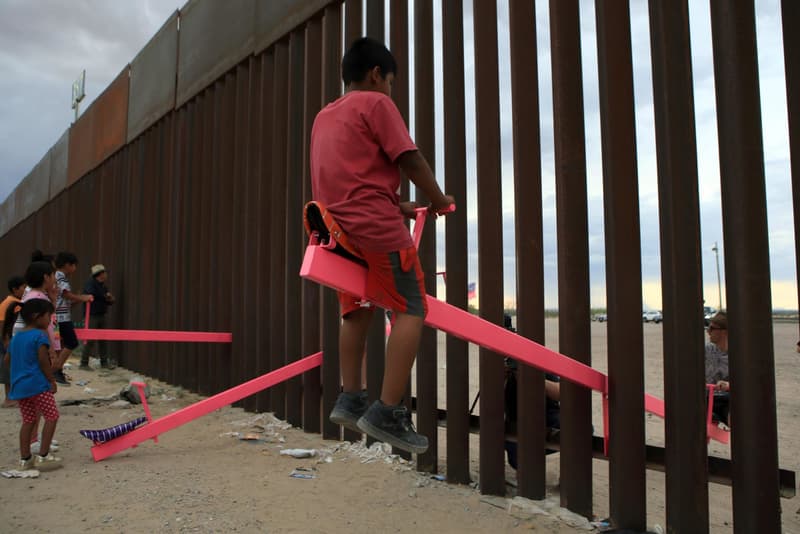 1 of 2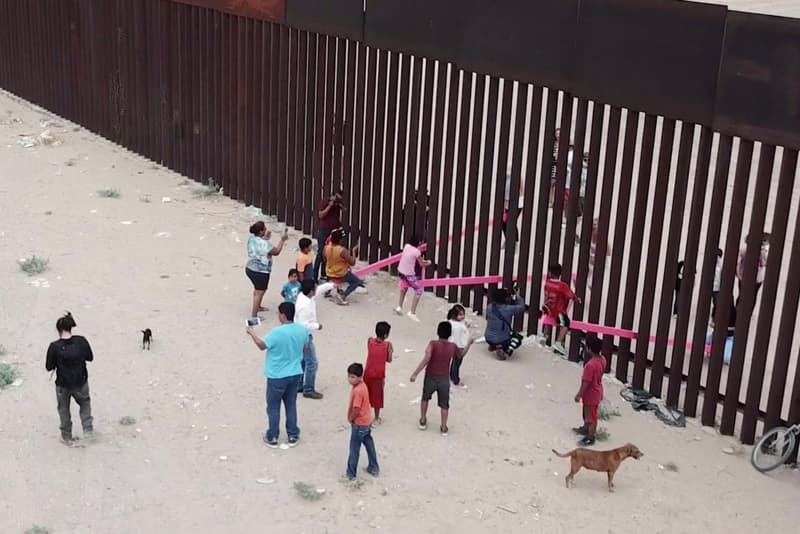 2 of 2
In July 2019, Ronald Rael and Virginia San Fratello — instructors in architecture and design — unveiled their Teeter Totter Wall at the U.S./Mexico border which has been in the making for the past 10 years. The temporary interactive installation has now won the 2020 Beazley Design of the Year — an annual award and exhibition spearheaded by London's Design Museum.
The site-specific piece was made of three neon pink seesaws that were placed in the gaps of the steel border wall that divided the United States and Mexico. The work encouraged children from El Paso, Texas, and the Anapra community in Juárez, Mexico, to play together despite being separated by the 20-foot wall. Rael and San Fratello designed the Teeter-Totter Wall to connect the two countries amid the polarizing debate of Tripp's proposed border wall. "What you do on one side has an impact on the other," Rael told CNN in 2019, "and that's what a seesaw is."
The work only existed for 20 minutes, but it immediately gained attention across social media platforms after the duo shared a video of American and Mexican children playing with the seesaw. "The 'Teeter-Totter Wall' encouraged new ways of human connection," said Tim Marlow, the chief executive and director of the Design Museum, in a press statement. "It remains an inventive and poignant reminder of how human beings can transcend the forces that seek to divide us."
The Beazley Design of the Year organizers also gave out awards for five different categories including "Architecture," "Digital," "Fashion," "Graphics" and "Product." One of the highlighted projects was a moveable school called "ModSkool" conceptualized by the Dehli-based Social Design Collaborative. The project aimed to shed light on the forced evictions of farming communities in India with a safe haven for education that was seamless to set up and break down. Moreover, the Chilean feminist arts group, Collective LASTESIS, was awarded for its protest performance called "A Rapist in Your Way," which raised awareness on sexual violence against women as well as the LGBTQ+ community. Telfar was also recognized for gender-neutral bag made of vegan leather that was priced according to the average earnings of a New York DJ for single gig.
Head to the Design Museum's website to learn more about the winners. In case you missed it, the institution recently paid homage to electronic greats such as Kraftwerk and The Chemical Brothers in a virtual exhibition.