How to Make Birria Tacos With Nene's Taqueria
Brooklyn-based chef Andrés Galindo breaks down the process behind his delectable tacos.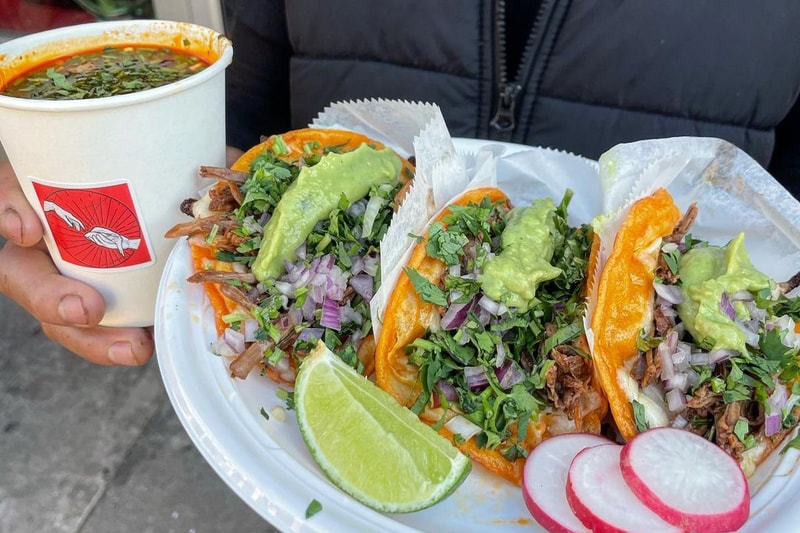 Chef Andrés Galindo of Nene's Taqueria sums up his tacos in two words "easy" and "delicious." It's an apt description: Galindo's tacos are currently the talk of Brooklyn, especially his signature birria tacos. A traditional Mexican dish from the state of Jalisco that's popular in Los Angeles, San Francisco and New York City, birria is a meat stew that's often served at celebratory occasions, but — as Nene's Taqueria's proves — it's also a delicious choice for an everyday meal.
Perhaps Galindo is just being humble when he describes making his delectable birria tacos as "easy," but in the latest edition of HYPEBEAST How To, the 26-year-old chef walks you through the process in several simple steps so you can do it at home.
Birria can be made from goat, mutton or beef, but Galindo opts for beef, mixed with oxtail and seasoned with cumin, Mexican oregano, onions, tomatoes, cloves, garlic, thyme, bay leaf, white vinegar and four different chilis: guajillo, ancho, morita and chipotle. After seasoning the beef and oxtail with salt and pepper, Galindo brings the chiles and tomatoes to a boil, then takes them off heat and lets them sit for 20 minutes.
Chiles and tomatoes alike are put in a blender with the rest of the trappings, and, if a celebration is in order, tequila can be added as well. After blending, the seasoning mix is strained before joining the meat and some water in a pressure cooker. Then, the wait. Galindo usually lets the meat marinate overnight, but advises those looking for a quicker fix that four hours should be enough to lock in the flavor.
The final steps entail cooking the meat for 15 minutes in the pressure cooker, dipping tortillas (preferably corn) in the cooker to season, then dressing the tortillas with mozzarella cheese and the birria meat. Finishing garnishes are supplied by cilantro, a squeeze of lime, a dash of onions and special green sauce — though the last is a secret Nene's recipe.
Make your own birria tacos at home, or, if you'd prefer to taste Chef Galindo's recipes for yourself stop by Nene's in Bushwick, Brooklyn.
Nene's Taqueria
14 Starr St
Brooklyn, NY 11221
Lookin' to do more cookin'? Check out older installments of HYPEBEAST How To on kimchi fried rice and chicken and napa cabbage dumplings.