Hennessey's MAMMOTH 1000 RAM 1500 TRX Is Quicker Than Most Supercars
Well, from 0-60 MPH that is.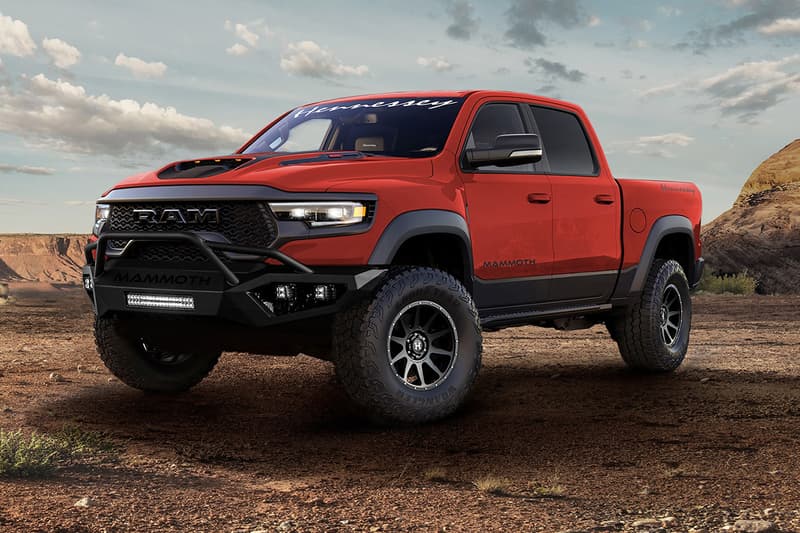 Hennessey Performance has gotten its hands on the RAM 1500 TRX once again, this time around tuning its V8 engine to 1,012 BHP thanks to the fitting of a new supercharger.
Previously, the American automotive tuning company has produced the 6×6 "MAMMOTH" and various other 4×4 trucks with immense amounts of power, such as the VENOM 800 SUPERCHARGED F-150 and a 750 HP Ford Bronco. Now, Hennessey has unveiled the "MAMMOTH" 1000, with just 200 units set to be built in 2021.
This limited quantity makes for one of the most exclusive RAM trucks in Hennessey's history. Each will be fitted with the aforementioned supercharged V8 that also produces 969 lb-ft of torque, which is enough to push the behemoth from 0-60 MPH in just 3.2 seconds. To put that into perspective, a 2017 Audi R8 V10 Spyder will do the same sprint in exactly the same time.
Complementing its menacing amount of power is the MAMMOTH OFF-ROAD STAGE 1 package, which gives the customized truck 2.5 inches of lift, as well as a custom front bumper with LED lights, 20-inch Hennessey 10-spoke wheels, 35-inch off-road tires, and a front suspension leveling kit.
The total cost for the Hennessy "MAMMOTH" 1000 is $135,350 USD, which includes the cost of the truck. Take a closer look at the machine above, and find out more information on Hennessey's website.
For more outlandish automotives, Honda has turned its electric e car and N-One Kei car into drag and hill climb racers.