Dustin Poirier Defeats Conor McGregor in Stunning Second Round TKO at UFC 257
Poirier delivers McGregor's first-ever TKO loss in his 13-year MMA career.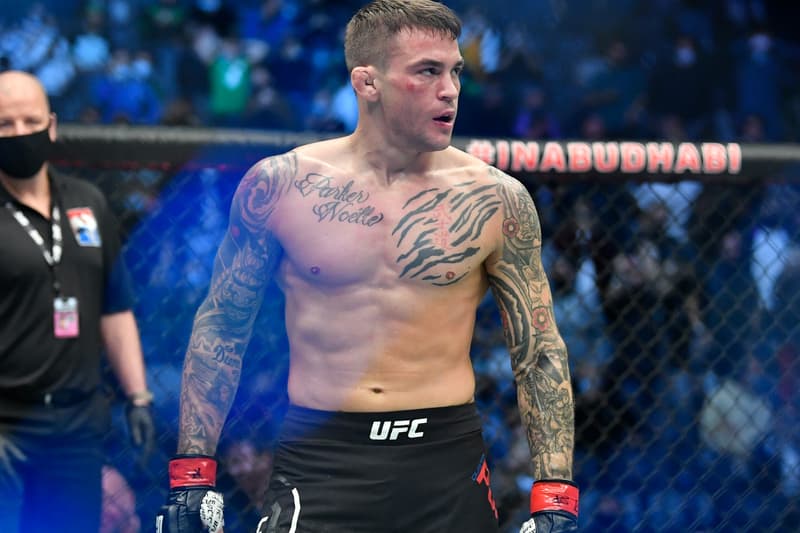 In a jaw-dropping second-round TKO, Dustin Poirier avenges his loss to Conor McGregor, making this the biggest win of his career so far.
The UFC lightweight contender shocks McGregor in a TKO win at 2:32 of the second round of Saturday night's main event of UFC 257, hosted in Abu Dhabi. McGregor led the first round, landing several hard hooks to Poirier, snapping his head back but not hurting him enough to win the match.
In the second round, Poirier first weakened McGregor with kicks to the right calf, leaving him compromised. In a series of hard-punching combinations, McGregor's highly anticipated return quickly became an unforgettable upset as Poirier delivered the closing righthand blow to drop McGregor. Poirier followed him to the ground, landing a couple more before the referee stepped in to call the match. This marks the first-ever KO/TKO loss in McGregor's 13-year MMA career.
"That low calf kick was very good," McGregor said. "That leg was dead, man. … Dustin is some fighter."
Poirier and McGregor first met in the ring in 2014 as featherweights, where McGregor won by TKO in 106 seconds. This recent fight marks McGregor's first fight since his explosive 40-second KO over Donald Cerrone in January 2020 and his first lightweight loss to Nurmagomedov since 2018.
The UFC 257 took place in the Etihad Arena under pandemic protocols and in front of a limited amount of fans, making this the first UFC pay-per-view event with ticketed fans since March 2020. As Poirier was crowned the winner, he made a final comment on the match, "We're 1-1. Maybe we have to do it again."
Check out the reactions on social media below, including ones from Khabib Nurmagomedov and Manny Pacquiao.
SCORE: EQUALED.

[ #UFC257 | #InAbuDhabi | @VisitAbuDhabi ] pic.twitter.com/V7sOcRy1Uh

— UFC (@ufc) January 24, 2021
This is what happened, when you change your team, leave the sparring partners who made you a champion and sparring with little kids, far away from reality.

— khabib nurmagomedov (@TeamKhabib) January 24, 2021
Beautiful thing about the fight game, anything can happen! Congrats to @DustinPoirier Huge win! #UFC257

— Manny Pacquiao (@MannyPacquiao) January 24, 2021
Im a Conor fan… just didn't look himself to me. Not just because he lost… the whole build up https://t.co/JsV5Ge7Zqz

— Damian Lillard (@Dame_Lillard) January 24, 2021
In case you missed it, Steph Curry continues to make history surpassing Reggie Miller with the second-most career three-pointers of all time.