Khabib Nurmagomedov Defeats Conor McGregor - Ringside Brawl Ensues
See the post-fight madness.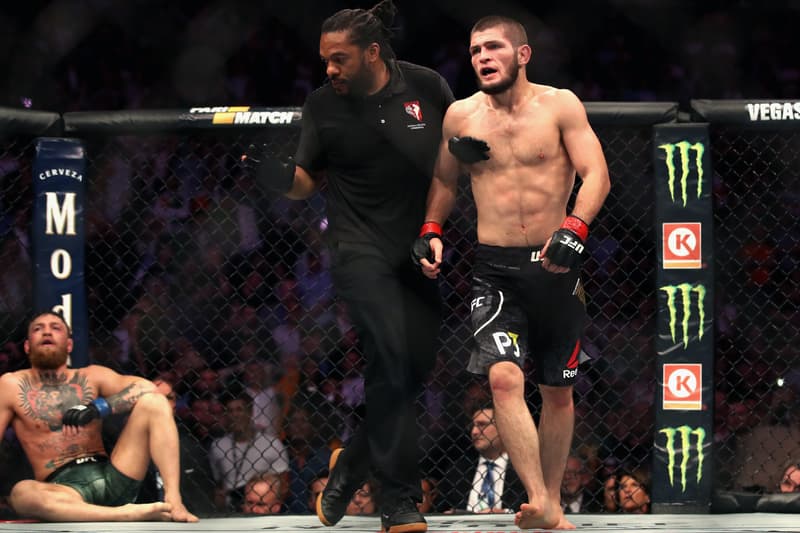 In one of the largest and most anticipated UFC event in recent years, UFC 229's Conor McGregor vs Khabib Nurmagomedov matchup ends in absolute madness. In the beginning of the match, McGregor displayed his takedown defense, however it was just not enough. Nurmagomedov would eventually take him down, and apply pressure for the duration of the round, crossing McGregor's guard at ease. The next few rounds would follow a similar pace, with two fighters standing up for some striking exchanges. Nurmagomedov displayed a comparable level of boxing, comfortably standing up with tenacity. McGregor would use a lot of straight kicks to Khabib's stomach, but during each round, the Russian fighter would score a takedown. In the fourth and final round, however, Nurmagomedov would get a neck crank, forcing him to tap.
It had seemed UFC 229 had settled the bad blood between the two for a split-second before Nurmagomedov jumped out of the ring to attack McGregor's teammate, Dillon Danis. Khabib's own teammates jumped into the ring to sucker punch McGregor, only seconds after his defeat. When the dust settled, Dana White refused to award the belt in the ring, telling Khabib, "If I put this belt on you, people are going to start throwing shit into the Octagon." Check out the social media coverage below, and stay tuned to see how this story unfolds.
For more UFC news, here are the results from the UFC 229 undercard.
Immediately shoots!#UFC229 pic.twitter.com/xQSqRIFlm7

— UFC (@ufc) October 7, 2018
OHHHHH MY KHABIB DROPS MCGREGOR!!!!#UFC229 pic.twitter.com/4rBF7QbRey

— UFC (@ufc) October 7, 2018
10-8 round for Khabib? #UFC229 pic.twitter.com/CnfmQhdY6E

— UFC (@ufc) October 7, 2018
Khabib gets another takedown! #UFC229 pic.twitter.com/N6CRrXdzcl

— UFC (@ufc) October 7, 2018
Me: "I think I'll watch some pro wrestling after this UFC fight."#UFC229 : "HOLD MY BEER, BROTHER." pic.twitter.com/enOfGyAzmH

— The Scary Cat in My Brain (@PoorColby) October 7, 2018
A closer look.. #UFC229 pic.twitter.com/EVj1xiMZN7

— ChattTenn Sports (@ChattTennSports) October 7, 2018
Kevin Connolly just posted this to his Instagram. #UFC229 pic.twitter.com/thjr00WVae

— Amanda Jacobs (@CoastalMMA) October 7, 2018
Breaking: 3 members of Khabib Nurmagomedov's team arrested for Conor McGregor attack/scrum. #UFC229 pic.twitter.com/OiVhr03sEN

— GIF Skull (@GIFSkull) October 7, 2018
"I think somethings gonna happen in the crowd between the Russians and the Irish" – Brendan Schaub, prior to #UFC229 pic.twitter.com/c3NtktL4gp

— Quoth the Raven (@QTRResearch) October 7, 2018
Watching the @TheNotoriousMMA vs @TeamKhabib fight. Unimaginable never thought it would go down like this. Crazier than my fight riot.

— Mike Tyson (@MikeTyson) October 7, 2018