McGregor Bests "Cowboy" In Just 40 Seconds
His second-fastest career win.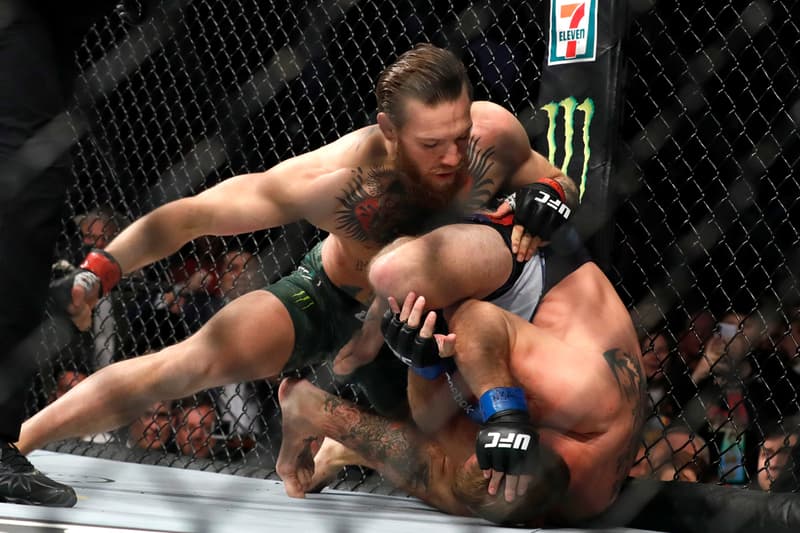 Conor McGregor has made a remarkable return to the UFC after two years away. In his first fight in 15 months, the Irishman dominated his opponent Donald "Cowboy" Cerrone in a mere 40 seconds of the first round, earning a clean TKO and his second-fastest career win.
The fight began with  a grapple, followed by three shoulders from McGregor, which all landed on Cerrone's face. Throwing his opponent off, McGregor went for the finish, stepping back and launching a devastating left head kick, marking to beginning of the end for Cowboy. The rest was just McGregor atop a fallen Cerrone, throwing a flurry of punches before the ref stopped the fight.
"I made history here tonight," said McGregor. "I'm the first fighter to secure a victory at featherweight, lightweight and now welterweight. Donald holds the record for head-kick knockouts and to get him down with a head kick, I'm very happy." He continued to say that he may be staying in the weight division a little longer: "I'm very happy," he said. "I like this weight division. It feels really good. You're going to see a lot of me here."
McGregor has previously stated that he could be fighting three times this year, eyeing Tony Ferguson and a rematch with Khabib Nurmagomedov. Those two are scheduled to fight over the latter's lightweight belt at UFC 249.
For more things sports, Zion Williamson is expected to make his NBA debut on January 22.
?? @TheNotoriousMMA's fight purse:

? $3,000,000 for the fight.

⏱ 40-second knockout.

? $75,000 earned per second. pic.twitter.com/zvRt5aOybV

— SPORF (@Sporf) January 19, 2020
CONOR. MCGREGOR. This kick was the beginning of the end for Cerrone. #UFC246 pic.twitter.com/V2PRjMEJtk

— Will 郭 (@GuoBlue) January 19, 2020
You can perfectly sync up the McGregor fight reaction from @RobbieBarstool to 'Avengers: Endgame' and see the exact same way he reacted to the movie. #UFC246 pic.twitter.com/sp53ntBEiX

— Jeff D Oscars Szn (@JeffDLowe) January 19, 2020
Anddddddddddd Conor McGregor is BACK. GG Cerrone pic.twitter.com/fXkAuNmSXj

— Rob Lopez (@r0bato) January 19, 2020
Conor McGregor is back.

He finishes Donald "Cowboy" Cerrone just 40 seconds into the 1st round.

It was the 2nd-fastest win of McGregor's UFC career. pic.twitter.com/W5hCRbFQrx

— ESPN Stats & Info (@ESPNStatsInfo) January 19, 2020
He is without doubt , the biggest star in MMA history – Mcgregor 3.0 has arrived ! pic.twitter.com/k7xMsQpraM

— Rawmmanews (@rawmmanews) January 19, 2020
Baddest superstar in combat sports is BACK!!!! @TheNotoriousMMA #ufc246

— Brendan Schaub (@BrendanSchaub) January 19, 2020