Tory Lanez Releases New Album 'DAYSTAR' and Addresses Megan Thee Stallion's Shooting Allegations
The rapper breaks his silence and addresses the incident from his point of view.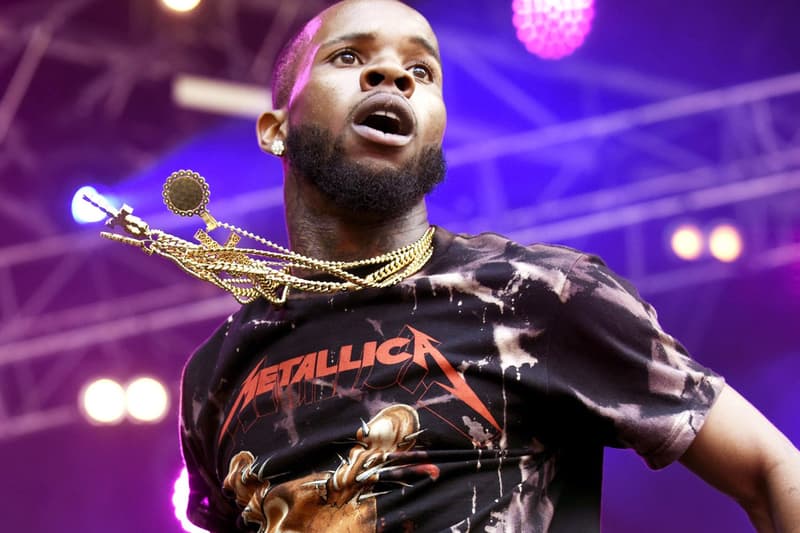 Tory Lanez broke his social media and public silence last night, announcing that he'd be going on Instagram live at 9PM PST to talk to fans and finally address the allegations that he shot Megan Thee Stallion in a dispute that led to his arrest for carrying a concealed weapon. He did so by debuting a new full-length album titled DAYSTAR, releasing it through his One Umbrella Records imprint.
The 17-track hour-long project directly addresses the allegations from the intro onward, with "Money Over Fallouts" cutting together numerous news snippets and soundbites of talkshow hosts disparaging the rapper and circulating rumors about what happened on the night of Sunday, July 12, 2020. Tory categorically denies shooting Megan Thee Stallion in the foot as he recites: "Gotta see a couple questions/ How the f*ck you get shot in your foot, don't hit no bones or tendons?/ How the f*ck your team is trying to pay me in some whole millions?/ I just lost like $10 million dollars because this cold business/ But I got like 10 million followers that's gon' roll with me/ Fans that support me because they know my heart."
On that same song he also claims that his relationship with Megan went well beyond being friends. On tracks like "Solar Drive @ Night" he refers to their relationship: "We fell in love too fast/ And then we watched it all crash/ Sent chills down my heart and my spine/ But I still want you to be mine." He continues to address the altercation directly on "Sorry But I Had To…" singing, "Since the event, you never called me, but you can't deny me/ If you got shot from behind, how can you identify me?" On "Look How God Works" Tory continues: "Can't believe she played the witness tryna make them statements/ Grace of God, you know the truth, so I'm gon' beat them cases/ I would never put my hands on a woman, dawg/ I would never let it blam on a woman, dawg."
The remainder of the album addresses Megan numerous times by name and others indirectly while Tory claims that he's the one truly being persecuted by the media. The rapper also doesn't directly address how Megan received those gunshot wounds that night, but claims that he's being framed for the altercation. He also gives an account of the events that transpired before. On "Queen and Slim" he raps, "Me and Kylie still off in the pool/ We just chillin', kickin' sh*t, was cool/ Both of us didn't know you was trippin'/ Even though I got a crush on Kylie, I woulda left with you if I knew you was dippin' for the simple reason/ You invited me but I can't act like shawty didn't excite me/ I had took a wrong turn that night."
On July 27, Megan Thee Stallion took to Instagram Live to reveal that she was shot in both feet in an intentional attack. On August 20 she accused Tory Lanez of shooting her in a separate livestream. "Yes this n***a Tory shot me. You shot me. And you got your publicist and your people going to these blogs lying and sh*t. Stop lying. Why lie? I don't understand. I tried to keep the situation off the internet, but you dragging it," she said. Since then, Megan has released a freestyle taking shots at Tory. The Los Angeles D.A. is currently reviewing possible charges in the shooting case.
Stay tuned for more updates. Stream Tory's new album DAYSTAR below. In other music news, Travis Scott filmed his new "FRANCHISE" music video in Michael Jordan's Chicago mansion alongside M.I.A. and Young Thug.